Penguins are a popular request in first and second grade. Students study Antarctica and are quite familiar with penguins and their habitat.
How to draw a penguin…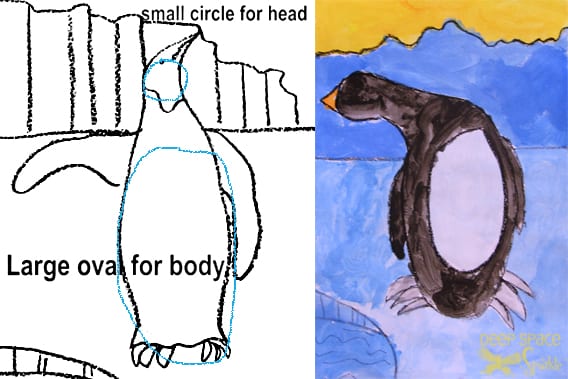 I begin the lesson by showing the kids how to draw a penguin. I place many pictures of penguins on the white board so the children can add their own details. As I give the demonstration, I offer plenty of "options" so that each painting will be uniquely theirs.
Starting with a black oil pastel, draw one large oval for the body and one small circle for the head.
Connect these shapes with two graceful lines (neck). When I demonstrate this step, I show how you can place the small circle (head) off to the side, so that when you connect the body with the head, it will look like the penguin is craning his neck.
Once the head and body are created, it's very simple then to add wings, claws and perhaps an egg.
Demonstrate various wing placements so that the children can decide what they want their penguin to look like.
Background…
Next, we draw an iceberg or an ice shelf in the background. To do this, we draw the horizon line first. I give the option to draw half an iceberg or one that extends all the way across the paper. Some children will draw a hole in the ice and if they do, I show them how to make the ice look like it has shape. To do this, draw another "ring" around the hole and draw vertical lines connecting both rings.
Painting….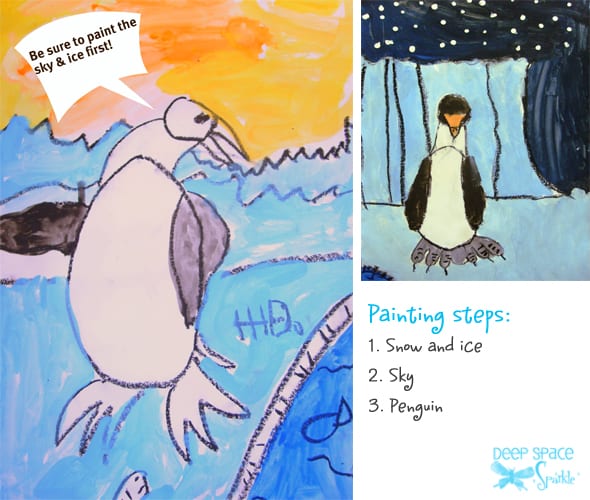 Despite wanting to dip into the black paint first and begin painting the penguins, I tell the children that it helps to paint the sky first. This way, the messy black paint won't muddy up the beautiful sky or the crystal blue ice. Using orange, yellow, white and light blue liquid tempera paint, I show the children how double-loading the paintbrush can create a pretty amazing sunset.
Double-loading technique…
Dip paintbrush into one color, then again into another. Apply both colors to the paper.
When the painting is dry, use the black oil pastel to trace over all black lines.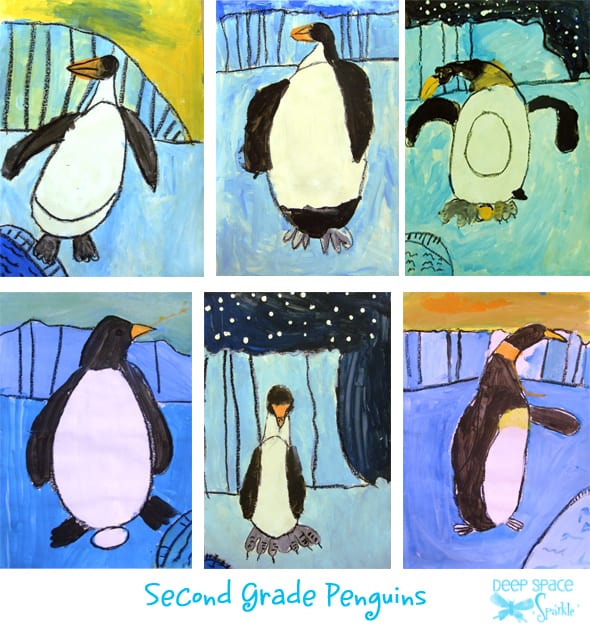 ---
Want more lesson ideas for the holidays? Download this free lesson guide by clicking the yellow button below and I'll send you my 5 Non-Religious Projects for the Holidays!