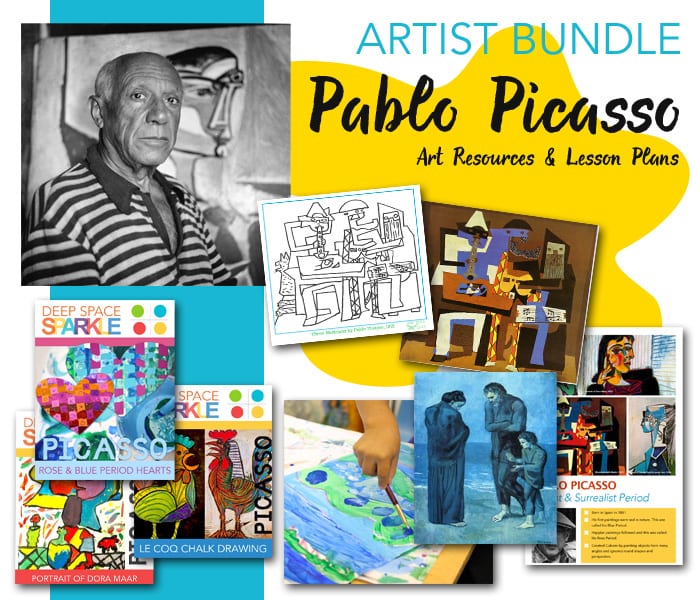 Pablo Picasso is one of the great masters. His art is displayed in museums all over the world. He invented an art movement and in doing so crowned himself The King of Cubism. No doubt you've purchased a Picasso calendar or print at least once in your lifetime. And because of his influence and popularity, he is probably on your school curriculum list.
I love Picasso's work and he is one of my favorite artists to talk about with my art students. Artists create art movements through their creativity. It's not always easy to think differently and then act on it, but that's exactly what Picasso did. He stayed true to his work and his viewpoint.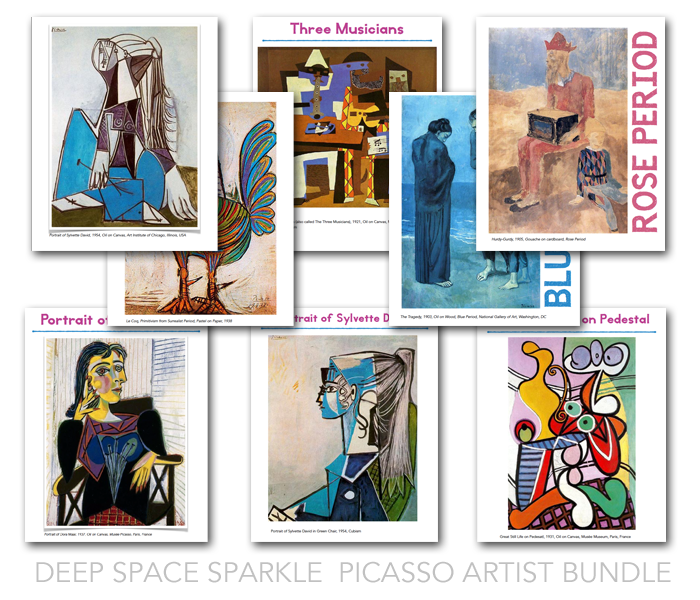 The Picasso Art bundle is designed to give you easy-to-teach art projects that explore Picasso's most famous and recognized works of art:
Three Musicians
Portrait of Dora Maar
Portrait of Sylvette David
Rose and Blue Period Artwork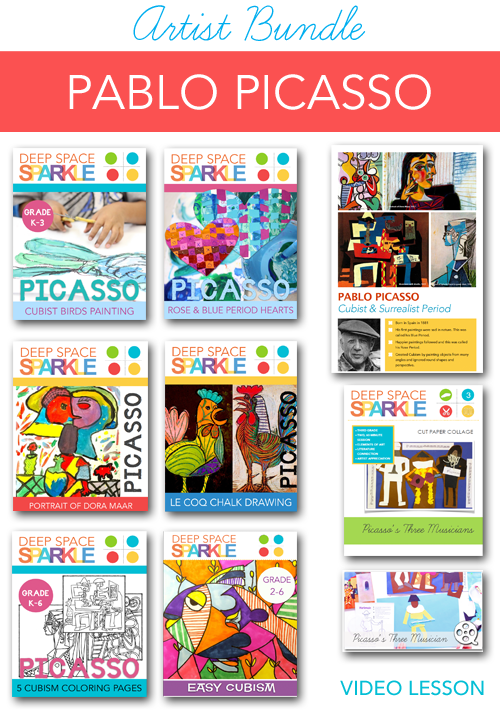 Planning an art curriculum around an artist involves research and planning time. This bundle does the work for you by providing all you need to teach your kids about Cubism and Picasso.
Artist poster to print out and use in your introduction
Art video of the Three Musicians that will offer a video biography of Picasso plus a step-by-step video of the creation process to play in your class or for your kids at home.
6 lessons (3 lower grade and 3 upper) that introduce Picasso and teach his concepts and/or paintings using fun art techniques.
Artist Worksheet (Click BLUE BANNER to download your free worksheet!)
Picasso coloring pages for subs or free-choice art time

Don't have an art department?
Chances are you have all the art supplies you need to complete all the lessons in this bundle.
Cubist Bird Paintings: white drawing paper, liquid tempera paint, oil pastels or crayons, colored construction/sulphite paper
Rose & Blue Period Hearts: Sulphite paper (white & colored), liquid tempera paint, oil pastels, pencils, white school glue
Portrait of Dora Maar: Oil pastels or crayons, liquid tempera paint, white sulphite paper
Le Coq Drawings: Oil pastel, chalk pastels, black sulfite paper
Easy Cubism: White card stock, colored markers, Sharpie marker
Three Musicians: Colored & white sulphite paper, liquid tempera paint, scissors, glue sticks, yarn, markers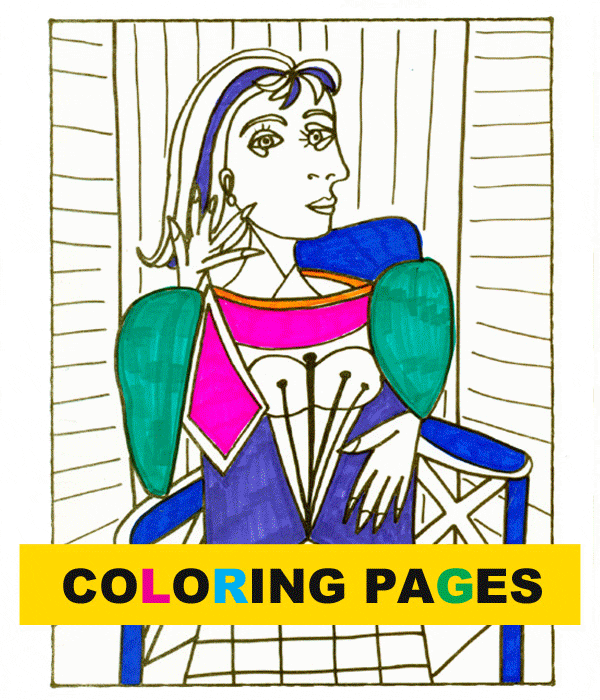 Purchase this bundle in the DSS shop by clicking the button below: