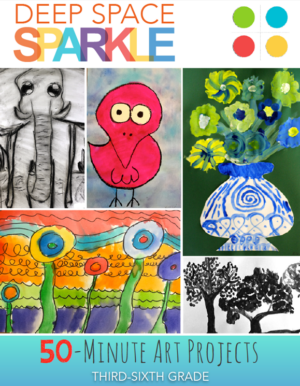 One of the biggest challenges art teachers face is not having enough time to do quality lessons. Sometimes you just need a lesson that is quick, easy and can be finished in one art session. I know I always need a good one-session lesson whether it's to finish up a rotation or just for a change of pace for the kids.
The FIVE lessons in this 37-page ebook all have the potential to be completed in 45-50 minutes. For those who are skeptics, I've included lots of tips for handling supplies, dealing with prep and using handouts for independent student work.
This packet is great for Art Subs and for grades levels: 3-6
Product Description
This 37-page packet includes FIVE lessons for grades 3-6. The packet includes teaching tips for quick lessons and the best art supplies to use. Each lesson has a supply list, handouts, objectives, student galleries and full-color photo-tutorials. These are lessons I use and teach in my classroom so every one has my personal seal of approval!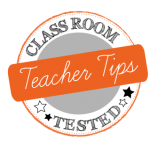 Lessons Include:
Black & White Tree Study:

Students use paint brushes and black paint to create different tree shapes and textures. Includes 3 handouts (How to Draw Trees with a Paint Brush, Tree Types and Texture Samples)
James Rizzi-Inspired Birds:

This super fast lesson introduces American artist, James Rizzi and his colorful contemporary art. Students practice wet-on-wet and wet-on-dry watercolor technique. Includes 3 handouts (How to Draw Rizzi Birds and 2 Draw & Color Rizzi Birds)
Hundertwasser Flowers: Austrian artist, Friedensreich Hundertwasser was known for his nature-inspired contemporary art. Students create a simple yet stunning watercolor painting featuring Hundertwasser's famous Lollypop flowers (includes a Hundertwasser Landscape Handout).
Elephant & Rhino Contrast Drawings:

Students draw observation-style from photographs (included in packet) of elephants and rhinosand use chalk to add contrast and value. Photographs for photocopying included.
Chinese Vase:

No matter what grade level you choose to do this project with, the results are always stunning and take far less time than you would believe. Chinese Vase Shapes handout included.
 The following techniques/elements of art are used in this digital lesson plan:
Watercolor Resist
Creating Texture through Stippling
Observational Drawing
Artist Statement Writing Prompt
Understanding Symmetry
Color Mixing
Understanding Value
Also Available:
DSS Teachers Pay Teachers Store : 50-Minute Art Lessons Grades 3-6