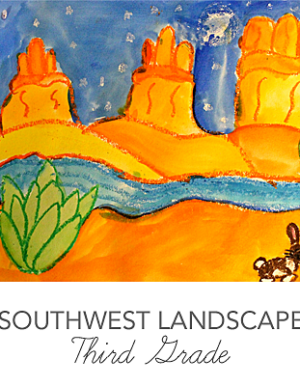 Southwest Watercolor Landscape is inspired by the book Coyote Places the Stars by Harriet Peck Taylor. Children in third grade (around 7-9 years old) will learn to how to draw a landscape by using art concepts such as foreground and background and the basic art technique of watercolor resist.
I hope you enjoy this FREE sample lesson from Deep Space Sparkle. To find more similar videos,  you can click here to learn more about my newest art resource, The Members Club.
Product Description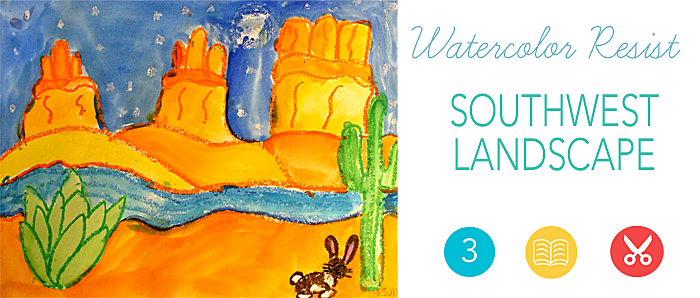 What's Inside…
"Southwest Landscapes" Lesson Video

15 minute video, Standard or High Def
Show it to your students, timeline is in the Lesson Plan

"Southwest Landscapes" Lesson Plan PDF

Supply List
"I Can" Statements and Teacher Objectives
About the Book Section with Pictures
Timeline to correspond with Video
Teacher Tips
Full Color Photo Tutorials for Drawing and Painting
What to Look For
Student Gallery

"Southwest Landscape" Drawing Guide Handout
You are free to use this lesson plan in your classroom, my gift to you and your students.
This free lesson is a sample of one of the series of video lesson plans found in the Deep Space Sparkle Member's Club. This lesson is targeted at third grade, but it is suitable for a range of grade levels. The Member's Club includes lessons for grade levels K thru 6. For more information about The Members Club, click HERE.