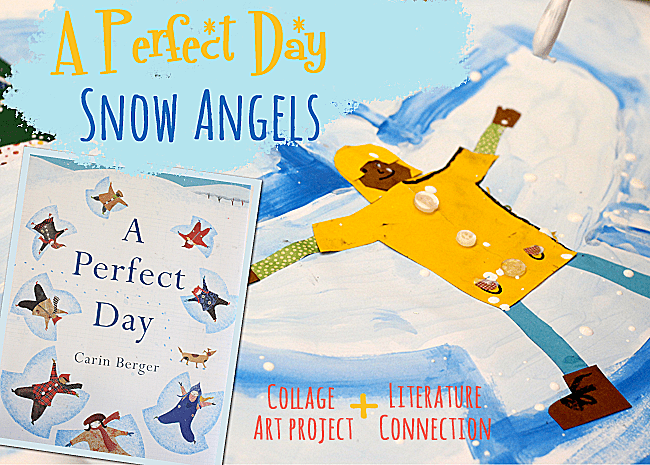 When I come across an art lesson that checks off as many boxes as this one, I can't wait to share it with you. Part literature, part math, part art and all fun, this is a lesson you can do with many age levels.
I created this lesson based on the book A Perfect Day by Carin Berger. Her artwork has lovely layers of printed pages, soft washes and vintage textiles and colors. The illustrations are small, encouraging children to lean a little forward to spot the details in the activities.
My Santa Barbara students are mostly unfamiliar with snow activities but I related snow angels to sand angels which kids like to do at the beach when they are out of their mother's line of sight!
You'll need a few supplies for this project and a little prep, but it's worth it. My second grade students created their own symmetrical snow angel by folding paper in half, which can be tricky but that's good. If it's not tricky, then the project is too easy.
If you are doing this project with children younger than 7 or 8, I included templates for you to photocopy onto card stock and cut out for the children. Alternately,  children can cut out the templates for fine-motor skill practice, or simply trace into colored paper. Really, children as young as pre-school can do this and develop their selecting and pasting skills.
Much like my snowman mixed-media art lesson, this is the type of art lesson that children get very involved with. At one point during the lesson, I looked around the art room to see children in various stages of the projects: decorating their jackets, adding snow, selecting and placing buttons on their snowsuits…it was lovely to see. I noticed a few children finish their project, place it on the drying rack and then sneak a few extra pieces of paper to make another mini-snow angel.  Cute!
Here's a preview of the lesson….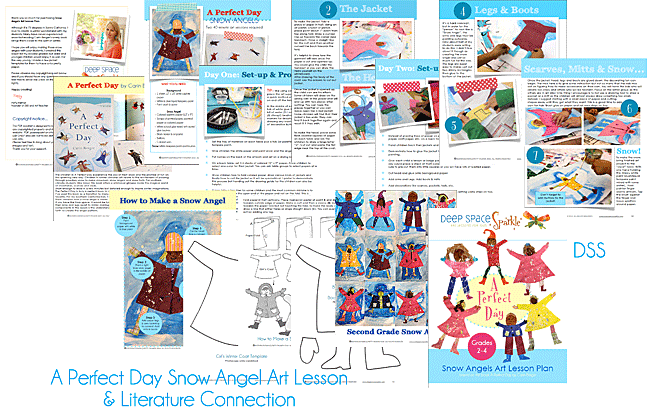 ---
Want more lesson ideas for the holidays? Download this free lesson guide by clicking the yellow button below and I'll send you my 5 Non-Religious Projects for the Holidays!