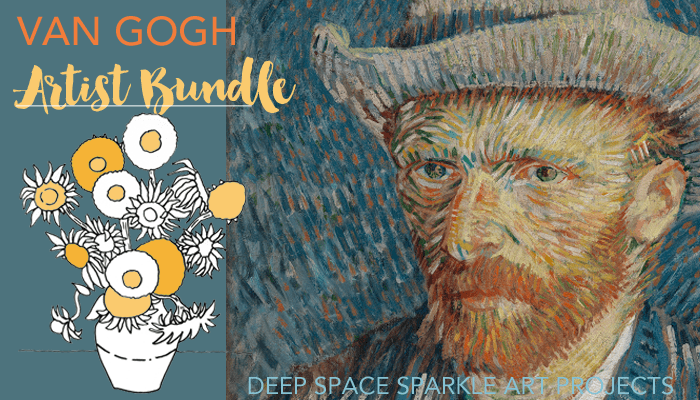 Van Gogh is one of the Greatest Art Masters of all time. His art is iconic and recognized by most. He created some of the most beautiful landscape paintings and still life works of art, including Starry Night and his Sunflower series.
I love teaching children about Van Gogh but when I first began teaching, I had a hard time finding lessons that young children could be successful at. It took me 6 years to finally find the right painting technique to teach children. I detailed my approach in my Starry Night Lesson Plan.
This Van Gogh Bundle is designed to give you easy-to-teach art projects that explore Van Gogh's most famous and recognized pieces of art:
Starry Night
Sunflowers
Irises
Wheat Fields and Cypresses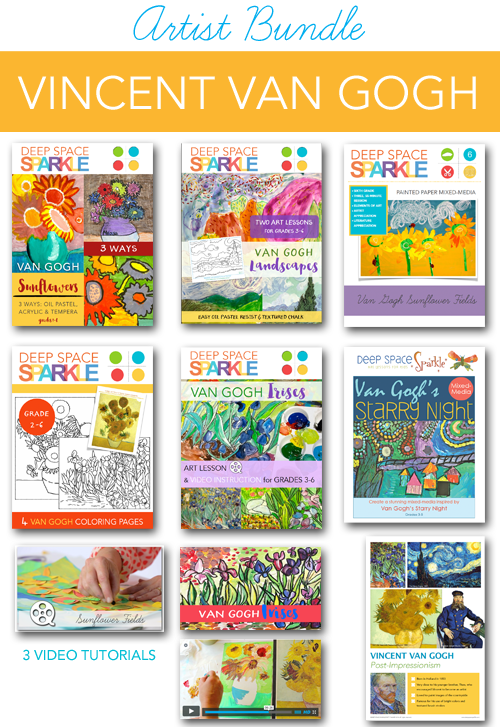 Planning an art curriculum around an artist involves research and planning time. This bundle does the work for you by providing all you need to teach your kids about Van Gogh and the Post-Impressionist period.
The bundle includes:
Artist poster to print out and use in your introduction
Art video & lesson plan of the Sunflower Fields that will offer a video biography of Van Gogh plus a step-by-step video of the creation process to play in your class or for your kids at home.
8 lessons that introduce Van Gogh and teach his concepts and/or paintings using fun art techniques.
Artist Worksheet (Click banner below to download your free worksheet!)
Van Gogh coloring pages to use as drawing guides or for subs or free-choice art time
2 Videos are available as downloads in zip files. 1 video available via access to Art School for Kids
The Lessons:
Van Gogh Irises & Video Lesson (grades 3-6)
Van Gogh Sunflowers-3 Projects + video (grades 1-6)
Van Gogh Landscape (Wheatfields and Cypresses) 2 Projects (Grades 3-6)
Coloring pages/Drawing Guides (all ages)
Starry Night Lesson (grades 3-6)
Sunflower Fields Collage Lesson Plan + video (Grades 4-7)
Chances are you have all the art supplies you need to complete all the lessons in this bundle.
Sunflowers Projects: white drawing paper, liquid tempera paint, oil pastels or crayons, acrylic paint, canvas sheets, pencils.
Sunflower Fields: Sulphite paper (white & colored), liquid tempera paint, oil pastels, chalk pastels, pencils, white school glue, scissors
Starry Night: Oil pastels, Painted Paper scraps, liquid tempera paint, white sulphite paper
Irises: Black oil pastel, liquid tempera paint, white sulfite paper
Landscapes : White paper, oil pastels, chalk pastels, white tempera paint, drawing paper, watercolor paint.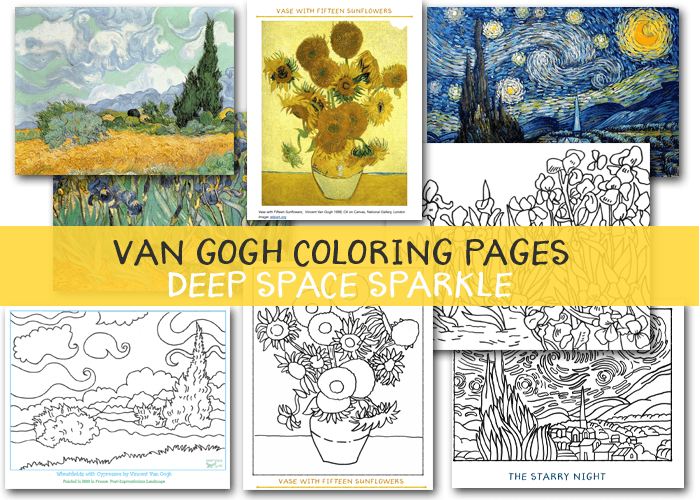 All products in this bundle is sold individually. Buy purchasing the bundle, you saved over 30%