When I first boarded the plane to head to sunny Santa Barbara last October, I had no idea the emotions that were in store. Patty had asked our Creative Team to help with Deep Space Sparkle's in-person holiday art workshop, where art teachers from all around the world flew in to train with us and build connections with one another.
This was my first chance to meet my co-workers in person as well. We came together to create festive holiday themed art (side-note: I'm totally that person who decorates for Christmas in November).
Team Sparkle and I were able to help facilitate a full blown art workshop, which I had never done before. Little did I know that the weekend would be so much more than that.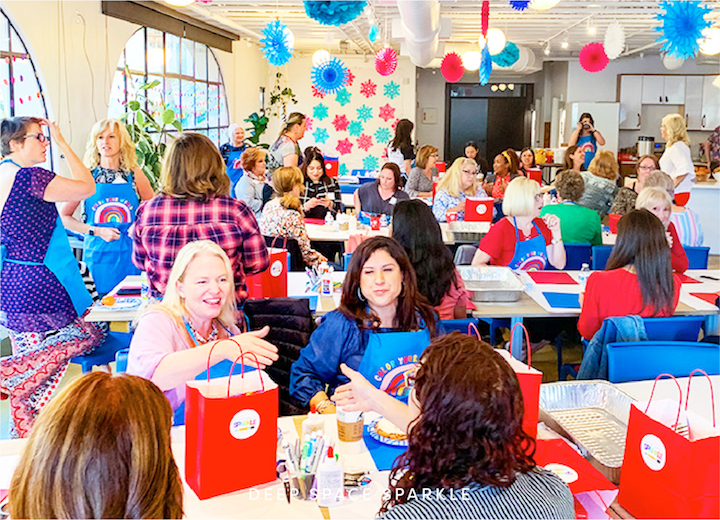 As a lesson creator for The Sparklers' Club, I see photos of lessons that we create posted online by teachers in classrooms all around the world. And while that is certainly exciting, there's nothing quite like being face to face with a room full of people who actually use the lessons that we create.
Putting names to faces, and hearing stories from the teachers who teach Deep Space Sparkle content and share ideas with the world, offered me a perspective that I had never experienced before.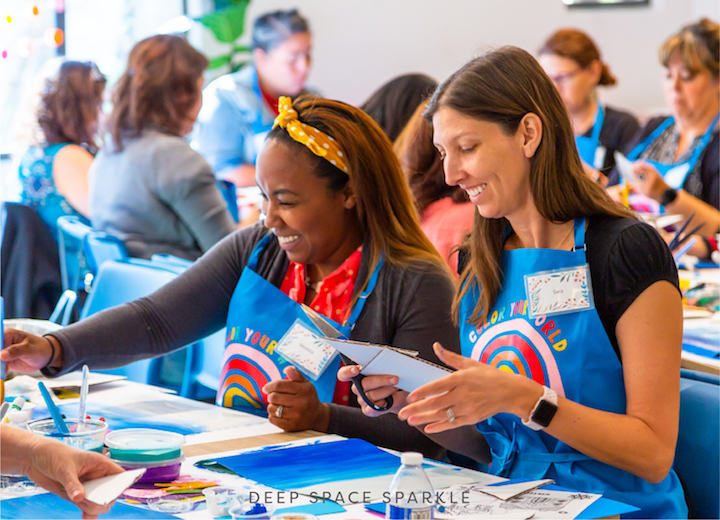 To be in fellowship, making art with a room full of art teachers is a very special and joyful place to be. I'm incredibly grateful that I had that time to connect with members of our sparkly community.
So now, a year later, we've decided to release the lessons taught at our in-person workshop into a special pack of four lessons, just in time for the holidays.
It's our way of passing on a little holiday cheer to you and your classroom, and it's a chance to dive deep into some fun art techniques that will keep your students engaged and making art all the way until January!

Here is a sneak peak of what is included in the Winter Wonderland Holiday Art Packet, available in the Deep Space Sparkle shop or free inside the Sparklers' Club:
The Winter Skate lesson is one of the lessons Patty developed for the workshop and as a born Canadian, cold weather activities are near and dear to her heart. What winter would be complete without a spin around the ice rink?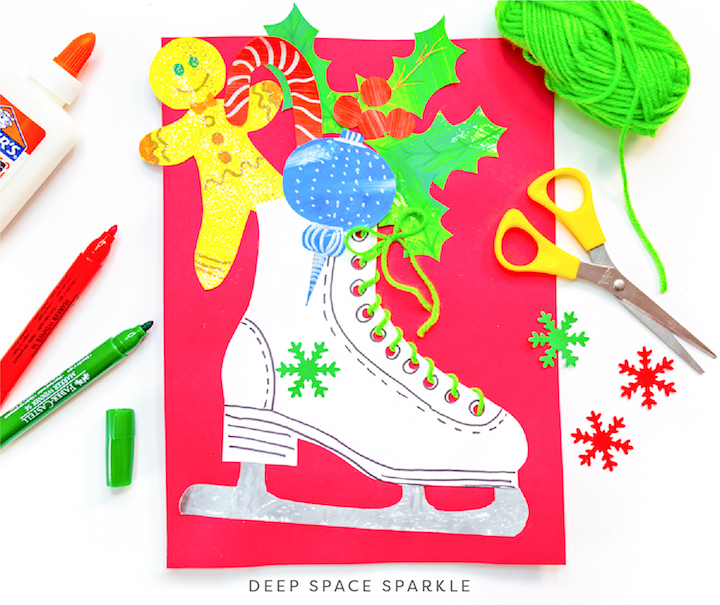 Filling the ice skate with holiday items is the icing on the cake for this sweet lesson.
This lesson features a low-prep, simplified version and a more detailed skate option to accommodate different ability levels, as well as availability of supplies. You can pick and choose what works best for you!
This lesson features many opportunities to practice fine motor activities such as tracing and cutting, which are so important for your youngest students.
Winter Wonderland was inspired by the lush, layered illustrations in the book, Walking in a Winter Wonderland, which is illustrated by Tim Hopgood. It features the lyrics to the iconic holiday song, written by Richard B. Smith and Bernard Felix.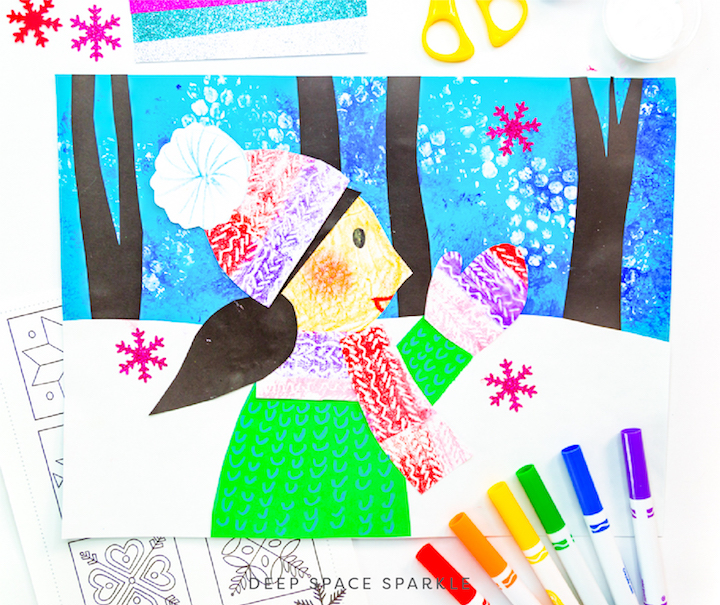 The lesson features several different printmaking techniques that are perfect for the 2nd and 3rd grade set – stamping with bubble wrap, sponge painting and marker printing with foam. All three techniques are engaging and kinesthetic, while also being a doable way to ease into printmaking with your students without the need for lots of extra supplies, like brayers or special printmaking ink.
The Mary Blair Gingerbread House was originally inspired by the illustrator's work in the Disney short, The Little House, which features personified houses, complete with faces and attitudes! We couldn't resist the urge to switch up the original lesson that exists inside the Sparklers' Club, creating a decorative gingerbread version for the holidays.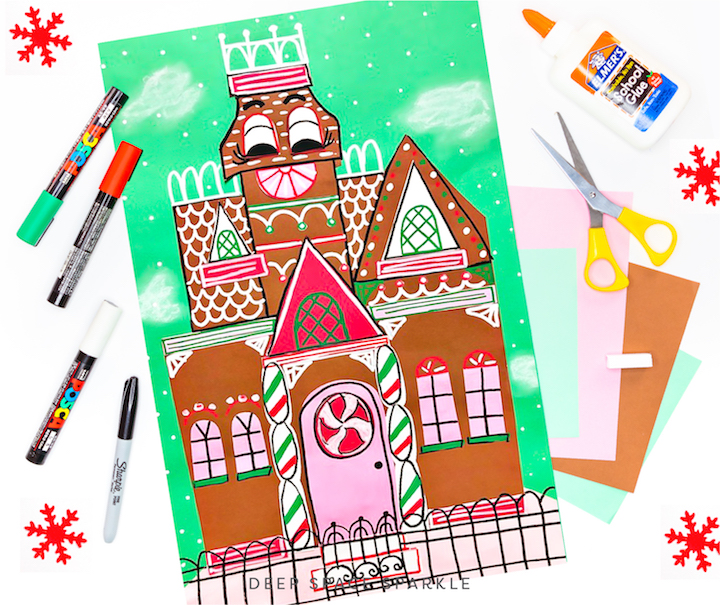 The lesson focuses heavily on line and shape, as students learn to draw their own Victorian style gingerbread house. Victorian houses are typically complicated and ornate, so even 4th and 5th graders can be successful in creating their own embellished gingerbread house.
This lesson is based on the book, Last Stop on the Reindeer Express by Maudie Powell-Tuck. If you haven't seen the beautifully whimsical and ornate illustrations in this book, you simply must check it out!
In this lesson, students will create their own decorative ticket booth, featuring windows and doors that actually open, all topped with ornate Scandinavian-inspired lines and patterns. This lesson offers lots of choices and opportunities for personalization, once students learn the basics of the techniques, which makes it perfect for more self-directed 6th and 7th graders.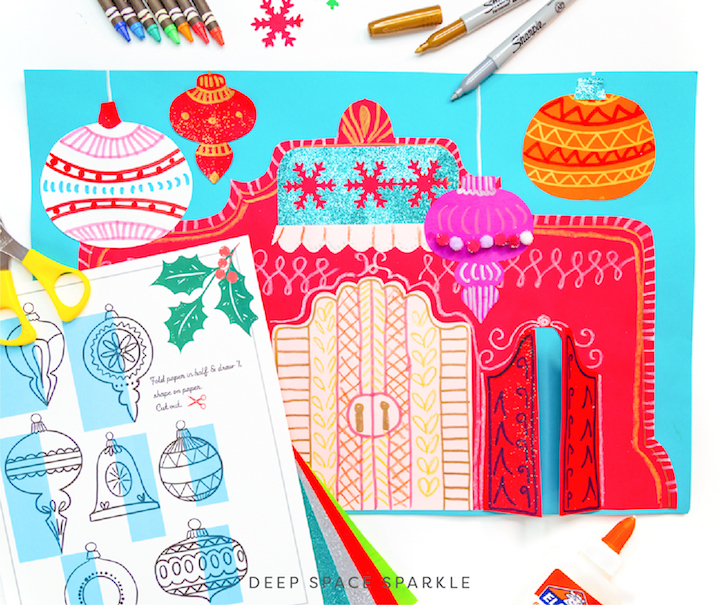 All of the lessons in the Winter Wonderland Holiday Art Packet have been expanded from their original form to feature:
– National Core Arts Standards
– Self assessment rubrics
– I Can statements
– Common Core connections
This winter bundle packet offers an array of standards just like all of the lessons that are offered in our membership, The Sparklers' Club. Download it below! (NOTE: We recommend downloading the freebie using Chrome or Safari)

If you're curious about joining The Sparklers' Club to get special members-only pricing on our in-person and live workshops, a wealth of lesson plans and training, as well as access to the best community of art teachers around, join the waitlist here.
Written by Heather Sparks – Creative Content Developer