Adorable Close-up Snowman Painting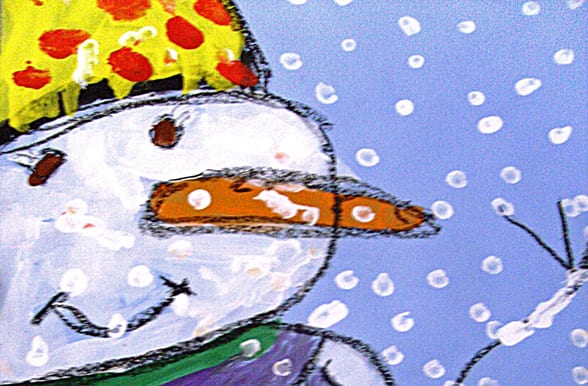 It's hard to resist adding snowmen into any art curriculum. They're easy to draw and oh, so cute. I did this lesson with my first graders but it would also be a perfect lesson for second or third. The whole point of this lesson is to have the children think about what a snowman would look like close-up. Most want to draw the three circles and get on with it. But I try to keep their interest by showing them what part of the paper to focus on.
How to draw a 3/4 view snowman
With the paper positioned tall rather than wide, use an black oil pastel (or black crayon but oil pastel is better) and draw a sideways letter "U" about a hands width down one the left side of a blue piece of paper. Draw a hat on top of this curved line so that the kids can see that this line is really a head! I demonstrate a few different types of hats, so try a few out.
To make the body, position oil pastel along the bottom part of the head and draw another curved line that reaches all the way down to the bottom of the paper. Now we have a snowman and we didn't draw one circle!
Add two dots for eyes, a big carrot nose that extends beyond the line for the face and a big smile.
To make the scarf, draw another curved line that matches the head shape. Add a scarf tail.
Painting the Snowman
Use white tempera paint to paint the snowman. The white is quite thick in the bottle and normally I would add water to thin out the paint to a good brushing consistency, but not here. You want the white paint to be thick enough to cover the blue paper. Once the snowman is painted white, bring out the colored tempera paint and paint the carrot nose, hat and scarf. Wait until the white paint dries before adding the eyes and mouth back in.
Snowflakes 
The best way to make perfect snowflakes is to use a Q-tip. Dip in paint and dot all over the paper (including the hat, scarf, etc.)
The children loved this project and were quite impressed with their new found knowledge on perspective.
Enjoy!