Rouault Inspired Royalty Painting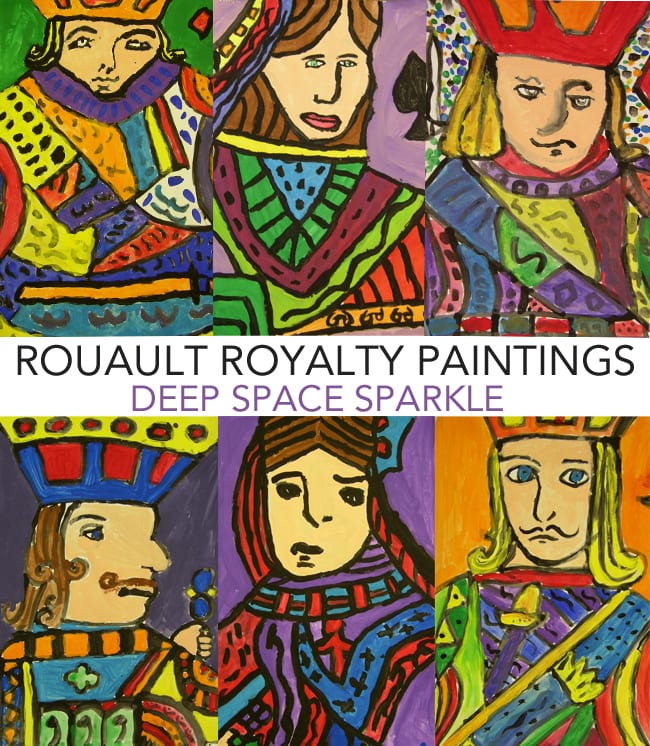 This art project is adapted from one the Arts Attack video art lessons. The main goal of this lesson is to teach the double-loading technique. As the students dip their paintbrushes first in one color, then another, a special affect is created. George Rouault was a master at creating light in his paintings. Many of his pieces look like stain-glass, which is the affect we are trying to achieve.
I hand out playing cards to each student and then teach them how to approach drawing the top half of the card. We start with a very small brush and black tempera paint mixed with a bit of water. No pencils, erasers or markers…straight in with the paint!
At first, the kids freak out, but then after I show them how to start with the head, then the hair, profile and then shoulders, they get to see that it's just a matter of lines. Of course, I always stress that they can make no mistakes and whatever happens, is exclusively theirs alone.
By the end of the first lesson, most kids are ready to move onto the second stage.
I put out 6 tempera paint colors that will blend nicely with one another and when mixed, will form a new color. (red, blue, yellow, purple, white and green)
The students paint each section of their work a different color, focusing on creating layers of paint with their brush. I tell them to look for the two colors when they apply their double loaded brush to the page. The colors shouldn't be mixed.
The final step is to repaint the black lines.
This is a very impressive project and surprisingly enough, only takes two one-hour lessons to complete.