Mexican Unit: Sombrero Art Project
My third grade classes are a creative and energetic bunch. They have a hard time sitting still. Instead of trying to reign them in, I take a different approach: offer a lesson as energetic as they are. For my Mexican Art Unit, I selected the sassy sombrero as my subject. The kids loved it and when I brought out the paints, these kids knew what to do. My art room was an explosion of color and style!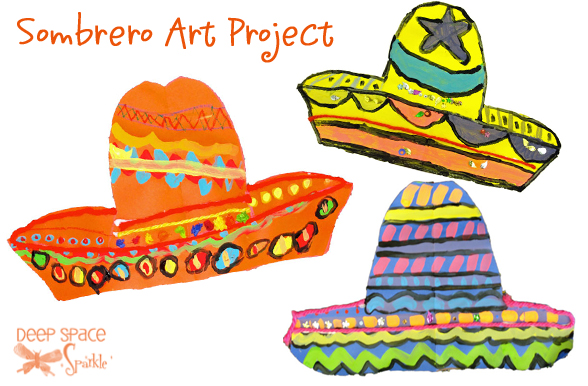 Here's what you'll need: 18″ x 24″ bright colored paper (I used red, orange and yellow), black oil pastel for drawing sombrero, scissors, white glue, tubs of bright tempera paints, lots of brushes, pans of sequins or other embellishments, black paint, tissue paper and paper scraps.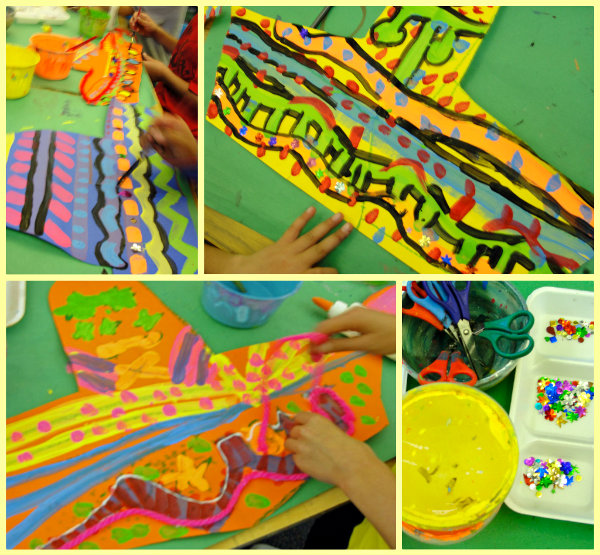 The students followed a simple directed line instruction for drawing the sombrero. Afterwards I brought out paints and placed six tubs of paint per table. My solution for keeping things relatively under control is to provide one brush per paint color. If that color is being used, a child must use another color. I rarely have more than 5 students at one table, so it seems to work.
At this point, we set the sombreros on a rack (barely fit!) and allowed them to dry.
The next class, children added more paint details and then outlined all of their patterns with black paint. Set a tray of sequins or embellishments, yarn and some paper scraps on a table and allow the children to decorate according to their tastes. This was a fun project. I didn't work too hard trying to enforce standards, although we did look at the color wheel. Couldn't find a picture book with a sombrero theme. Anyone know of one?
Third Grade Sombreros…