Teaching Art at Home Part III: Art Supplies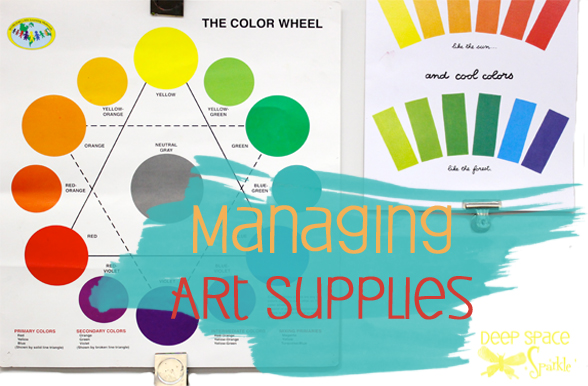 The third in my series, Teaching Art at Home. Click here for Part I and Part II
I'm going to tackle one of the most basic problems with teaching art when you are a non-artist: Art Supplies.
I remember when I first began teaching, I was asked to teach 7 grade levels and had one week to order art supplies and develop an art curriculum. Do you know what gave me the biggest headache? Paper! I could not figure out for the life of me what kind of paper art teachers were using. No one tells you. The websites I perused had images of beautiful art but I was baffled with what paper the teacher used to get such amazing results. It took me over a year of sampling special papers before I realized that the paper my school stocked for the classrooms was perfect for art. What paper was that? Sulphite paper! If you have no idea what Sulphite paper is, don't worry. I have create a special Art Supply PDF that details all you need to know about art supplies. It includes links to Blick art supplies so that you can see the product as well as read about it.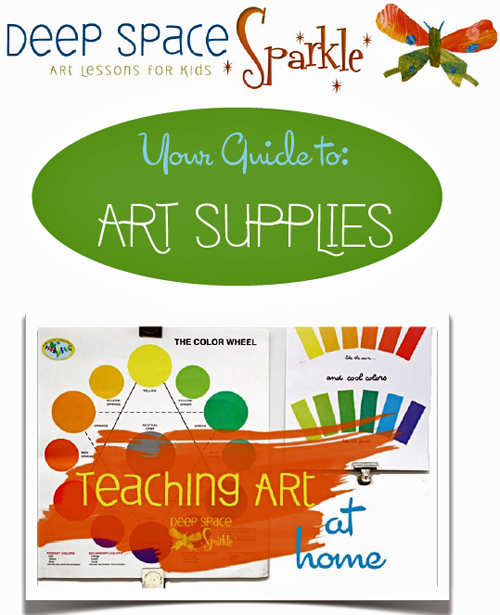 I am super excited about this little PDF gem, so go ahead and download it now for free! Click on the image above or this link:
Home-school art supply list2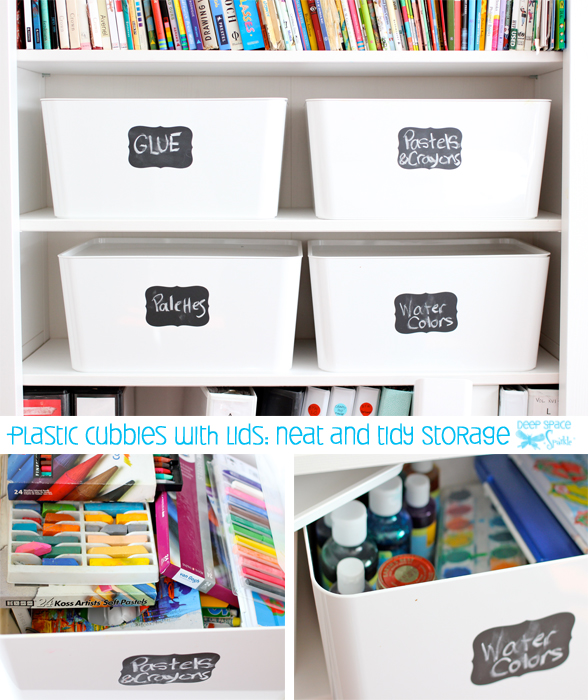 Art Storage:
Now that you know what supplies to order and what to use them fo, you'll need a place to put them. I'm going to be honest here. The more organized you are, the easier it is to teach an art lesson. It has taken me a long, long time to find the perfect storage for me. I don't like to see art supplies in my den or on my kitchen counter. I like things tucked away, but not forgotten.
These plastic bins from Ikea are perfect! I slide them onto my shelf  and when I need an art product, I slide the little cover off and pluck out what I need. I can also remove the entire bin and place it where it will be close. I bought some Martha Stewart Chalk labels at Staples to give the bins some organization appeal. You don't need these as it is just as easy to write on each bin with a Sharpie marker (it can wash off).
Paper Storage
I use an old dresser for flat paper storage. I looked at fancy flat paper storage units but the truth is, they are very expensive. Ikea has one, but it is cheap and wobbly. You are better off buying an old dresser at a garage sale and splashing a coat of paint on it. It will hold up better.
Here's another paper trick: don't buy too much. All you need is the paper outlined in my art supply PDF. Stick to the basics and try not to overload your house with craft papers.
Markers, Pens and Crayons….
I like finding jars and vases around the house to store my coloring tools. I prefer stand-up storage systems better than trays or plastic tupperware just because they are often pretty to look at. I always remove crayons, markers and colored pencils from their packaging for the simple reason that it is much easier putting these items back into a glass jar than lining them up neatly in a boxed package. Can you tell I'm a bit lazy?
Tip #3: Organize your art supplies in a way that pleases you and coordinates with your environment. I read once that organization advice always fails as everyone has their own unique method of organizing. I like to see some things, but not others. I have a big jar of crayons on my desk because they remind me of my child hood and my happy childhood art memories. It keeps me focused. You may hate the look, feel and smell of crayons, so my storage advice wouldn't work for you. So, find what works for you and don't buy too much!