Teaching Art at Home: Part I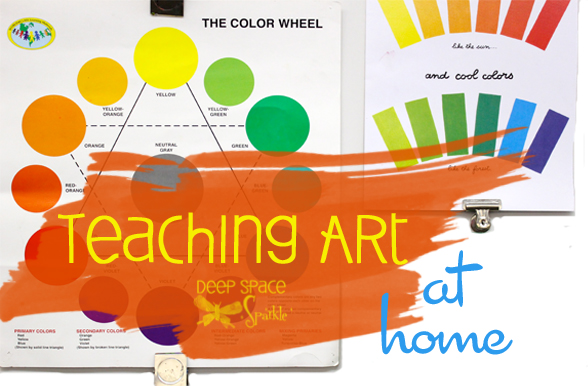 Over the years, I have received many emails from home-schooling parents wondering how to incorporate my art lessons into their home-school curriculum. The questions range from which art supplies to use to how to adapt a lesson for different ages. I don't have any experience as a home-school parent so I have always been reluctant to offer advice. But I got thinking and asking (thanks to my DSS Facebook group!) and have come up with some tips that might make the task of incorporating art into your home a bit easier.
From what I can tell from your emails, most of the problems associated with teaching art contain one or more of the following statements…

I am not an artist
I don't know how to draw so teaching my children drawing skills feels overwhelming
Spending 30 minutes setting up painting project for 5 minutes worth of art time seems like a waste of time
I don't have my art supplies in one place so it's easier to avoid art time
My child gets frustrated and doesn't want to do what I teach
Too many kids + too many ages = an organizational nightmare
I have no idea what supplies to buy and how to use them.
I don't know how to teach the same lesson to all my kids
Do any of these sound familiar? I totally get it. I'm going to break down these problems and hopefully offer a solution or two.

Not an artist? That's okay. You don't have to be. I started this blog hoping to help anyone interested in teaching art to children. This mantra didn't happen over night. Early on in my career as an art ed blogger I posted what I thought were pretty complete lesson tutorials. But my readers kept asking more and more questions.  I realized that the omission of even the smallest item in a checklist of instructions could stymie someone. I totally got it. People were asking for very specific details…exact steps to teach an art lesson in a language they understood. Why do you suppose that is? To me, most people are attracted to a visual idea like a picture of a finished art project. Some know instinctively whether or not their child or students could do the lesson but what they don't know is how long the project will take, how to create vibrant colors or what paper to use.
You see, even art teachers and creative people like myself ask these questions: What paint did you use? Should I use a pencil? How do I encourage children not to crumple up their paper? Very few art teachers, classroom teachers, moms and home-school moms know exactly what to teach, how to teach it and what to use.
So the first step is to be gentle on yourself and embrace art. The answers are out there and hopefully, with this post, we can continue to ask questions. Let's start with some fundamentals…
About Drawing…
Most people have grown up or have learned to judge art by the quality of the learning experience. We tend to buy into the notion that art can be stifled, that art is only art if you draw from observation or that art is not art if a child only draws one thing. I'm being a little dramatic but I've heard parents worry that their child loves how-to-draw books, loves to trace action figures or doesn't like to use chalk.
To that I say, so what? I was a child who only drew girl figures and gymnasts. I traced for years and years until I understood the female form. I later became a fashion illustrator and an accomplished figure illustrator. The tracing didn't hurt me at all. The most important component for me was interest. I was interested in a very specific drawing genre and nothing else interested me. Did that mean I wasn't an artist? No, of course not.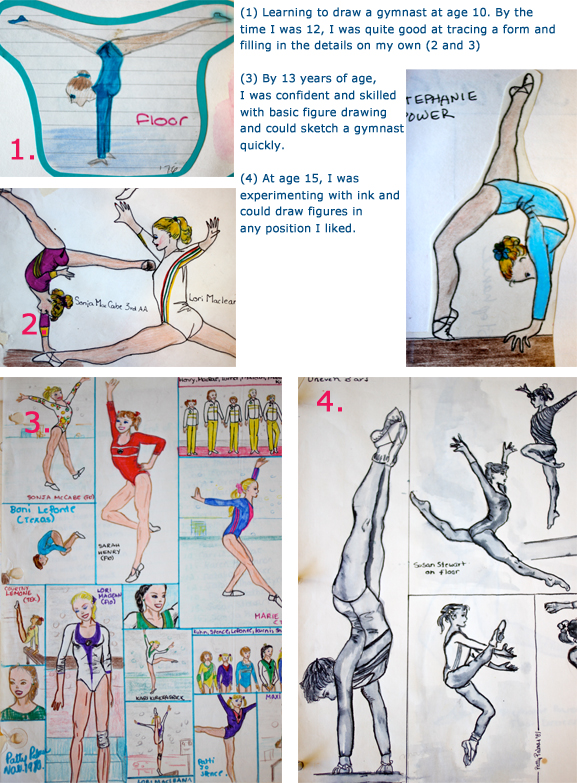 Allow a child to create art in the way he or she desires. Try not to judge what they do or how they do it. Now, try and apply the same concept to yourself. It's okay to use how-to-draw handouts or books. It's really fun learning this skill, and drawing is just that: a skill. Don't be afraid to teach a child a lesson and expect him to follow along. Many children are quite enthusiastic to learn to draw or paint in a way that is new to them.
Big Tip #1: Be an Artist
You must try the art lesson yourself before introducing the lesson to your child. This works out the teaching "kinks", gives you confidence and allows you to see where potential frustrations might occur.
Next topic in this series: The Set-up.