Deep Space Sparkle E-Courses

Teaching Art 101 is a 9 lesson, self-guided online e-course. It is designed for art teachers, school teachers, home-school parents, church group organizers—anyone wanting to enrich their student's lives with art.
You don't need to have experience as an art instructor—you don't even have to be an artist to participate in this course. If you have the desire to teach children art, I will show you how.  The e-course features video lessons, written posts with photo-tutorials plus a printable PDF for each lesson.
If you are anything like me, I draw inspiration from people around me. I love learning new ideas, tips and techniques to make my life easier.  My lessons are jam-packed with photos and ideas that will not only help you, but inspire you. The videos will show you how to teach basics art instructions, will offer guidance on the best art supplies for children and how to manage an art session and a vibrant art room. I invite you to sit back, grab a cup of coffee and learn how I source ideas, teach lessons and deal with all aspects of teaching art to children.
The art lessons in this e-course cover basic art techniques such as mixing tempera paint, proper paint application, basic drawing skills (observational and directed-line), how to work with chalk and oil pastel, how to make painted paper and basic watercolor techniques that are perfect for children. If you have never taught art to children before or are looking to learn easier application tips, this course is exactly what you need.

---

Do you want to teach art to your child or in your child's classroom but don't have a clue where to start?
Are you a classroom teacher wishing to offer technique-rich art lessons your students?
Would you like your child to create mixed-media art projects at home?
If you have zero confidence in teaching art, I'm here to do it for you.
Art School for Kids is an online art school that features a combination of a PDF lesson plan plus video instruction that speaks directly to children and walks them through creative, mixed-media art projects.
The videos are designed to be streamed or downloaded onto your iPhone, iPad, home computer and lap top. The Everything Option allows up to 20 users in one school to access the classroom portal, enter the login info and watch the videos from her own device.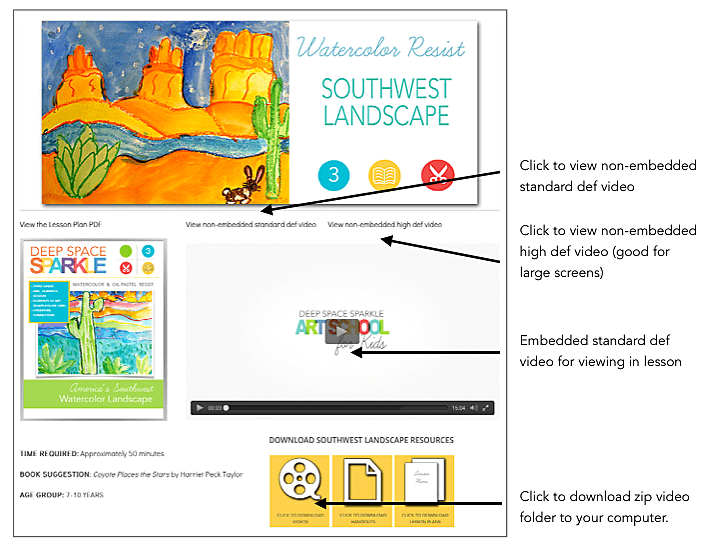 ---