Artist James Rizzi has been providing my art students with fabulous inspiration this Fall. After finishing another James Rizzi art lesson before class was over, some students continued on the Rizzi path and created these adorable birds. The 2012 James Rizzi Wall Calendar (English, German, French, Italian, Spanish and Dutch Edition) is a great visual aid for this lesson, so if you don't have any "Rizzi" art, this is a good place to start.
This is what we did: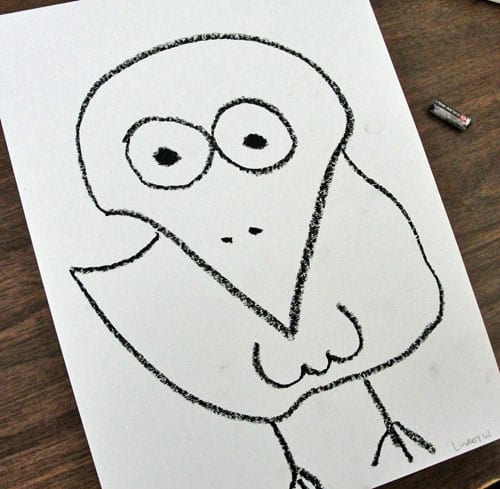 We drew a very simple line drawing of Rizzi's famous bird image on a 9″ x 12″ piece of watercolor paper. Use a black oil pastel and start with two circles that touch in the middle. Add big dots for pupils. Draw two dots for the nostrils then add a big upside-down letter "U" over the head. Draw a letter "V" for the beak. Add a body, fluffy feathers on the chest and finally, stick legs.

Use pan watercolor or liquid watercolors (easier) and paint the bird first. Make sure the oil pastel line is dark and heavy. Not only will it add a graphic quality to your painting, it'll act as a barrier for the watercolor paints. Next, wet the background paper with water and dab on blotches of watercolor paint. Done! How easy was that?
Fifth Grade Rizzi Birds (just as easily created with Kinders!)