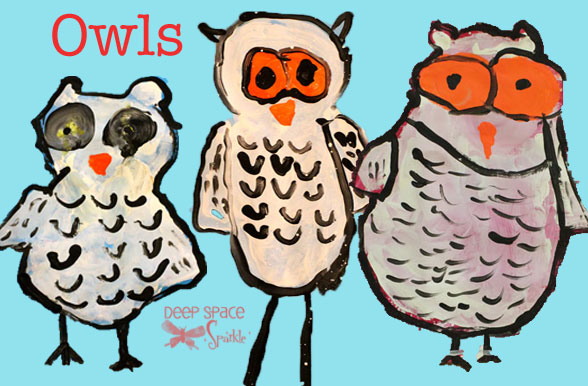 This just might be the most adorable owl painting ever. Inspired by 4Catslife's owl painting I saw on Pinterest, I took no shame in trying to copy the piece as best I could. My kinder classes were the lucky recipients, but this lesson is easily adaptable to any age group.
Supplies
The supplies are simple: white 12″ x 18″ paper, tempera paint and small, medium and large brushes for the paper painting and splattering, medium for the owl painting and small for the black detailing.
How to Paint an Owl
The children began the project by choosing either turquoise or magenta paint for their sky. You can get creative here and add more colors but I wanted to keep the prep simple.
After painting the surface on the white paper (it's okay to have some white paper showing), children began sprinkling and splattering white paint over the entire surface. It would help to have some baby wipes on hand to clean faces as the paint gets everywhere.
You can stop at this point and let the background dry, but who has the time? Onto the owl….dip medium sized brush in white paint and draw a circle (head), letter "U" (body), small side wings and two small ears at the side of the head (not on top). Color everything in with white paint.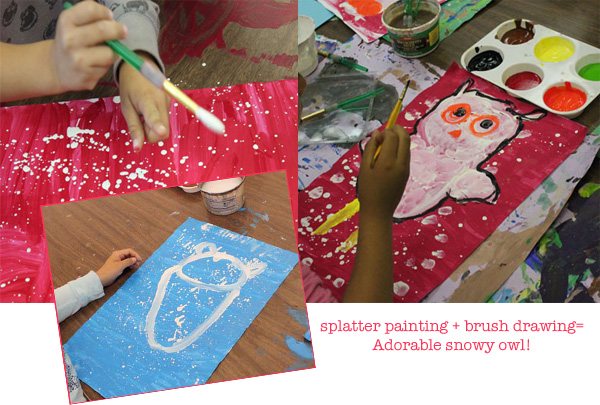 This is an ideal place to stop to let the white paint dry. But if you need to press on, children can then choose to leave their owl white or use another color to paint over the white.
Laying down the white paint first provides a neutral backdrop for other colors. For instance, if a child painted a yellow owl directly onto the blue paint, the owl would look rather greenish. Perhaps not what the artist intended.
The Fine Details
Finish painting the owl, add big circles for eyes, add a beak and finally a brown branch. At this point, you might feel as though the project is just one big blob of paint. And it may be true. It's the last step that really makes the difference. Using a small brush, dip into black paint and outline the following:
The owls body, including wings, head and ears
Add skinny legs
Add dots for the pupils
Add small feather strokes…little "u's"
Add details to the branches or add extra twigs
Finally….ask the child to sign his name to the bottom of the artwork.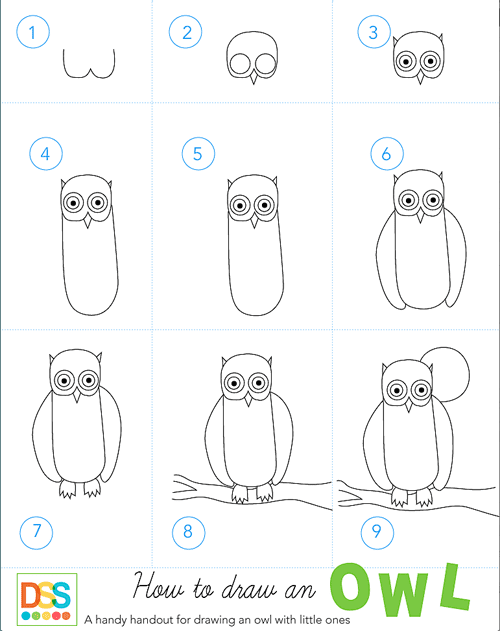 Now, I ask you…aren't the owls absolutely adorable?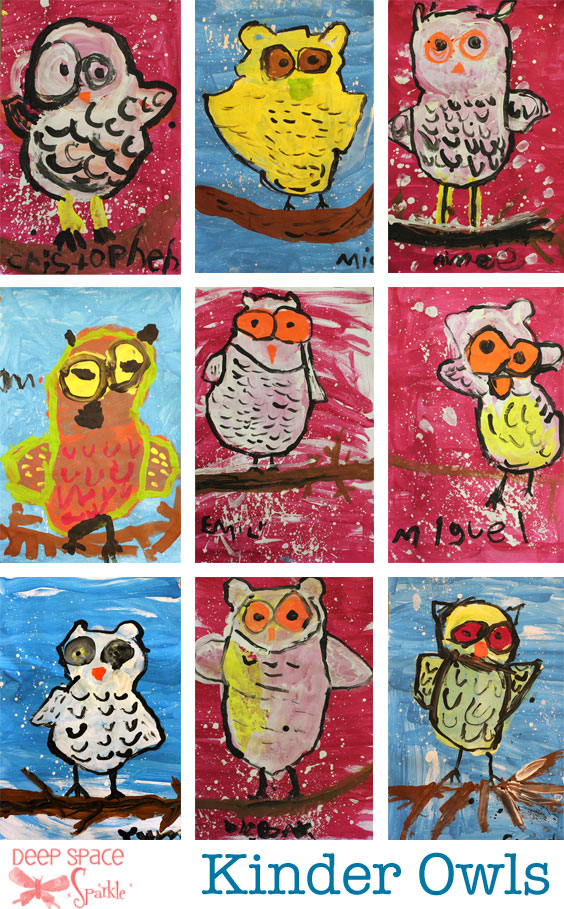 ---
Click the banner below to get the Owl Drawing Guide sent directly to your inbox!