Art Supplies: Perfect Paints
Paint is the perfect elementary school art medium. Picking up a paint brush is irresistible to kids and I know why; it's when the magic happens. It's vibrant, messy and oozy. But even though kids love paint, sometimes it's hard to know what paint is best for the classroom. In keeping with my series on popular art supplies, here is a list of paint that has worked and some that haven't.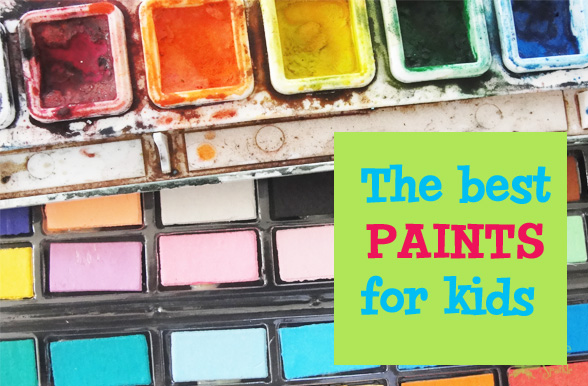 Today's Feature: Perfect Paints!
Tempera paint is by far–and I stress–by far the most essential paint to have in your classroom. I use it for more than 3/4′s of all my painting projects. I love Crayola Brand mostly by default. It's the brand that my school district orders and when I tag onto the school's large order, I get a better deal. I get the basic colors: Black, White (more white than any other color), Flesh, Primary and Secondary colors, Turquoise and Brown. With these colors you can achieve most any color that you desire.
Other art teachers have found success using other brands and the truth is, I don't think they vary much. So order whichever brand offers the best deal.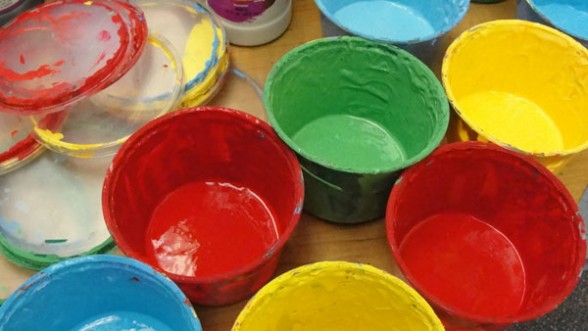 Distribution of Paints:
I like to distribute my tempera paints in 6-well plastic trays for projects that require my students to mix paints. I try to gauge how much paint the class will use because once you squirt the paint into the trays, it's hard to save the left-overs. Sometimes I will mix colors directly in the bottles and then squirt the new color into the tray. I think it helps give the painting project a color boost. Try adding a bit of white to the standard yellow. It takes the green tinge away making the paint so much prettier.
Tip: If you need to save the paint-filled palettes until the next day, place some plastic wrap on top. It should keep the paint relatively moist for up to 3 days.
When a project calls for general colors, I like to set plastic tubs of pre-mixed paints on the tables. This is my preferred method as I don't waste paints. Even if the colors come straight from the bottle, it makes sharing paint and brushes much easier. After the class is over, wipe the rim and place the plastic cover on. My paints will last 2-3 months with this method. Any longer and the paint will begin to smell.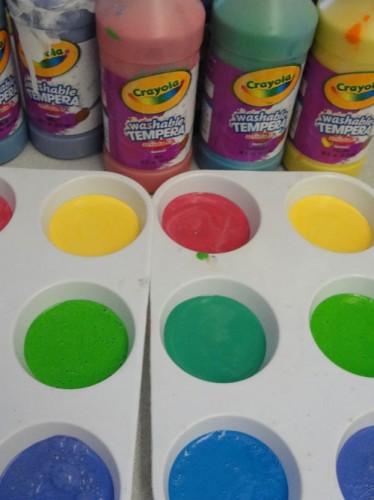 Specialty Paints:
There are alot of specialty paints out there that look pretty darn fun. I've tried quite a few and feel that most aren't worth it. Here are the ones I'd recommend:
Sargent Art Metallic Tempera: I love, love, love the gold and silver version of these metallic paints. I wouldn't bother buying the other colors as there isn't much need. They are expensive, about $6 for an 8-oz bottle, but if you use them as an embellishment for a painting or collage project, you'll be surprised at how long they can last. Even in a project that requires an entire surface be covered, like these Poinsettia Plants, you still won't need more than 1/3 of the bottle for 2-3 classes.
Occasionally, I have purchased colored metallic paints like red or turquoise. I love these two colors as they are really a standout in some of the projects that I have done. The Cardinal in Winter is my favorite and you can see how beautifully the metallic blue paint works.
If you can afford to buy a couple of bottles, stick with gold and silver and give these a try. Lots of fun and the kids LOVE them.
Glitter Paint: I've purchased a couple different brands of glitter paint hoping for that magical formula but I've always been disappointed. The paint always ends up with a strange viscosity; a bit gluey and transparent. I'd pass on glitter paint in the tempera form although the liquid watercolor glitter paint is a bit better (but still doesn't have the wow factor I was hoping for). Your best bet with glitter is the old shaker style glitter which you can apply on top of any paint surface. And it's alot more fun as well.
Pan Watercolor Paints: You may all know that I adore liquid watercolor paints and it's really my go-to choice when it comes to any watercolor project. I've written a whole post on the virtues of liquid watercolor but I don't often talk about pan watercolors. And there is a good reason for that; I don't like 'em. Mixing cheap pan watercolors is frustrating for many kids; the colors get muddy, the pans are never clean and cleaning them is a pain. BUT they're an important part of art education, so I must use them.
I've used Prang brand ever since I've started teaching art and although they are probably as good as any other affordable paint set out there, this is the year that I'm changing it up. I don't yet know which brand I will buy but if anyone has had success with anything in particular, let me know.  It might be time to invest in a better quality and order fewer sets and use them only for my upper grades.I'll let you know what transpires.
Update: October 6th, 2011. I just ordered double palettes (24 cakes) of Prang Watercolor sets and by golly, they're pretty good. I'm using them right now with a James Rizzi art project and the colors are fantastic. Maybe it's because the palettes are brand new or perhaps it's because the variety of colors makes it unnecessary to mix, but I like them alot.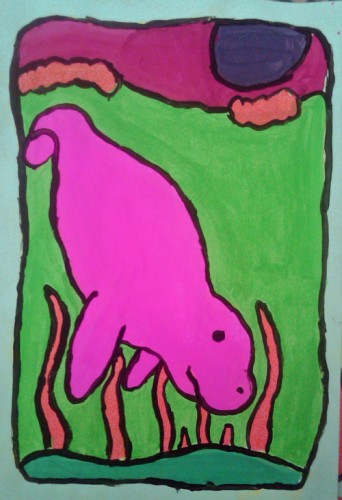 Fluorescent Paints: I bought a set of fluorescent paints last year. They were expensive; about $50 for six, 16oz bottles. Would I buy them again? Probably not. I did find having the pink and orange on hand was great as it's hard to get a good vibrant pink and orange from mixing the standard tempera. Aside from these two colors, I didn't think the other colors (yellow, green and blue) were of any great advantage to any of my projects. If you can order separately, get the pink and orange and then at least you will have the bright color in your paint arsenal.
Have you found any other must-have paints? Please share what you have found!
Here are three links for great art supplies….
This post contains affiliate links