James Rizzi is a dynamic artist/illustrator who lived in New York City. His animated art style, rich in detail and expression, has a massive following. The simple black lines with bold dashes of color make a perfect style for my students to imitate. Here are a few lessons to bring into your 5th and 6th grade classrooms.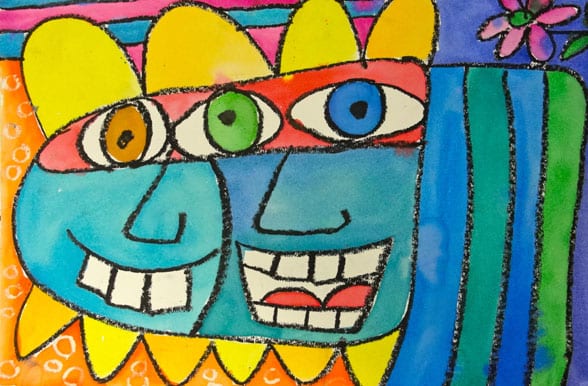 ---
OPTION ONE: JAMES RIZZI WATERCOLOR FACES
My 6th graders loved this lesson. I mean, loved! I used the 2012 James Rizzi Calendar to point out the various "Rizzi" art styles. I demonstrated a few faces on the whiteboard, starting with the iconic James Rizzi "eyes".
Next, I drew the nose which resembles a fancy number 6 or an upside down number 7. The mouth was the most fun part. We talked about the middle line of the mouth being the most expressive and from there we altered the shapes of the mouth. We added teeth and sometimes a tongue. Nothing sassy here…James Rizzi drew lots of tongues!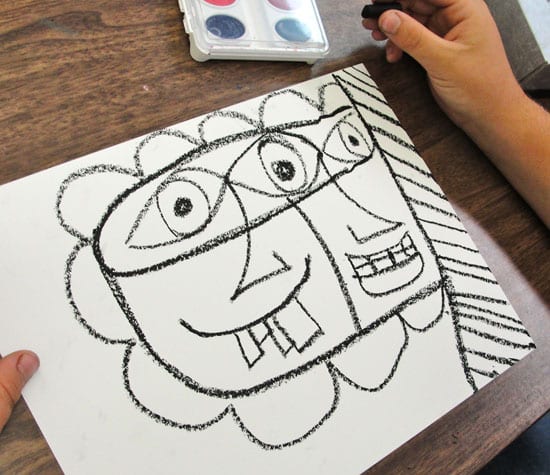 WHAT YOU'LL NEED:
I gave each student a 9 x 12″ Canson watercolor paper and a black oil pastel.
GETTING STARTED:
Drawing lightly with the oil pastel is encouraged at first, but the real secret to the success of this lesson is pressing a good dark line. This heavy oil pastel acts like a barrier to the watercolor paints so when the children paint inside the shapes, the colors don't bleed. Cool!
I'm so excited to announce that my new double sets of Prang watercolors work fantastic in this lesson. The extra palette of color combinations is a real time saver (no mixing) and gives a striking variety of colors to choose from. I'm so glad I tried them out as I was sure I would be a liquid watercolor convert for the rest of my life.
Sixth Graders used TWO @ 50-minute art lessons to learn about James Rizzi and complete this lesson.
Single James Rizzi Portraits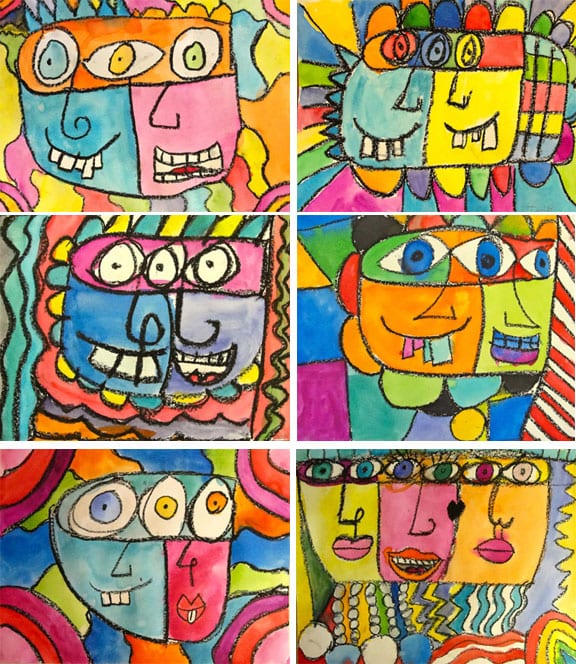 ---
Teach art from a cart? Learn why this lesson is a great choice by downloading this free checklist and lesson guide!
---
OPTION TWO: JAMES RIZZI WATERCOLOR BIRDS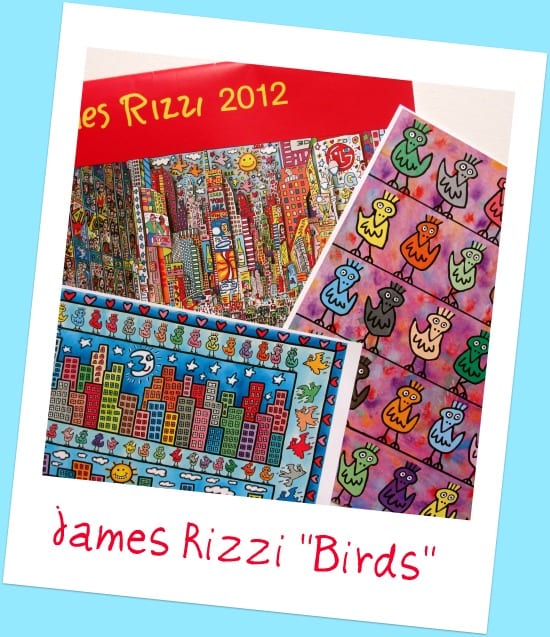 WHAT YOU'LL NEED:
9″ x 12″ piece of paper
Black oil pastel
Watercolor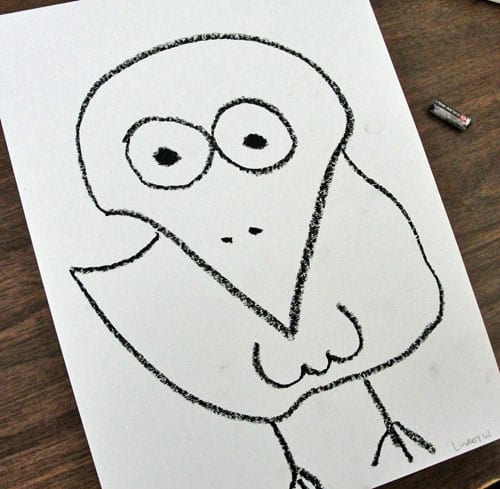 THIS IS WHAT WE DID:
We drew a very simple line drawing of Rizzi's famous bird image on a 9″ x 12″ piece of watercolor paper.
Use a black oil pastel and start with two circles that touch in the middle. Add big dots for pupils.
Draw two dots for the nostrils then add a big upside-down letter "U" over the head.
Draw a letter "V" for the beak.
Add a body, fluffy feathers on the chest and finally, stick legs.

Use pan watercolor or liquid watercolors (easier) and paint the bird first.
Make sure the oil pastel line is dark and heavy. Not only will it add a graphic quality to your painting, it'll act as a barrier for the watercolor paints.
Next, wet the background paper with water and dab on blotches of watercolor paint.
Done! How easy was that?
Fifth Grade Rizzi Birds (just as easily created with Kinders!)

---
OPTION THREE: James Rizzi Skyscraper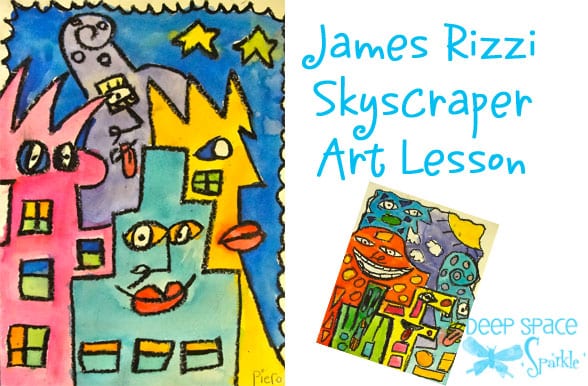 James Rizzi has left his mark on the world. His amazing illustrations has made an indelible impression on me and my students. Last Fall, my sixth graders did the units on James Rizzi including Faces and Simple Birds.. This time we had fun with James Rizzi Inspired Skyscrapers. This is a super easy lesson for older students. 100% fun and successful.
The technique is simple.
WHAT YOU'LL NEED:
Oil pastel
Watercolors
9″ x 12″ piece of paper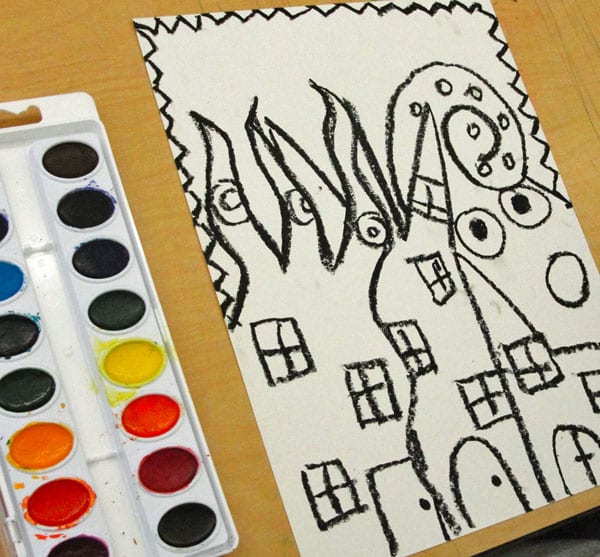 THIS IS WHAT WE DID:
I think it's important to use watercolor paper, no matter what the quality, as that is what makes the project so vibrant. If you use regular construction paper, the watercolor paints soaks into the paper fibers which would result in a dull appearance. Also, make sure to press hard with the black oil pastel.
The drawing is easy for older students. Instead of straight rectangular buildings, students added curved lines and interesting shapes as a substitute. A few pictures of any James Rizzi skyscraper art is all students need to be inspired!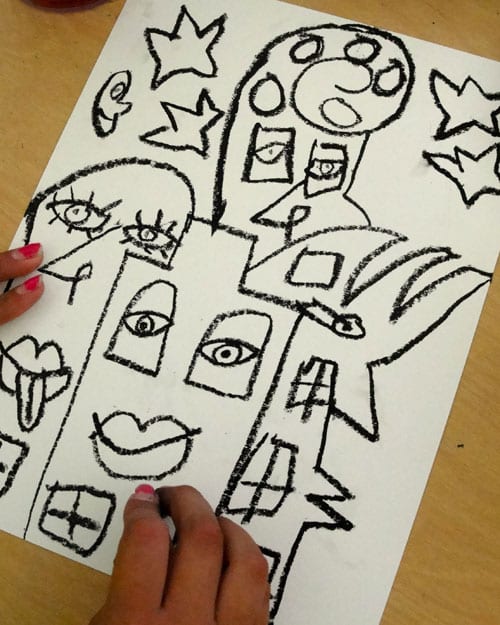 Aren't these wonderful. This lesson didn't take long; just TWO @ 50 minute classes. It helps to use small watercolor paper (9 x 12) to aid in the rapid completion of the project.
Sixth Grade Skyscrapers…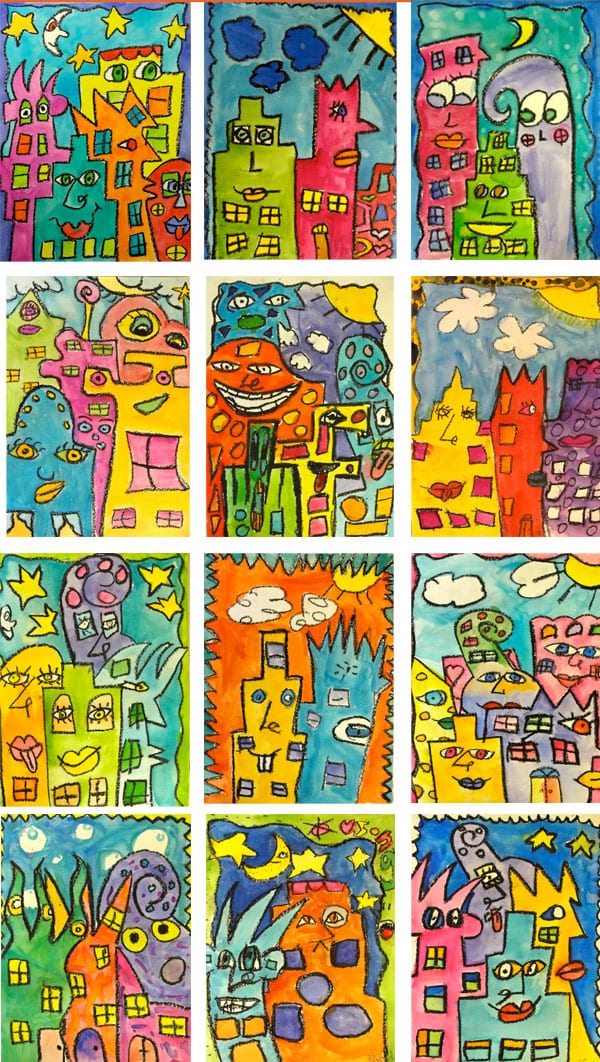 This post contains affiliate links
---
ARE YOU A SPARKLER? Over 300 art lessons are available inside the Members Club. Access to videos, resources & trainings for one low monthly fee.
CLICK THE IMAGE TO SIGN UP FOR NOTIFICATION OF OUR NEXT ENROLLMENT