Art Show Display Boards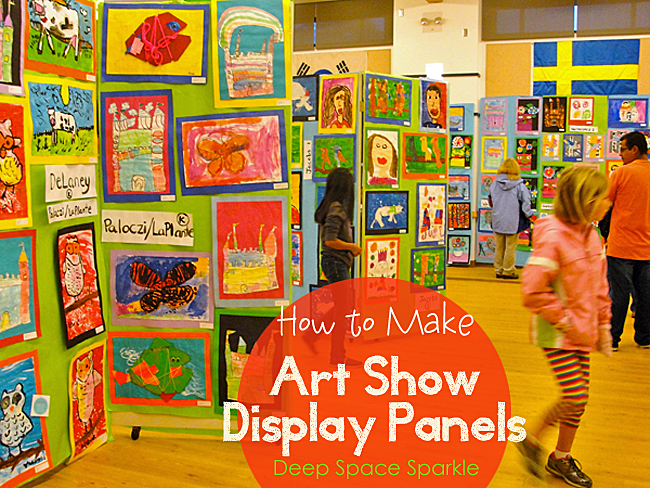 Two years ago, our school added a new multi-purpose room to their campus. Like many Southern California schools, we don't have gymnasiums. Some schools have small lunchrooms and most have some sort of multi-purpose room, but ours was tiny. So we were able to build a brand new structure to house school plays, PTA meetings, gym class and art shows.
Only problem? No ceiling wires in which to hang student art. I used to drape long sheets of paper over these "wires" (the student artwork was stapled to these long sheets). Now, we just have three walls. So when I went Google searching for some creative solutions, I found this blog: The Craft Junkie. If you scroll down the page, you'll notice some pretty cool looking displays on wheels. I emailed the picture to my handy-dandy buddy, Mario and within a couple of days, we had this: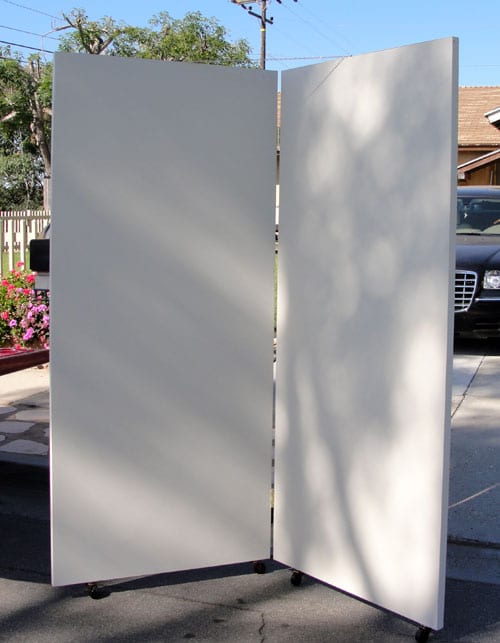 Pretty cool, huh? The panels are hollow pocket doors which weigh practically nothing. We hinged two doors together and screwed in wheels. Now I have three lightweight, portable display boards for the center of the MPR. If you're like me and want to know how many pieces of art I can display, I estimated about 120 pieces. Yippee! And all for under $200!
Details for construction:
These are very easy to make, and although I don't outline each step, I feel its pretty straight forward.
Each panel requires two 36″ x 80″ hollow, no-hole, pocket doors. Buy the primed ones so you don't have to paint them. You can find them at your local Home Depot or Loews. (around $40). We used two metal hinges to allow for folding and four casters on the bottom of the panels so we could roll the panels around. The hinges allow for the panels to be folded and stored against a wall. We added a small chain at an angle (you decide) so that the panels would open up and fall.
We made 3 panels the first year and it cost me less than $200. Parents in subsequent years have made 3 more. The panels are great for small display areas as they hold a lot of art and are great for set design in stage performances. For the art display, I staple/tape art to a long sheets of paper (36″ wide) and attach the paper panels with two masking tape strips on the top. Surprising enough, this is all it takes!