It all starts with hundreds of pieces of art that are mounted onto colored paper by classroom teachers. The enthusiasm, energy and can-do attitude make the Annual Art Show a wonderful event for the school community to enjoy.
Yup. I'm a very lucky art teacher. Teachers, classroom aids and parents help mount all the artwork. The Principal is an amazing resource and there have been so many helpful parents. I love how our community rallies to make these events happen for our children.
Just take a look at the colorful years past in my Annual Art Show history.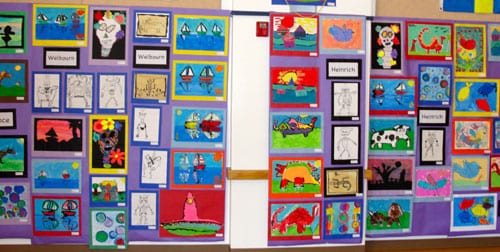 Brandon School Art Show 2011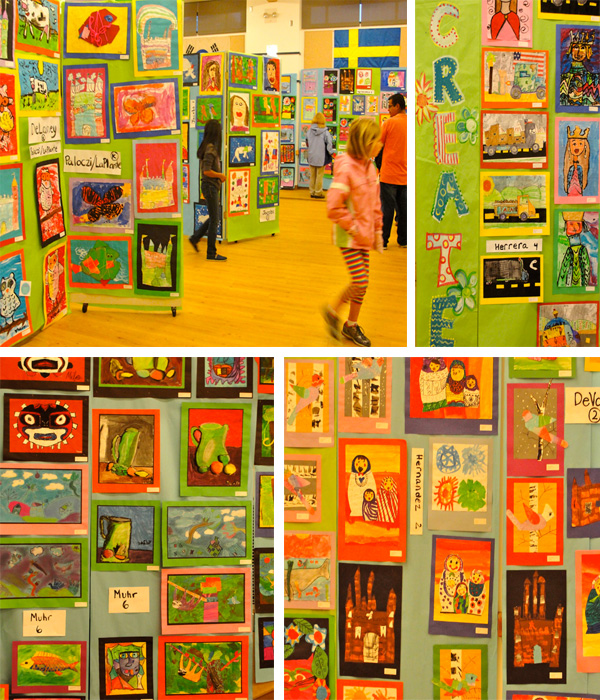 Brandon School Art Show 2012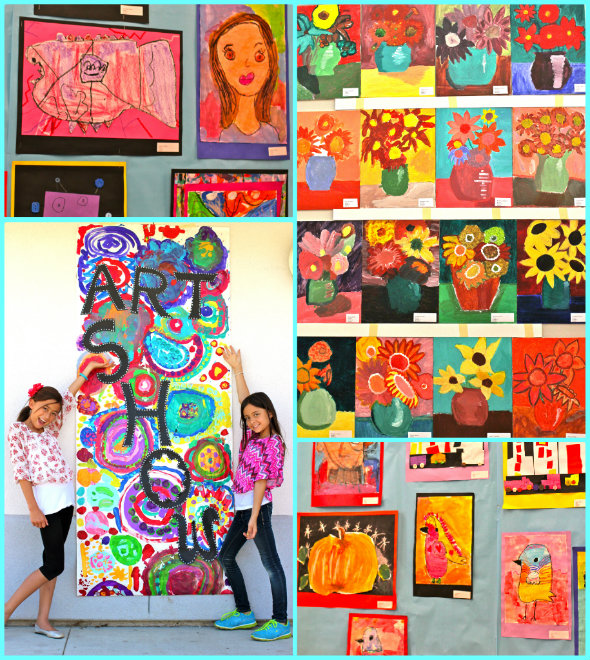 Brandon School Art Show 2013
Every art teacher has a different approach to their particular art show. Some do it alone. They mount the artwork for weeks and weeks while others scramble last minute. There is no best way.
But if you want help, do you know how to get it?
I've been so very fortunate to have a slew of involved parents at many of the schools I have worked at. This is especially helpful during the art show season. There is no school today that has a surplus of anything, especially busy parents, but most schools can drum up volunteers if given the chance.
I come from a PTA background. I'm proud to say that I was a PTA President and a board member for years at my children's school. Did I have surplus time on my hands? Yes. But there were many other dedicated parents who had very busy professional and home lives that found time to volunteer. Did we always have enough volunteers for back-to-school bar-b-ques, school auctions and jog-a-thons? Not really, but we always squeaked by.
Asking for volunteer help for your Art Show
The secret to asking for help is building up the reputation of the program that needs support. If the art show at your school has always been organized and managed by the art teacher, then finding volunteers to help that first year is going to be challenging (but not impossible). Try asking a parent with whom you have a strong rapport. Ask for a small amount of help and be super organized with her time. Her experience might be a positive one, and she will then ask someone else for help. Soon, you'll have a reputation that you can build on.
On the same note, if you are fortunate to have one person donate her time for a few hours, stick to her agenda. In other words, don't abuse the volunteer.
Reserve judgement
It's so easy for the one volunteer in the group to be a bit grumpy as to why no one else is volunteering. Be happy for any time a person gives, no matter how little.
Give very specific volunteer instructions
I have a handout that I give to the classroom teachers on the suggested way to mount artwork. I like to stage a day when volunteers can come and go as they need to. I reserve the multi-purpose room for a day. This is not always easy, so check with the office manager for help in reserving time to mount artwork. Sometimes you need to be flexible.  If everything is set out and easy to understand, volunteers can pop in for an hour to contribute.
Organizing supplies and basic set-up directions
I measure the length of my papers and prepare an easy way to cut lengths of the paper in bulk. Place a piece of masking tape on the floor, measure the length of the paper and place another piece of masking tape at that measurement. Now all the volunteers have to do is roll the paper from one tape to the other and cut. No need to get out the measuring tape every time.
As for the display panels? The multipurpose room added to the campus had no ceiling wires in which to hang student art. Now, we just have three walls and we've created cool looking displays on wheels.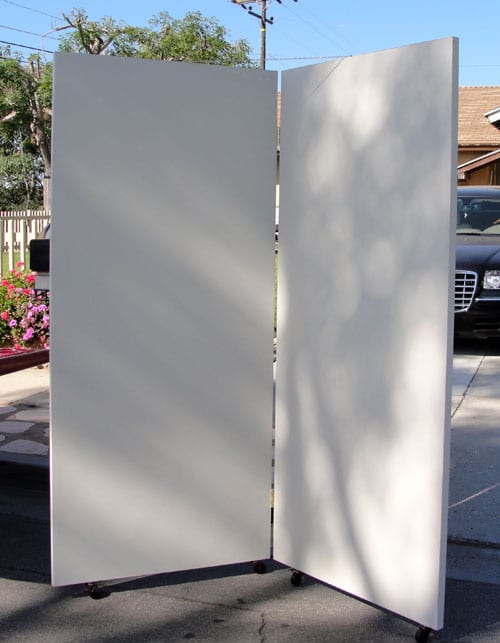 These were pretty easy to make.
Each panel requires two 36″ x 80″ hollow, no-hole, pocket doors. Buy the primed ones so you don't have to paint them. You can find them at your local Home Depot or Lowes (around $40). We used two metal hinges to allow for folding and four casters on the bottom of the panels so we could roll the panels around. The hinges allow for the panels to be folded and stored against a wall. Then we added a small chain at an angle (you decide) so that the panels would open up and fall.
We made 3 panels the first year and it cost me less than $200. Parents in subsequent years have made 3 more. The panels are great for small display areas as they hold a lot of art and are great for set design in stage performances. For the art display, I staple/tape art to a long sheets of paper (36″ wide) and attach the paper panels with two masking tape strips on the top. Surprising enough, this is all it takes!
No Volunteers? Try Community Service
Does your school have community service hours for sixth graders? If so, utilize it! Sixth graders are extremely capable and can staple artwork and cut paper. Perhaps they can do it on their lunch break.
Tearing down and removing artwork is the ideal job for sixth graders. They can pull the panels off the walls,then remove stapled artwork from the paper with a stapler remover and deliver to the classrooms. If anything, have students help with dismantling.
Need more help?
I've been waiting to put this puppy together for years now and something always got in the way. But with art show season upon us, I was eager to share my twelve years of art show experience with you all.
Creating this 38-page guidebook was pure joy because although art shows can be incredibly taxing, nothing is more well-received by children, parents and teachers. Think about it, is there anything more wonderful than a roomful of children's art?
I think not.
It's my hope that you will find simple solutions to your most frustrating art show problems, like scheduling, soliciting help and mounting all that art! I've created handouts for you to give to teachers and volunteers, forms to make mounting art easier and ideas for clever display alternatives.
Here is a peek inside: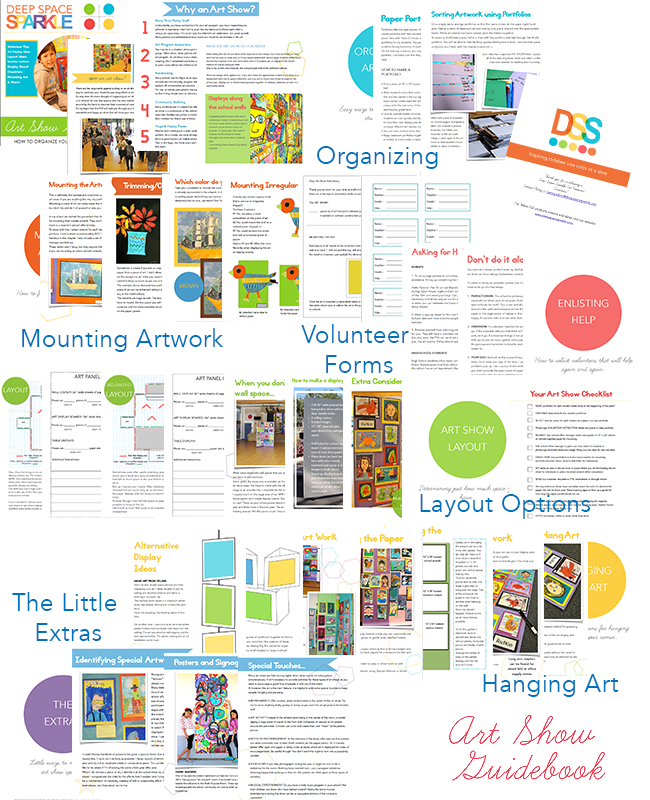 ---
ARE YOU A SPARKLER? Over 300 art lessons are available inside the Members Club. Access to videos, resources & trainings for one low monthly fee.
CLICK THE IMAGE TO SIGN UP FOR NOTIFICATION OF OUR NEXT ENROLLMENT