Art Show Volunteers
Art Show season is upon us and according to my last post on prepping for an art show, every art teacher has a different approach to their particular show. Some do it alone, mounting artwork for weeks and weeks and others scramble at the last minute and hope for the best! There is no best way, but I can't help but think: Do you want help but don't know how to get it?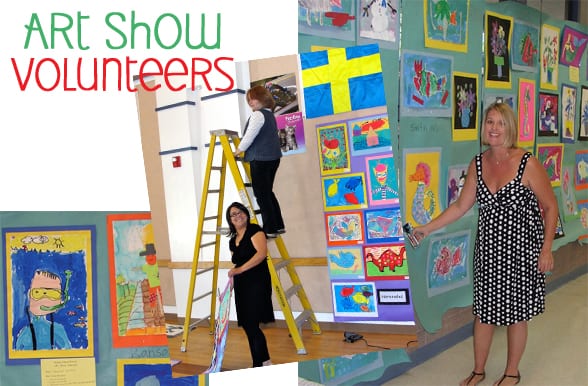 I've been so very fortunate to have a slew of involved parents at many of the schools I have worked at. This is especially helpful during art show season. Don't assume that just because I have volunteers that my school is rich with parents who have nothing else to do with their time. Just the opposite in fact. There is no school today that has a surplus of anything, especially busy parents, but if given the chance, most schools can drum up some volunteers.
I come from a PTA background. I'm proud to say that I was a PTA President and a board member for years at my children's school. Did I have surplus time on my hands? Yes. But there were many other dedicated parents who had very busy professional and home lives that found time to volunteer. Did we always have enough volunteers for back-to-school bar-b-ques, school auctions and jog-a-thons? Not really, but we always squeaked by.
I'm convinced that soliciting volunteer help depends on two things:
The attitude of the person asking
The whats-in-it-for-me factor of the parent being asked.
It's really important that if you are the person asking for help, then you need to understand that you are in charge. Your demeanor will dictate if the few volunteers you get one year will be willing to stick around to do it again. Part of that role means being organized. No volunteer wants to step into a mess. It's just too overwhelming.
Once you have a volunteer or two, determine if that person just wants to get in her two hours or if she has other motivations. Perhaps they love art and are very creative. Maybe they have a vision as to how the art show could be run. Don't be shy about soliciting opinions. Remember, they have their own reasons why they are helping out. Maybe it's the free coffee and crispy creams. That always gets me.
Asking for volunteer help
The secret to asking for help is building up the reputation of the program that needs support. If the art show at your school has always been organized and managed by the art teacher, then finding volunteers to help that first year is going to be challenging (but not impossible). Try asking a parent with whom you have a strong rapor. Ask for a small amount of help and be super organized with her time. Her experience might be a positive one, and she will then ask someone else for help. Soon, you'll have a reputation that you can build on.
On the same note, if you are fortunate to have one person donate her time for a few hours, stick to her agenda. In other words, don't abuse the volunteer.
To seek out volunteers, try the following sources:
PTA newsletter (electronic or print) You will be required to write a blurb for the editor. If you don't know who is in charge of this, ask the office manager. They know everything.
Email or have a conversation with the PTA President or Volunteer Coordinator (or anyone else who may have some interaction with parents), and ask for advice on how to solicit a few volunteers. They should be either very helpful or will yell at you for asking something of them. If it's the latter, just ask for a name and work your way down the ladder that way. Here's a tip: PTA Presidents get hammered with hundreds of requests every day. Be very nice and understanding to this person (even if she is really mean) as this is a volunteer position that demands a great deal of her time.
Classroom teachers have a lot of insight as to who helps and who doesn't. Perhaps they can offer some suggestions.
If parent volunteers are in very short supply, reach out to your local junior or senior high school. Often schools require students to have volunteer hours before graduation, so this is your chance to help them. Just make sure to be organized with very specific tasks.
Reserve judgement
It's so easy for the one volunteer in the group to be a bit grumpy as to why no one else is volunteering. I've sat on PTA boards where all the board members do is criticize others for not doing enough work, or not doing the work well enough or not at all. We have to remember that if a parent never volunteers at their child's school, it doesn't mean they don't care. They may be the baseball coach or the youth group leader or the docent at the museum. We can't assume to know the details of a person's private life. So stop judging and be happy for any time a person gives, no matter how little.
Give very specific volunteer instructions
I have a handout that I give to the classroom teachers on the suggested way to mount artwork. Not everyone can crop, glue and mount by eye (like us!) and have to measure carefully for fear of getting it wrong. What takes me one minute might take someone else five. A cheat sheet just may be what they need. On this sheet, I include not only mounting instructions, but information on other logistics like combo classes,inclusion children, etc. Here is the one I use.
I like to stage a day when volunteers can come and go as they need to. I reserve the multi-purpose room for a day. This is not always easy, so check with the office manager for help in reserving time to mount artwork. Sometimes you need to be flexible.  If everything is set out and easy to understand, volunteers can pop in for an hour to contribute.
Organizing supplies and basic set-up directions
This is what I use: Long-arm staplers (the more the better), masking tape, scissors, measuring tape, electric stapler to adhere paper panels to walls, paper rolls and ladders. 
I measure the length of my papers and prepare an easy way to cut lengths of the paper in bulk. Place a piece of masking tape on the floor, measure the length of the paper and place another piece of masking tape at that measurement. Now all the volunteers have to do is roll the paper from one tape to the other and cut. No need to get out the measuring tape every time. Remember, my volunteers have a handout (see above) so they can refer to the measurements if I'm not there.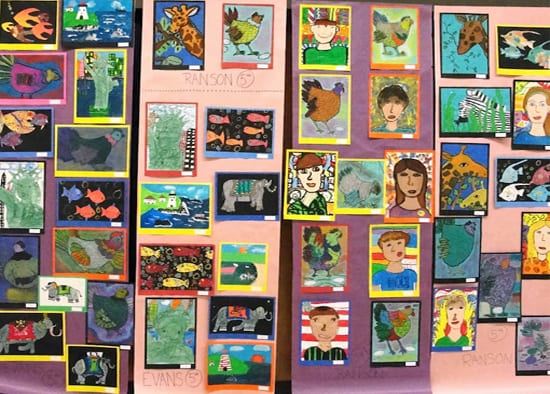 No Volunteers? Try Community service
Does your school have community service hours for sixth graders? If so, utilize it! Sixth graders are extremely capable and can staple art work and cut paper. Perhaps they can do it on their lunch break.
Tearing down and removing artwork is the ideal job for sixth graders. They can pull the panels off the walls, remove stapled artwork from the paper with a stapler remover and deliver to the classrooms. If anything, have students help with dismantling.
I hope this helps you at least think about ways to utilize volunteer hours. Do you have any other suggestions? Organizational secrets or even questions? Would love for you to weigh in!