Brandon School's 2011 Art Show
I'm so proud of my students. They've done such great work this year, coming into art class with enthusiasm, energy and a can-do attitude. It was all on display last Thursday, the night of our Annual Art Show, filling the multi-purpose room with color and energy. A huge thanks to my art buddies Sandra, Jeannie and Annette for stapling and hanging ALL the art for our school community to enjoy.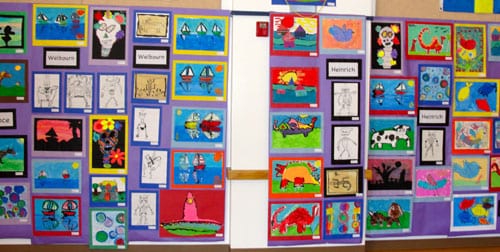 It all starts with 450 pieces of art that are mounted onto colored paper by the classroom teachers. Then, all the pieces are group according to class/grade levels and stapled onto colorful paper (36″ wide lengths).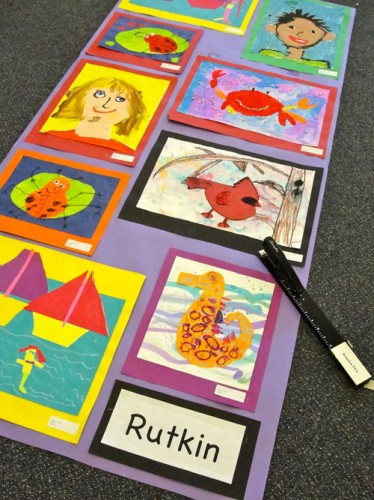 I like to take the pre-cut paper and lay it on the floor. Then I place the artwork on the paper, moving the pieces around until they fit. Once I'm satisfied with the arrangement, I use a long arm stapler and staple the pieces onto the sheet. I do all the artwork this way until everything is stapled to a paper.
Once the day of the art show arrives, we gather the paper, laden with heavy artwork and staple gun the panels around our multi-purpose room. I like to fold down about 4″ at the top of each panel just to give the panel top some stability.
Remember my post about  pocket door display boards? Look how nicely they work!
The artwork is stapled to the paper and then the paper is taped to the top of the display. We needed about 4 pieces of tape to make it stay. Very easy. To remove the art, just pull the paper and return entire panel to the classroom teacher.
If you haven't had your art show yet, good luck and have fun. Take in the happy faces of both parents and kids. There is nothing more uplifting than elementary school art!
Past Art Shows:
2010 Mountain View School Art Show