Creating Value: Laurel Burch Cats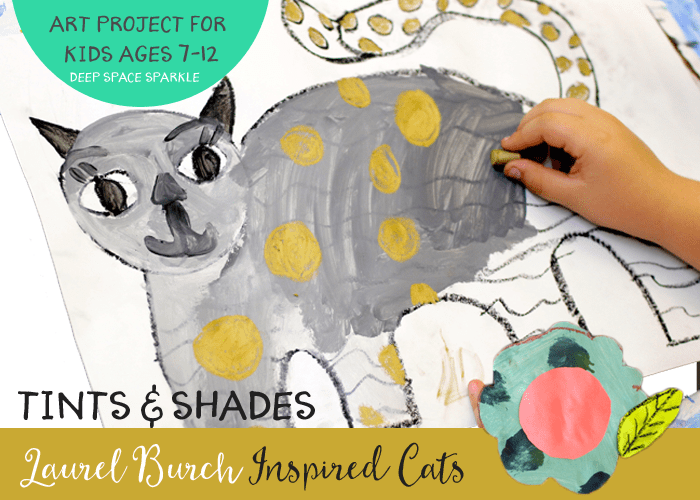 One of the most inspiring teachers I know (well, virtually speaking) is Ginger from Paintbrush Rocket. I absolutely adore everything she does. I personally think she is a color genius as everything on her art site is so striking. This lesson is based on one of her images on Flickr (of which I cannot hunt down for the life of me).
I personally find it hard to teach children about warm and cool colors but learning tints and shades is a breeze for most kids.
These black and white cats inspired by artist, Laurel Burch, start with a simple line drawing in oil pastel and completed with shades of grey and colorful painted paper flowers.
This is what we did: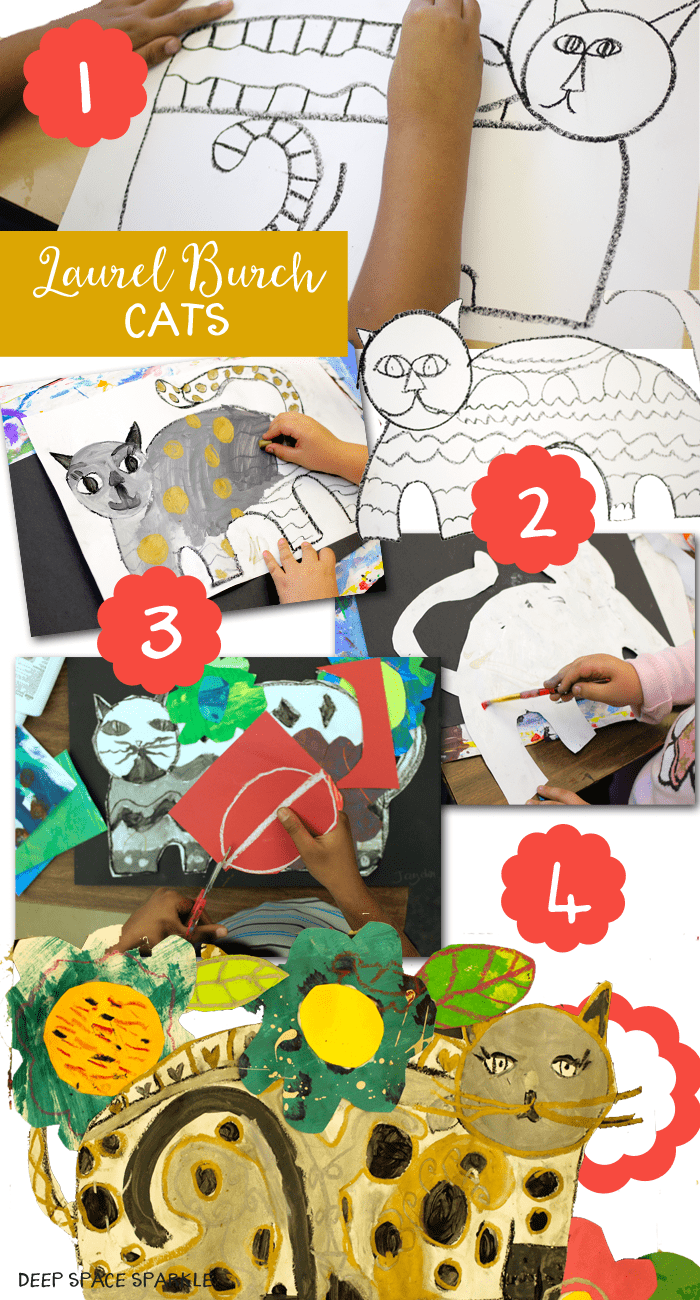 1. Drawing the Cat
To start the project off quickly, I gave each student access to a round container top. The kids traced the top on a 12" x 18" white paper with a black oil pastel. You can use crayons or even markers if you wish.
Basic Instructions:
Trace circle top for head.
Add a cat's face (no whiskers yet)
Add triangles for ears
Starting at the right side of the head, draw a slightly curved line to the other edge of the paper and curve down to almost the bottom.
Draw a straight horizontal line all the way to the other side of the paper (trust me, here)
Go back to head and draw one line towards the bottom of the paper, joining with the straight horizontal line.
Now, add the leg definition by drawing two upside down letter "U's".
Add a long tail in whatever space you have available.
We kept the drawing super simple and large. I wanted the kids to have plenty of space to add their paint later on.
Using the black oil pastel, divide the cat drawing into shapes using lines, shapes and patterns.
2. Value Painting (+ a little gold)
To create grey scale, place some black and white liquid tempera paint in a muffin-style tray. Kids can mixed bits of white with black to create varying shades of gray. If you are anything like me, you might need a little glam. if this is the case, throw in some gold metallic paint and allow the kids to add it where they want.
3. Collage
When dry, cut out cat and glue onto black 12" x 18" paper. Using gold, white and black oil pastels, trace over all the lines you want to highlight. This is the time to add whiskers.
4. Painted Paper Flowers
Using painted paper scraps, add colorful flower details to glue on and around the cat. Don't forget the leaves.
SECOND GRADE GALLERY