First Grade Watercolor Birds
My last class with my first and second grade students was on Tuesday. I only had 15 classes with them, so when the last class arrived, it felt very sad and short. Most of my lessons are designed to fit into 2, 45-minute sessions, so when I need a one session lesson, I really need to think about what can be completed within a short amount of time.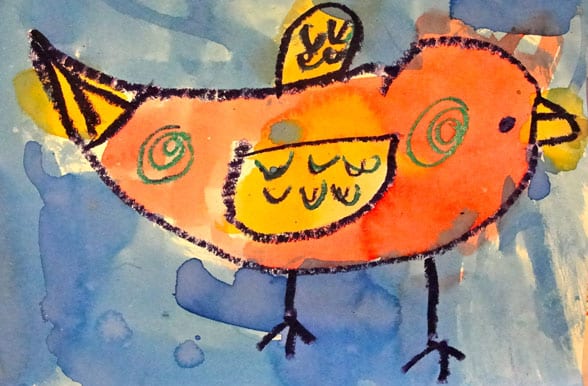 To draw the bird ( drawing tutorial can be found here ) we started with a directed line drawing with oil pastels. It's important to note that even though I say directed line drawing, I rarely give my students just one option. By now, they are used to many drawings on the white board. Often we'll brainstorm what a beak can look like, how you could change the wings, that sort of thing. This technique works well for me as I want the children to learn to draw but also want them to be as individual as possible. Most of the time, I feel confident that I achieved this.
So after a quick drawing tutorial, I ask the students to follow along and draw their bird with one color of oil pastel. Then, select one or two (or three!) other colors to add feathers, color in the beak, etc.
Now onto the watercolors: I ask them to paint the birds first so that if we run out of time, at least the bird is painted.
You can watch a video of the children painting the birds HERE.
That's it. Easy-peasy lesson.
Aren't these the cutest, little birds you've ever seen?