What could be more fun than paint and feathers? For Kinders, nothing…except maybe spatter painting! This lesson involves three steps: A directed line drawing for the bird, painting and then adding the feathers. All you need is a light color oil pastel (if using black paper or a dark color oil pastel if using a light paper), tempera paint mixed with a bit of white to create pastel tones and some feathers.
Everyone has their own method for drawing a bird. I find this shape easy and recognizable enough for all kids to master. Start with a circle for the eye.
Tip: To ensure proper placement of the eye, I explain where the eye should go, then I have each child point to that place on their paper. After receiving a thumbs-up from me, we are ready to proceed. This is an important step as most children will put the eye anywhere on the page, resulting in frustration with the later steps.
On the right side of the page, directly in front of the eye, draw an arrow pointing to the eye. This is the beginning of the beak. From here, the illustrations should be enough to get you going.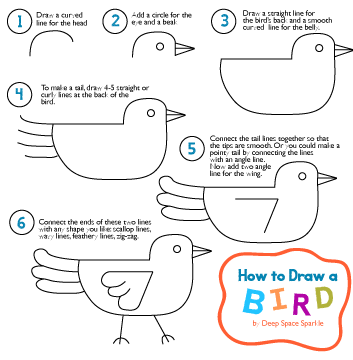 Now that the children have drawn a bird, it's time to bring out the paint. Add a bit of white tempera paint to your regular colors of blue, yellow, red and green. The added tint will help make the paint more vibrant on the black paper. If using white paper, there's no need to add the tint, unless you want a pastel look.
For the final flourish, add feathers! You can pick up a large pack at any craft stores. I usually set a limit of 3-4 feathers per student. This way, you eliminate the threat of covering up the entire painting!
Have fun.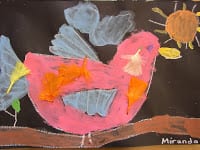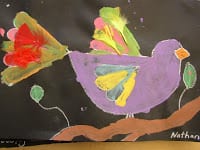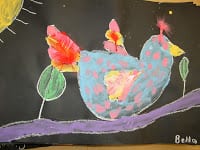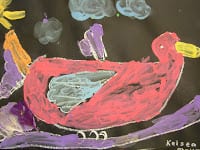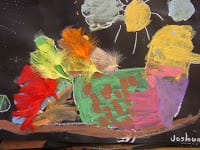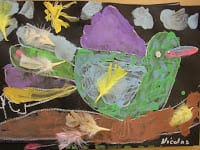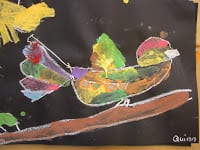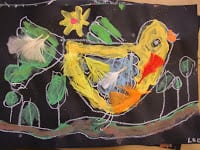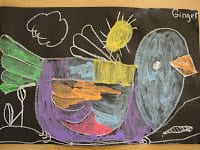 Related Posts:
---
CLICK THE BUTTON BELOW TO DOWNLOAD THE FREE HOW TO DRAW A BIRD FREEBIE