Maintaining Perspective in the Art Room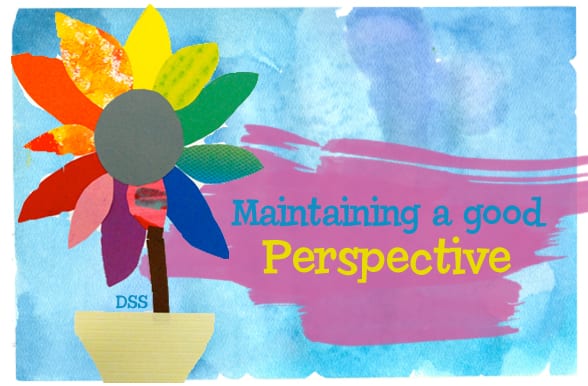 Its half way through my teaching cycle, which for me means that I'm on my second rotation for both my A and B groups. Creating, balancing and maintaining an art curriculum is crucial when I see each class only fifteen times per year. At times, I feel I'm a little too intense when selecting which art projects we will do. Careful planning helps ensure that each class will meet all (or almost all) of the state standards. I try to keep slots available so that if I have a sudden lesson inspiration (which happens often), I can add that to my schedule. I also try to be flexible when a class may require more or less from me…things like more free expression, less direction, etc. Each class is different, as is each student.
A special art program for everyone…
If I had my way, I would design an art curriculum for each child. I see their differences, skills, awareness and learning styles and yet, there isn't much I can really do to provide the perfect art program for every child. I accept that. Yet, I strive to provide an interesting and dynamic art program that will at best engage children so they will walk away from elementary school with a love of art and at the very least, learn that they were pretty good at making painted paper.
Standards, assessments and the other such stuff…
I've become more aware of standards, objectives and behavioral expectations over the past year mostly because of the engagement from my DSS readers. I'm not required to teach to the standards, my curriculum gets seen only by me and I don't have to grade art. Yet, my readers challenge me with great questions and because of this, my curiosity gets piqued frequently. I start to wonder if I should be incorporating more assessment or standards or better clean-up protocols because people are asking me. I begin to lose sleep because I'm not sure which standard that cute little pig lesson checked off.
Engagement matters…
But then I take a step back and remember why I teach; to engage children with art, to bring out the creative side in all my students and  to help them see that art shouldn't look all alike. Rubrics or not, I never want to look at a child's art with a critical eye, only a positive one. I'm indifferent to whether or not a child should understand analogous colors, because the truth is, I can barely pronounce the word. Is it necessary for children to understand or memorize art movements? I'm not sure, but I know I didn't learn about art movements or art history until college. I try to remember these idiosyncrasies about my teaching style because I know I can only teach in the style that is authentic to me.
I'm in an investigation phase of my teaching development. Here's what's interesting to me right now:
Exploring new ways to teach art. Right now I'm investigation TAB (Teaching for Artistic Behavior). There is a TAB website that covers the basics of the teaching style, but I suspect they will be posting more and more on the site as time goes by.
Enjoying the complex challenge of designing a balanced art curriculum. I have a new

Art Teacher's Curriculum Workbook

coming out in about a month…super excited about this one.
Embracing the papier mache projects that I started with my 2nd-4th graders.  This until is a big deal since doing this type of project consumes 1/3 of my students yearly art classes (5 classes).  That means I'm sacrificing other art standards and learning techniques to fit into the art schedule.
But the biggest excitement of them all is the yearly 6th Grade Mural that we will start next month.  Our theme is Aztec Art. How cool is that! I KNOW the boys in the group will love it.
What keeps you up at night regarding your art curriculum? What gets you most excited?