One of the most overwhelming aspects of being an art teacher is managing all the artwork. Of course, you don't have to manage it at all; children can take their art with them when they leave class. But for me, I like to keep all of the art created in the art room in the art room.
There's a reason for my managing madness: Art Shows. Each spring there are a medley of opportunities to showcase the student's art, starting with the biggest: the school art show. Each child gets to display one piece. I like to have all pieces available in individual portfolios in order to select the student's best one. Also, this system gives me the opportunity to select a variety of artwork so the parents can see all of the projects done throughout the year. You can read more about how I prep for my art show here.
Creating Student Portfolios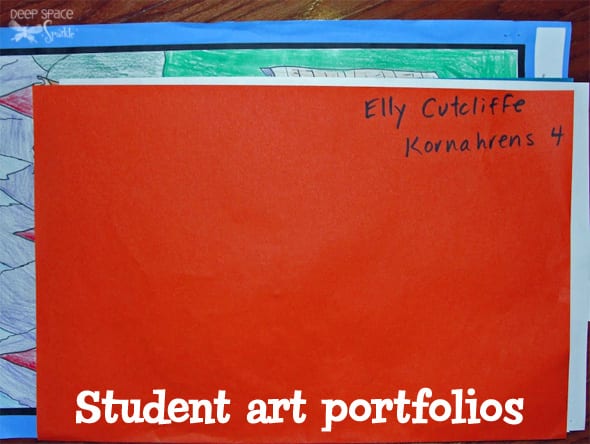 At the beginning of the year, I take a 18″ x 24″ piece of sulphite paper (I use whatever color I have, but color coding would be cool!), fold it in half then:
Write the student's name,
Write the teacher's last name or room number
Write the grade level.
* If that class has inclusion students, I like to put an asterisk next to those children's names, because even though they attend art with this class, their artwork is group with the inclusion classes for the art show.
Portfolio Storage
So, now that you have a portfolio for each child, where do you put them? At one of my schools, I have this nifty cubicle shelf. It's old and wooden and the perfect size for holding a classroom's stack of portfolios. By chance, this shelf has 5 cubes per row. Perfect, since I teach five classes in one day.
I put a label at the very top of each row: Monday Group A, Friday Group A, Monday Group B and Friday Group B.
As you may have determined, I teach in cycles: Group A for 5 weeks, then Group B for 5 weeks. I work two days a week (Monday and Friday). So If I'm looking for Friday Group B's portfolio's, I just look at the last slot.
Of course, you may have a different schedule. At the other school where I teach, my schedule is different and so is my storage. I don't have this nifty shelf, so I use legal metal filing cabinets. They are a perfect fit for my portfolios and you can organize the drawers however you like.
Organizing artwork after a class…
After a class is over, the art either goes on a drying rack or gets placed in a stack with a piece of paper on top stating whose class it is. Recently, I received a nifty tip from another art teacher to write teacher's class names on wooden clothes pins. Clip clothes pins to a string beside the drying rack or art storage table. When a class is done, clip the teacher's name to the top art on the pile. Isn't this a great tip?There have been many times when my little piece of paper with the teacher's name on it floats away, so I really like the clothes pin trick. I've mixed up ALOT of art by being rushed and anxious to get home or whatever.
Drying Racks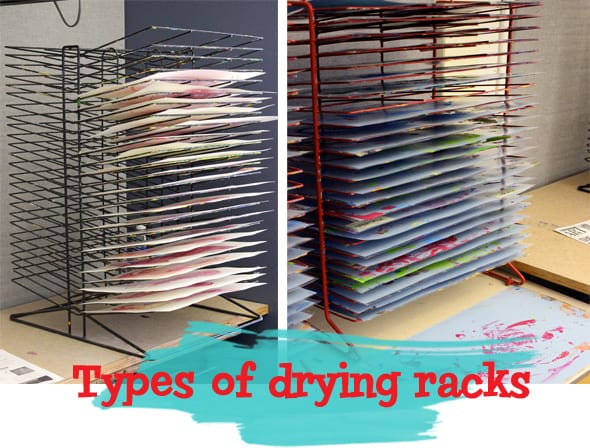 I have never been able to spend a lot of money on drying racks, so I have purchased fairly inexpensive ones. There are the kinds that have a support rail along the side (red rack) and the kind that has the support rail in the center (black). The black one is certainly better, but if you have the red one, here's a tip for you: laminate some old 12′ x 18″ papers and use as "sliders". Place artwork on sliders and slip into place. So much better than trying to wrestle a paint soaked piece of paper.
Portfolios mean easy access…
The best part of having portfolios is when a parent comes into the art room and wants to look at what her child has done. I can easily go to the filing cabinet, select the right class, find the portfolio (never alphabetized, I'm afraid) and let the artwork spill out in all it's glorious color. And if a child leaves during the school year, her art portfolio is ready for her.
Using Portfolios to Manage Free Choice
In a perfect world–or in some cases, a perfect class– kids will have a few minutes of class time left. Some have truly worked hard on their art project and need something to do other than bug their classmates.
It always struck me as funny why some kids would rush through glitter paint and metallic pens to get to a plain white piece of paper and a few chewed up crayons. But they do. Reminds me of when my kids were little and the box the toy came in was far more impressive than the actual toy. Sometimes kids need the opportunity to draw without interference. Simple stuff. Scribbles. Whatever.
But it can also pose problems.
You know when free-choice art time has gone awry when the paper box is being hoarded by table groups and oil pastels and crayon nubs are scattered across the floor. Paper airplanes start to fly and all of a sudden you got major cootie-catcher chaos taking over the classroom. Clean-up becomes extra work now leaving some art teachers (okay, me) to wonder if there is a better solution.
Setting out the classes' portfolios at the back of the room is a great way to steer children to not only finish their previous work but be able to manage it on their own. If a child finishes an art project, they can look in their portfolio for unfinished work. This only works if the parts needing to be finished are simple ones that don't require a major outlying of supplies. But I confess. I'm behind in creating portfolios for my students and so they don't have them yet.
Do you use portfolios in your art room? Or do you send all your artwork home? I'd love to hear!
Comment below…