Many of you might be in the process of planning your end-of-the-year school art show. Spring break will soon be upon us and instead of spending your vacation days back at school sorting and organizing student art work, get a head start by implementing these strategies…
Watch my video below on everything you need to prep for a school art show!
Supplies You'll Need to Set Up:
– Individual student portfolios of art work
– Long-reach stapler
– Hot glue gun & glue sticks
– Hand held stapler
– Masking tape
– School glue
– Large sheets of colored sulphite paper
Download the Art Show Checklist below and get prepared for art show season!

Step #1: Set Up Portfolios
It would be impossible to select a child's best pieces for the show without the use of portfolios. I'm the first one to admit that creating and maintaining a portfolio system requires a dedicated amount of time, but being organized is part of the job. Since I only have 15 sessions with each class, I don't like to waste precious class time having the students create their portfolios, but if you see your students every week, then by all means, get them to do it.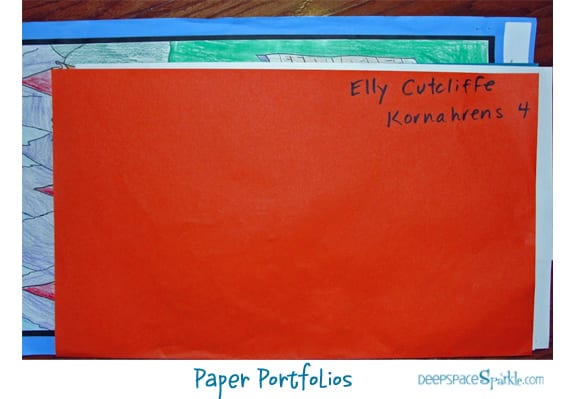 On this note, if you do see a class every week, chances are you are accumulating a great deal of artwork. Start weeding out which pieces go home. Any free-choice or half-done pieces that you know won't be worked on again–send home. Any large 3-D pieces that are not intended for the art show–send home. You get the idea.
I keep my class portfolios in standard filing cabinets. When I didn't have cabinets, I used wooden shelf-style cubbies (the best!). When I didn't have cabinets or cubbies, I used cardboard boxes and placed the boxes under tables along the perimeter of the room.
Step #2: Selecting Art Work
There are a few things I keep in mind when selecting art for the annual school art show:
– Every student needs to have one finished piece. Sounds easy but I have some students who miss many classes. If I look through their portfolio a few weeks before the art show and they have nothing completed, I will make sure his next piece is completed in class or I will give him a piece of unfinished art to take back to class to finish there. I don't care what the child's situation is or whether or not his parents will even come to the school art show. But that child WILL have something that represents him as an artist.
– Since I do a huge variety of projects, I make sure I have a good representation of all techniques and mediums. I want the parents to see how broad our little art program is and that I don't do one lesson for every grade level. There is nothing as boring (or comparative) than seeing 100 painted penguins displayed. And since parents support half the art budget, I want them to be encouraged that their hard-earned money is being put to very good use.
– Many, many students produce amazing pieces. How do I chose which one is selected? I try and remember which piece resonated with that child. Usually, if they are proud of a piece, I remember. That's the piece I will pick.
– I pick all pieces. Sounds a bit like I'm a control freak, huh? Well, I am. My first year teaching, I took an entire class period for each class so that the students could pick their own pieces. It was extremely time consuming and really hard for some kids. I abandoned that idea pretty quickly. Another year, I sent the 6th grade portfolios back to their homeroom classes so that the students could look through their portfolios and select their favorites. Some selections came back as the unfinished ones or all the same ones. There just wasn't the variety I had hoped for. Some of the selection process was peer pressure as well. Some kids chose their worst piece (or funniest piece in their eyes). So let's just say I placed my control-freak hat back on again the next year.
Step #3: Displaying Art
I have used the same system for over 10 years of art shows. This is what I do: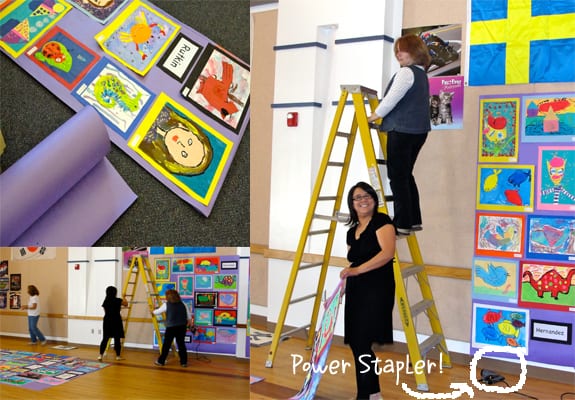 I select the class art work and send it back to the classroom teacher.
The classroom teacher has labels (printed by the office manager), a set of basic mounting instructions and a stack of artwork. They mount the artwork onto construction paper with regular school glue. Most of the time an aid or a room mom mounts the art.
The mounted art work gets sent back to the art room.
Volunteers take each class folder filled with art and takes them to the multi-purpose room. Once there, the volunteers cut lengths of colored rolled art paper. To make measuring easy, we place masking tape on the floor at pre-measured distances. So if we need 12 sheets of 96″ papers, we place two strips of masking tape on the floor at a distance of 96″. Then, just place the roll of paper on the floor, push until the roll reaches the masking tape marker and cut. Stack papers on top of one another until its time to use.
Using a Long Reach Stapler, artwork is mounted by class onto the colored lengths of paper. We don't start at the very tip top as we want the artwork to be low enough to view. Sometimes its necessary to use masking tape for pieces that extend too far into the middle of the panel.
When a paper panel has all artwork attached, we stack the panels on the floor until we are ready to mount the panels on either the walls or moving display panels.
The hanging of the pre-mounted and very heavy artwork is actually pretty quick. Using a ladder, one gal hands the heavy, art-ladden paper up to the gal on the ladder. She staples the paper to the wall. To make the top of the paper durable, the paper is folded. This is all that needs to be done. The staples hold and the artwork hangs well.
When it comes time to dismantle the art show, the paper panels are pulled down (they let go easily) and each panel goes to the classroom teacher. 6th grade students do well at this task. They carry the panels back to the teachers, who un-staple the artwork and send it home with the artists.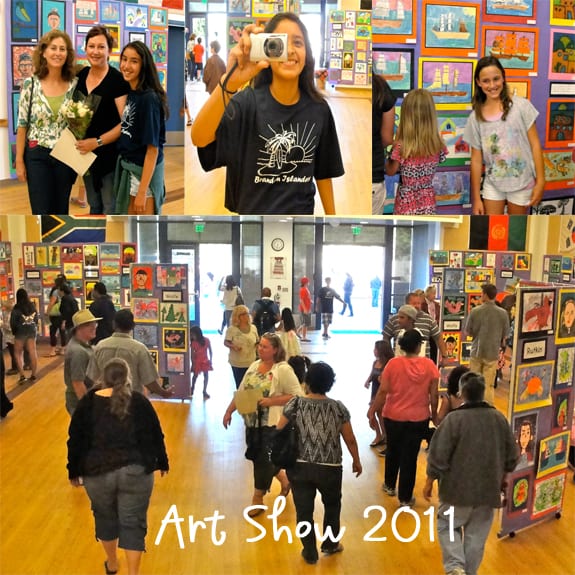 Good luck to everyone who is planning an art show. Be proud of your work and celebrate with the children!
How to Organize an Art Show
Art shows are a sure sign that school is nearing the end of the year and the visual representation of your students hard work is about to be realized.
Whether you are a one-person organizer or have a team of volunteers, here are a few systems that helped me make my art shows manageable.
Asking for help…
I've been so very fortunate to have a slew of involved parents at many of the schools I have worked at. This is especially helpful during the art show season. There is not school that has a surplus of anything, especially available parents, but most schools can drum up volunteers if given the chance.
I come from a PTA background. I'm proud to say that I was a PTA President and a board members for years at my children's school. Did I have surplus time on my hands? Yes. But there were many other dedicated parents who had very busy professional and home lives that found time to volunteer. Did we always have enough volunteers for back-to-school bar-b-que's, school auctions and jog-a-thons?
Not really, but we always squeaked by.
The point is, is that even with one helper, you can do it!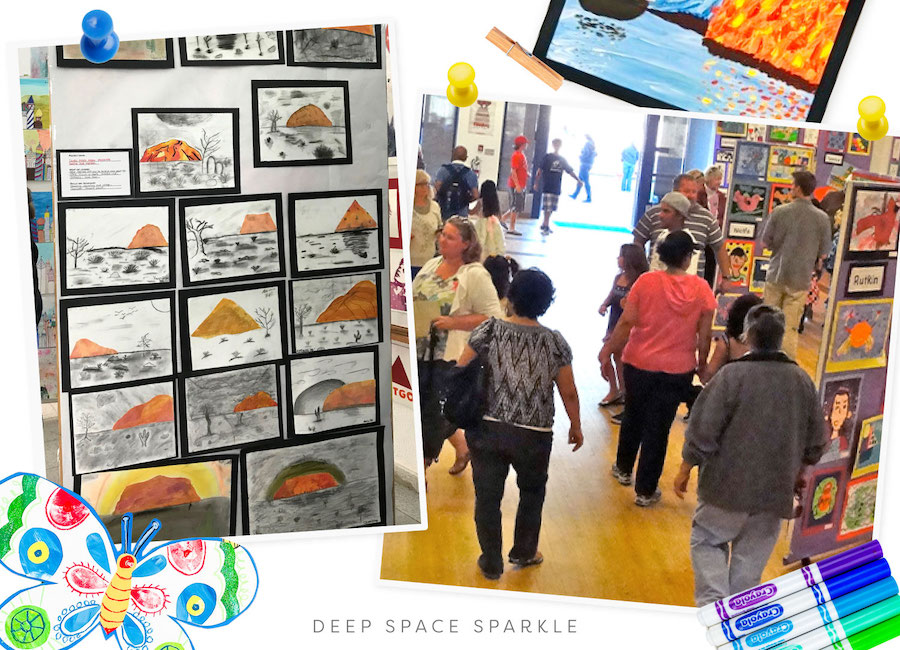 The secret to asking for help is building up the reputation of the program that needs support.
If the art show at your school has always been organized and managed by the art teacher, then finding volunteers to help that first year is going to be challenging (but not impossible).
Try asking a parent with whom you have a strong rapport. Ask for a small amount of help and be super organized with their time. Their experience might be a positive one, and they will then ask someone else for help. Soon, you'll have a reputation that you can build on.
On the same note, if you are fortunate to have one person donate their time for a few hours, stick to their agenda. In other words, don't abuse the volunteer.
Give very specific volunteer instructions
I have a handout that I give to the classroom teachers on the suggested way to mount artwork. I like to stage a day when volunteers can come and go as they need to.
I reserve the multi-purpose room for the day. This is not always easy, so check with the office manager for help in reserving time to mount artwork. Sometimes you need to be flexible. If everything is set out and easy to understand, volunteers can pop in for an hour to contribute.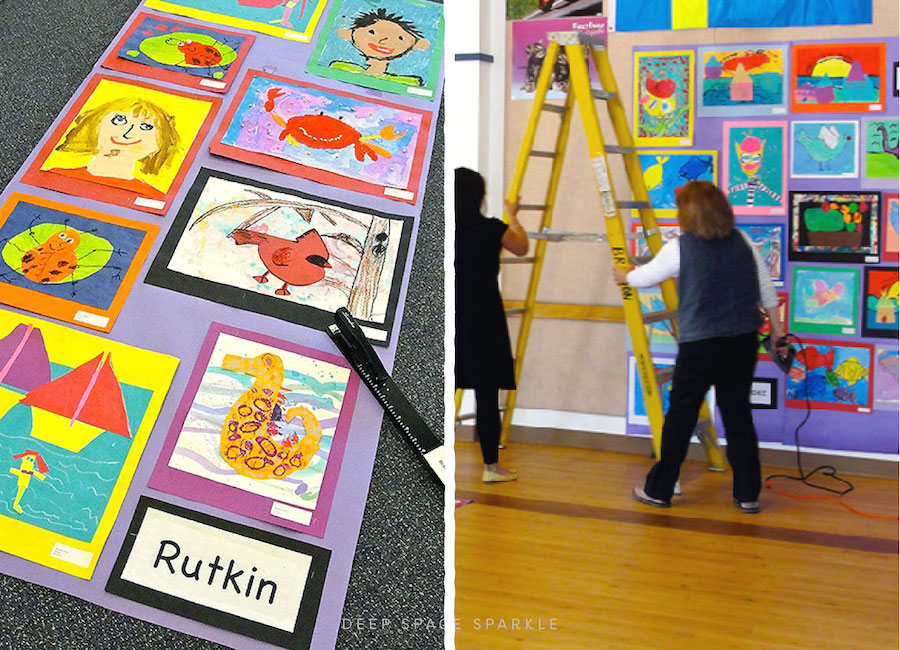 Organizing supplies and basic set-up directions
I measure the length of my papers and prepare an easy way to cut lengths of the paper in bulk.
TIME SAVING TIP: Place a piece of masking tape on the floor, measure the length of the paper and place another piece of masking tape at that measurement. Now all the volunteers have to do is roll the paper from one tape to the other and cut. No need to get out the measuring tape every time.
No Volunteers? Try Community Service
Does your school have community service hours for sixth graders? If so, utilize it! Sixth graders are extremely capable and can staple artwork and cut paper. Perhaps they can do it on their lunch break.
Tearing down and removing artwork is the ideal job for sixth graders. They can pull the panels off the walls, then remove stapled artwork from the paper with a stapler remover and deliver to the classrooms. If anything, have students help with dismantling.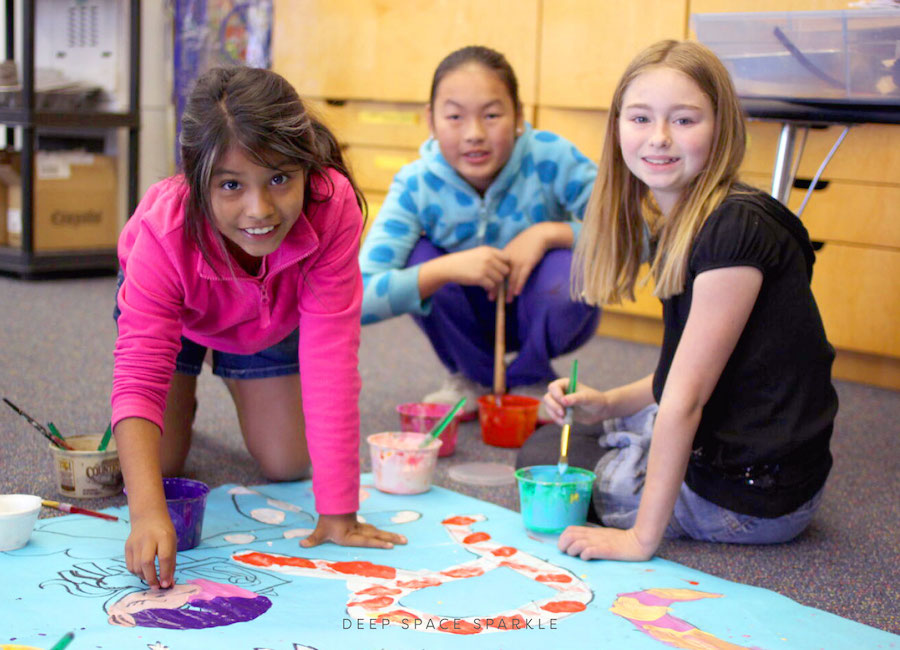 As for the display panels? The multipurpose room added to the campus had no ceiling wires in which to hand student art. Now, we just have three walls and we've created cool looking displays on wheels.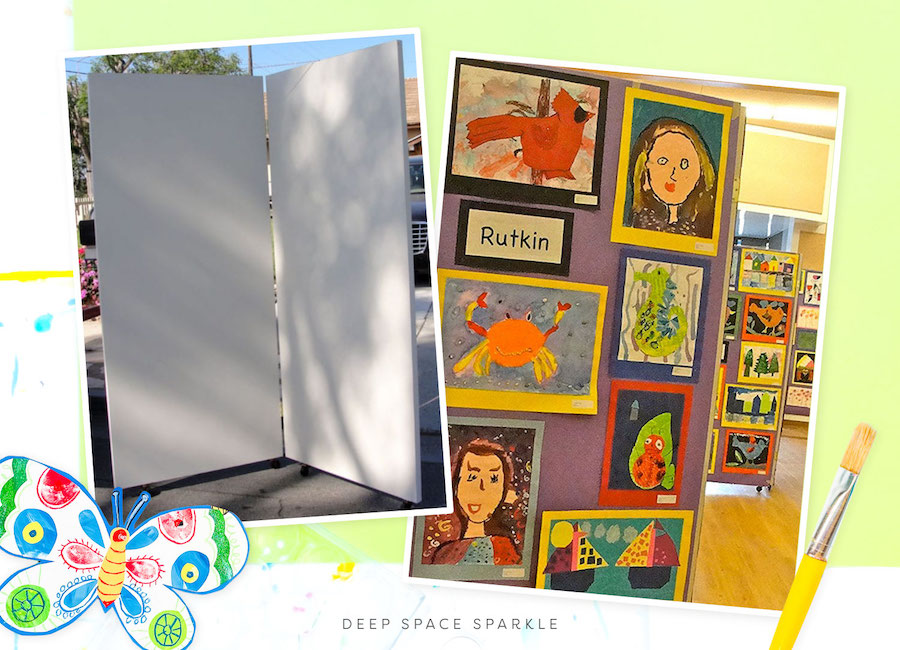 These were pretty easy to make.
Each panel requires two 36″ x 80″ hollow, no-hole, pocket doors. Buy the primed ones so you don't have to paint them. You can find them at your local Home Depot (around $40).
We used two metal hinges to allow for folding and four casters on the bottom of the panels so we could roll the panels around. The hinges allow for the panels to be folded and stored against a wall. Then we added a small chain at an angle (you decide) so that the panels would open up and fall.
We made 3 panels the first year and it cost me less than $200. Parents in subsequent years have made 3 more.
The panels are great for small display areas as they hold a lot of art and are great for set design in stage performances.
For the art display, I staple/tape art to a long sheet of paper (36″ wide) and attach the paper panels with two masking tape strips on the top. Surprising enough, this is all it takes!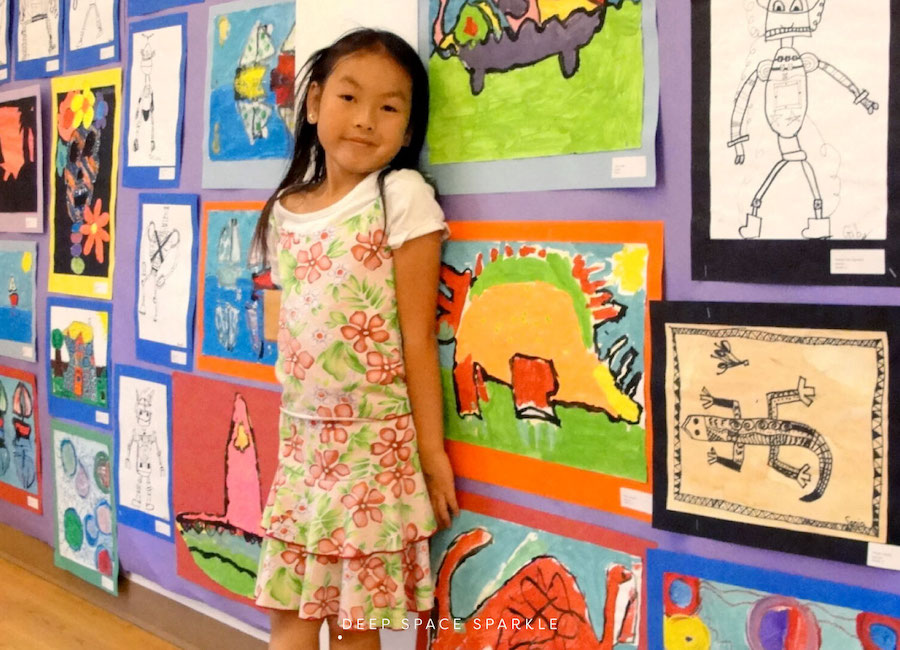 Organizing an art show takes an extraordinary amount of work but with a little organization, a plan and a few helpers, you'll be well on your way to creating an experience your students won't soon forget.
I'd love to hear what went well and what didn't in the comments below…
And of course, make sure to tag @deepspacesparkle with your art show pics on Instagram!