The Organized Art Teacher: Organizing and Storing Art Projects
Let's face it, art teachers aren't known for their organizational skills. Ask anyone to describe their former art teacher and you might hear the words scattered, emotional, strange, colorful, etc. Organized is unlikely to get top-billing. But I disagree. After perusing hundreds if websites, blogs, Facebook pages, and reading your comments on Deep Space Sparkle, I have come to the conclusion that art teachers are indeed quite organized!
I've worked hard on my organizational skills in the last few years. I understand that in order to teach 5 classes and 125 kids in one day, with different lesson plans and expectations, not to mention adjusting to the different needs of each class, one better be organized or the day will be seriously exhausting. So I put a lot of effort into it.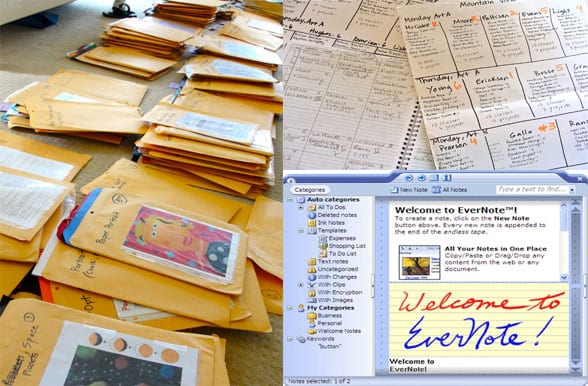 In the series, The Organized Art Teacher, I will offer creative ways to start the year off with an organized mindset. Ever wondered how other art teachers store their old lesson plans and samples? What about creating a balanced art curriculum or how to track what each class created? And what about inside the art room…what's the best way to plan a theme-based art unit? This series will show you how, starting with….



Not long ago, I stepped into my walk-in closet and cringed. Manila envelopes, stuffed with art lessons, occupied more space than my clothes. It wasn't long ago that I re-classified my bedroom closet to art storage, but this had gotten out of hand.  I had started to amass quite a collection of art lessons and given the fact that I rarely repeat a lesson, it's understandable that I outgrew this system.
Identify Your Organizing Style
The manila envelope system worked well for a while, but because I don't repeat many lessons, the manila envelopes turned into a huge storage problem. While I hate to throw anything away, there were many items that didn't have to be stored. This is a general list of what I found in the envelopes:
-3-4 teacher samples (I kept saving them after every new class, instead of keeping the best one)
-20-30 lesson handouts (drawing aids, idea sheets, etc)
-Photo clippings of subjects (calendars, magazine clippings, Internet pictures)
-Picture books associated with the lesson
-Lesson step art work for tutorial purposes
-Templates (if applicable)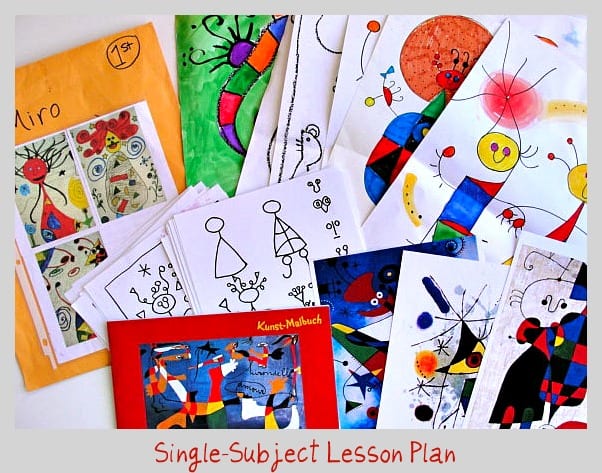 Some envelopes were pretty thick!
Editing Tips
To make the envelope system more efficient, I gathered all bins that held the envelopes and dumped the contents over my bedroom floor. I grabbed some post-it notes and made the following categories:
Portraits Upper Grade
Portraits Lower Grades
The Masters I
The Masters II
Summer Themes
Winter Themes
Winter Holidays
Halloween
Color Wheel Theory
Animals Farm
Animals African'
Animals Rain forest
Cultural
Art & Literature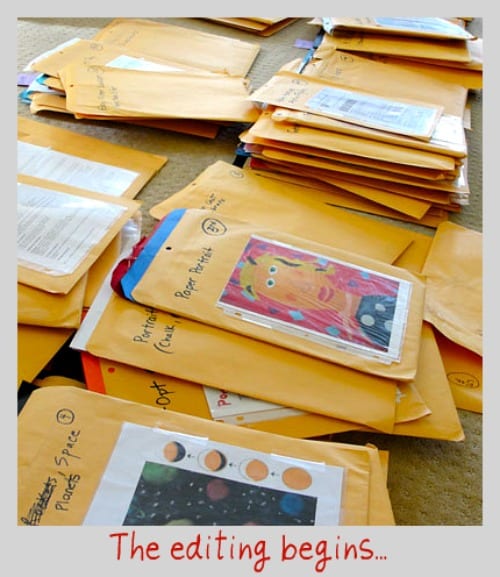 There are more, but you get the idea. I selected categories as my guide with the knowledge that categories are my best reference tool. You might consider technique as your best reference tool. If that's the case, you would label your post-it notes with watercolor, pencil crayon, collage, etc.
Once all the post-it notes were done, I placed them all over my floor. Then the hard work began. Sorting through each bin, I placed each manila envelope containing just one art lesson in one of the post-it note piles. My goal was to reduce the amount of envelopes and also reduce the amount of support material for each lesson. Your goal might be the opposite: to gather all the support materials, teacher samples, etc and put single lessons in each file. You need to figure out what works for you.
---
Editing the Lessons
No one wants to throw out lessons but I had many that I had no problem parting with. Here is my criteria:
-If a lesson hasn't been tried in 2 years, toss it. This could be a seemingly cool ceramic lesson that you saw in an art magazine, but since you don't have a kiln, well…what's the point? Don't fool yourself thinking that you'll need this fantastic idea someday in case your budget affords you a kiln. Believe me, you'll find something else to do by then.
-The lesson looked great but just didn't work out with your students.
-The lesson took way too many classes to finish and the results or learning experience just wasn't that overwhelming.
-You don't need teacher samples, handouts or calendar visuals to do this lesson (many directed line drawings fall under this category).
Once you got rid of the unwanted lessons, start sorting the ones you do like into the post-it note files.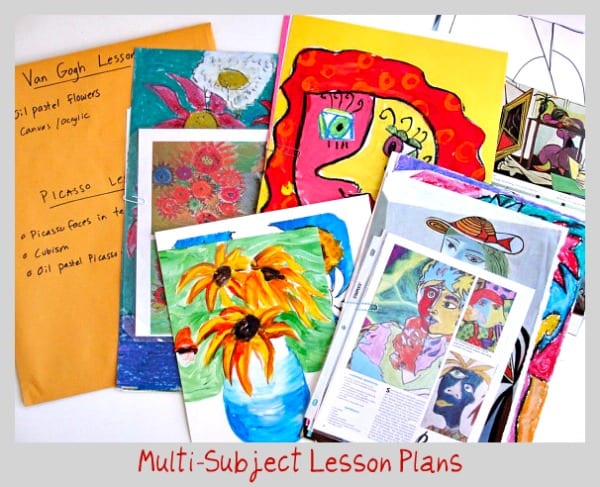 I decided which lessons plans were good enough to do again or had a compelling enough concept that I knew I would use in the future. Then I attempted to store as many art lessons into manila envelopes. This time, however, I purchased larger envelopes (14″ x 18″) and kept only the following per lesson:
One teacher sample
Original copy of handouts
Magazine clipping, print out from Internet, etc. (Placed in a plastic sheet protector)
I edited well enough to combine 4-7 lesson plans in one envelope. I recycled the hundreds and hundreds of handouts that I accumulated, put the picture books back on my book shelf and recycled the teacher samples and tutorials into paper bins for future paper scrap art projects. Now if I want to do a Van Gogh art lesson, I can pull out the envelope and see what I have done in the past.
The idea is for me to have reference materials. This is best for the way I teach. Remember, this only works if you don't like to repeat lessons often.
Using a Binder
I asked my Facebook friends what type of storage system they use for art projects and a majority responded with the binder method. Jill Linnell organizes her binder into types of projects (how to draw, holidays, kid literature, artists, etc.) She places student examples in the same page protector for easy reference. Keri Smathers Pye (Texas Art Teacher) takes her binder a step further and fills her binder with student samples and uses the binder during open house nights and art shows. Brilliant!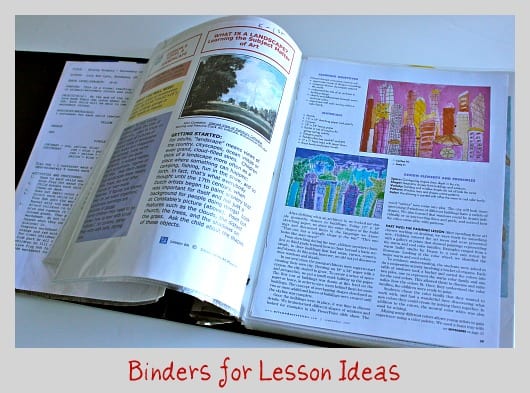 When I first began teaching, I spent a lot of time on the computer trying to find art lesson ideas. Many ideas were found on school websites, art gallery sites and product supply sites. I printed the ones that looked interesting and placed them in sheet protectors and in binders. The binder method is a great place to store lesson ideas, printed lesson plans and ideas. I even have one for my Deep Space Sparkle (DSS) lesson plan booklets.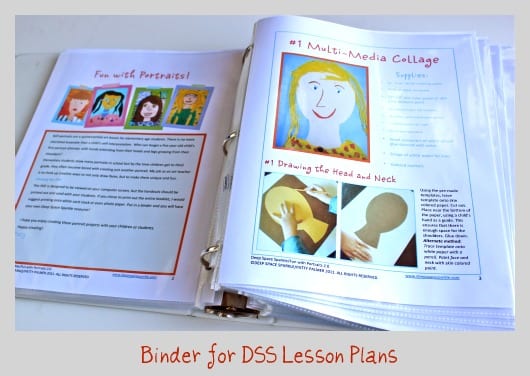 The Computer Route
Far and away, the most efficient storage method for art lessons is on your computer. Many art teachers scan artwork or take photos (which I think is easier) and then upload into Google Docs. Some keep their lessons stored in folders on their computer. One of my favorite systems is Evernote. If you've never heard of Evernote, you are in for a real treat. Here is a great Evernote tutorial from one of my favorite blogging blogs, The SITS Girls. One thing that is great about Evernote is that I can privately clip and save all my internet finds into Evernote. This is in contrast with Pinterest (which I love) that stores all my finds publicly.  I suppose there are some things you just want to keep private!
If you like to photograph your student's art work, here are a few tips:
-Use a photo editing program like iPhoto (for Mac users), Photoshop Elements or Picnik. Once you upload your photos, you can crop and reduce the image size which is super important if you are using your photos for web purposes. I need to resize every single photo I use in this blog to a maximum of 600 pixels or my blog would take forever to load. If you use Blogspot or a hosted WordPress site, you don't have to worry. They host your extra large photos for free. You can also group student artwork together into galleries. Picnik makes it super easy to drag and drop photos into a grid-like picture. The program is free but the best tools come at a $24.95 yearly price tag.
-Place artwork on a flat surface and stand above it to take the picture. I have a low table in my art room which is perfect (no standing on chairs). To make it easier later on, try to include the full artwork in your viewfinder. This makes cropping unnecessary.
-Since I teach in a public school, I try never to photograph children's faces. That's why you will rarely see my student's beautiful expressions on my blog. But if you do photograph your students, make sure you have permission in writing first.
-Don't use a flash. Most point and shoot cameras today have a setting that allows great photos without flash. On my Sony Cyber Shot it's the ISO setting in the menu.
Whew! That was a lot of information! I tend to use all three storage methods (Folders, Binders and Computers) but which one works best for you? Has anyone tried Evernote? Or Google Docs? Please share your best storage tips….
Happy Organizing!
Up next…