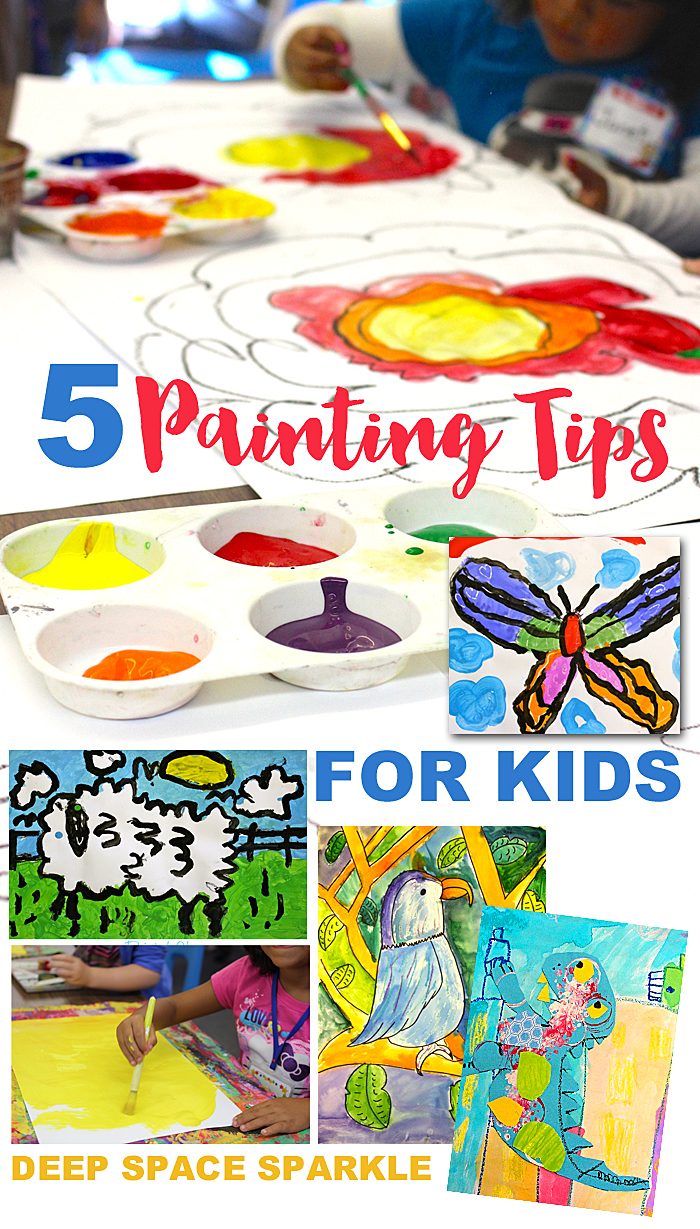 5 Tips for Painting with Kids
You've all seen the amazing art projects on art teacher blogs and Pinterest. Inspiration and ideas are everywhere. But you may be wondering if you can achieve the same results with your kids. You have questions: Does paper matter? What about paint? As an art teacher for over 13 years, I've tried a lot of techniques with my students and have come up with my top 5 tips painting tips for kids.
Download our free management, set-up, drawing & painting guide, to help you teach art from your home!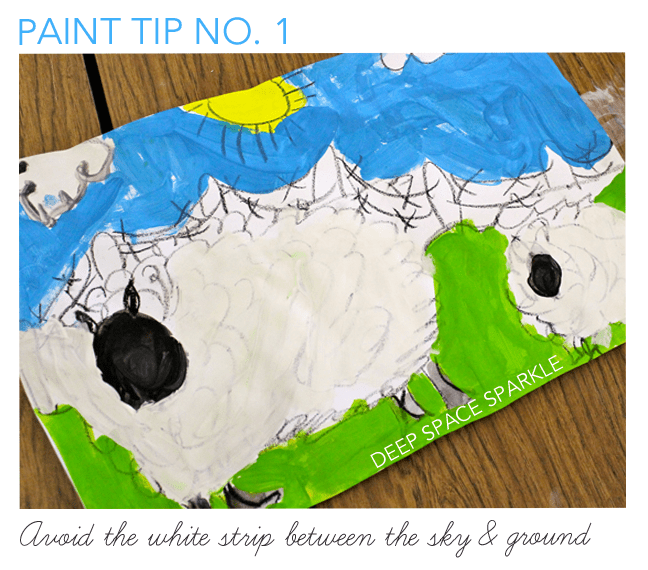 UNDERSTAND HORIZON LINE
Many art projects for kids involve a horizon line. It seems like a big word for little kids but many kids feel that there is a big, white strip between the earth and sky. You know what I mean. Kids instinctively feel that the blue sky belongs up there. To remedy this, it's surprisingly easy to teach the kids how to draw a horizon line.
This is what I say: The horizon line separates the earth/ocean from the sky. Everything above the line is the sky and everything below the line is the ocean. That's it. They all get it.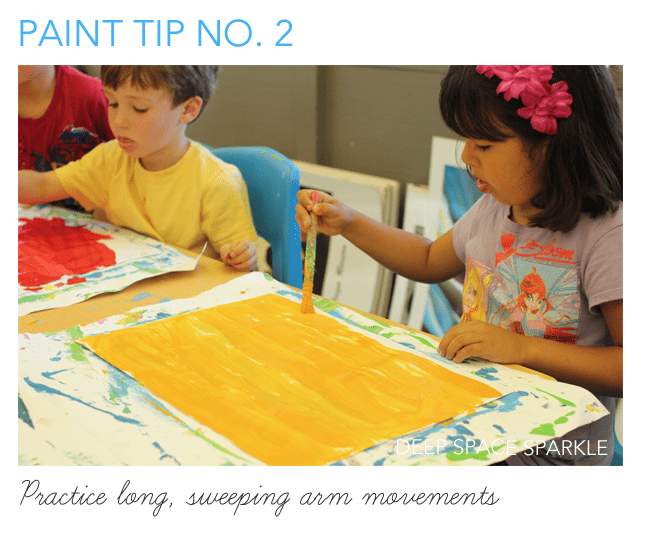 BIG STROKES THAT GET THE TABLE MESSY
Many children are very tentative when it comes to painting. This often translates to painting with small, careful strokes. Maybe they are worried that the table will get messy. Maybe not. I like to start my Kinders with a big, free-expression paint project on the very first day of art class. Creating painted papers is my favorite as they can get messy, use lots of paint and get lots of practice. The process proves that there is no wrong way to paint, that art class is fun and that it's okay to paint off the paper.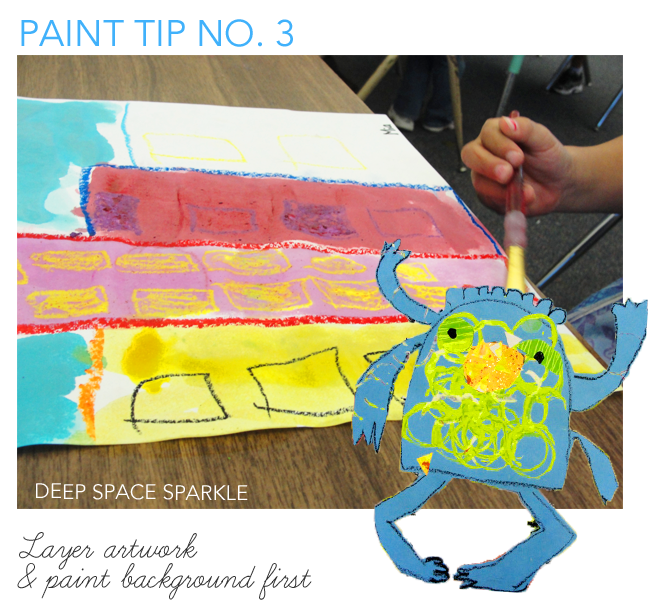 LAYER ARTWORK
When creating a piece of art with many layers: background plus a subject, it can sometimes be easier to separate the layers. In this project, Monsters Don't Eat Broccoli, the art project involved drawing a city/skyscarpers and a monster. The obvious step would be to draw a monster and then draw the city behind the monster. Instead, I broke up the layers and created TWO projects then combined the two.
Using a big sheet of paper to draw the city gave the children lots of wiggle room to paint. This allows them to paint more freely without worrying whether the skyscraper paint would go over the monster. The result is a sharper, less muddled art.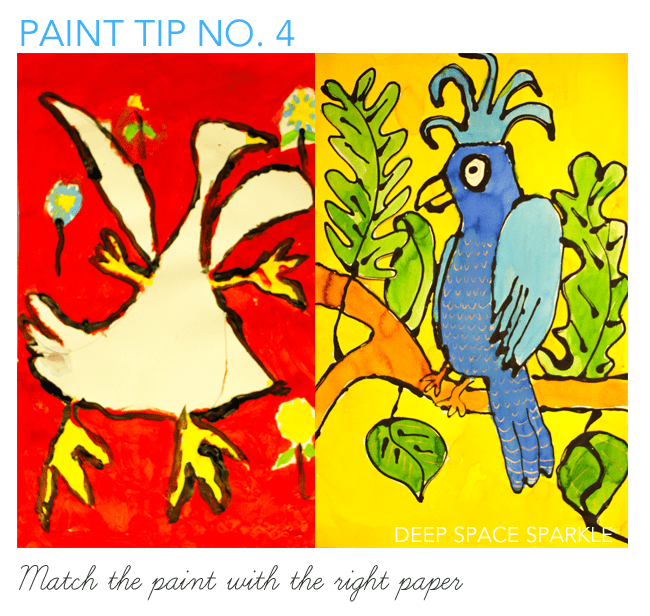 PAPER & PAINT
This may seem obvious but it's the question I get asked the most often: What paper did you use?
I totally get this as I had the exact same question when I first started teaching. Once you have experimented enough, you know what paper brings out the best features in paints.
Here's the trick: use school-grade, 90 lb watercolor paper for watercolor paints only. Don't waste your expensive watercolor paints on acrylics or tempera. They can go on almost any other kind of paper.
The photo onto right is liquid watercolor paint on watercolor paper.
For tempera paint, use sulphite paper. This is also called drawing paper. It will curl a bit when using wet paint (so what? Flatten with a few books after the artwork dries).
The photo on the left is liquid tempera paint on white sulphite paper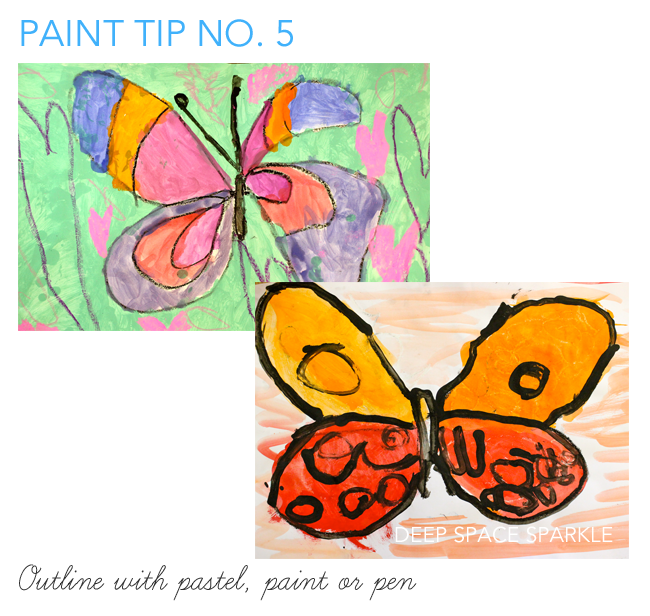 OUTLINE OUTLINE OUTLINE
Kids are messy painters. To sharpen up their amazing pieces of art, one of the tricks I use is to outline the main drawing lines. You can use whatever medium suits the project: oil pastel, black marker, black paint, crayon. And it doesn't have to be black. The important thing is to define the details of the subject. This one small step can really make the difference.
---
Download our free management, set-up, drawing & painting guide, to help you teach art from your home!