I'm about to say something that may raise an eyebrow– or two.
Pencils and notepaper can be the great beginnings of an enriching art program.
It's true.
You may not believe me because it may seem that I have taken an opposite stance in my art room.
As an art teacher, my goal was to teach children to be fearless artists. To paint, collage, weave, smear, mingle and explore. I added art materials to my program with enthusiasm and an excitement that I rarely experienced as an artist.
Truth was, as a child, I had very little exposure to art materials.
So when I was charged with the task of sharing my love of art with students, I pulled away from graphite and towards puddles of paints and rainbows of possibilities.
But here we are. In an art education culture that offers us access to everything. Except maybe right now– during this period of remote teaching — when some kids live in a home with fewer materials.
I do want to reassure you that if this situation applies to you, don't fight it. Teaching art with lined paper and pencils just might be the best thing you've ever done.
Reducing materials forces us to rethink what's important, what children love to do, what we love to teach. And if you need a bit of help, I have your back.
I'm sharing 5 sparkly ways you can share your love of art with your students using simple pencils and lined paper.
DOWNLOAD THE HANDOUT BELOW:
CREATE LEARNING ACTIVITIES THROUGH PLAY
Scavenger Hunt: Have your students search around their environment to find as many pencils as they can. They may be surprised how many different types they find.
From there, ask the students to draw the pencils they found.
This is a learning opportunity in itself: to draw from observation and record their discoveries.
Testing Pencil Types: Take this opportunity to teach kids about the different types of pencil leads. Show your students that lead types are found at the end of pencils. By experimenting with coloring in squares, kids will understand that a H pencil is alot lighter than a 2HB. Many kids don't know this!
Elements of Art: Pencils can be used to teach Line, Shape, Form, Value, Space, Texture, Repetition, Contrast & Emphasis and so many more. The limitations are well, very limited.
Here's a fun exercise to do with kids at home: Another scavenger hunt! This time have your students find 10 different objects that have interesting lines or shapes. Have them draw from observation using only line and shape.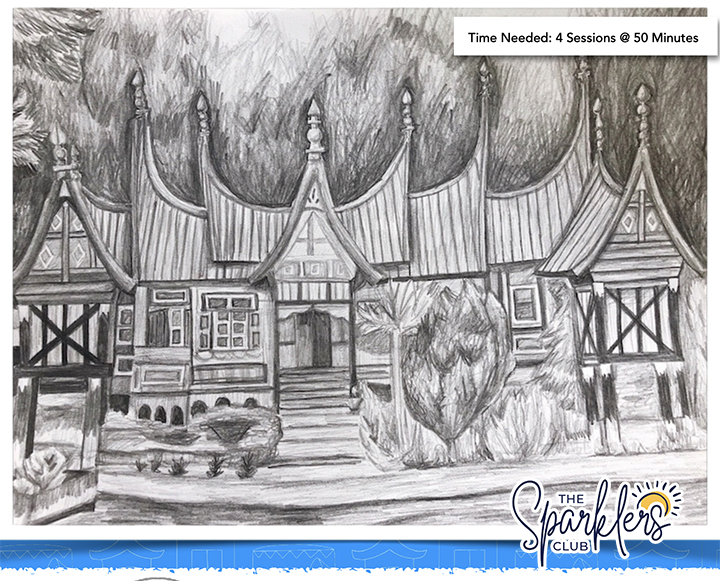 Value through Cross-Hatching: Introduce your students to cross hatching. Give lots of examples of cross-hatching & have them come up with some methods of their own.
This is one of the tenets of learning to how draw and what better time to really go deep on adding value and contrast to your work than now. Rarely do we take the time to teach children these concepts, so take this opportunity as a gift!
Lettering: Introduce your students to the concept of light sources & shadows by practicing with block letters. They can make their own posters, quotes, cards, etc. while experimenting with different ways of adding shadows. You could spend weeks on this study alone. Kids LOVE learning lettering.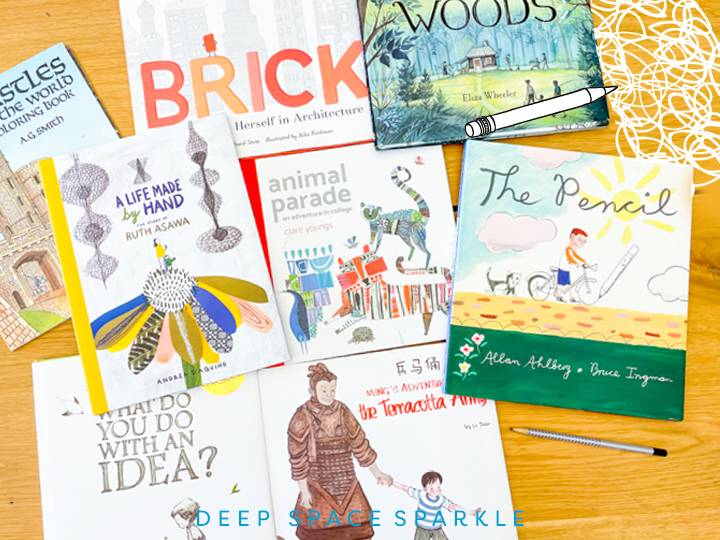 My library is full of books that inspire. Here are a few titles that can be used to illuminate your love of pencils with your students.
Home in the Woods by Eliza Wheeler
BRICK Who Found Herself in Architecture by Joshua David Stein
The Pencil by Allan Ahlberg
Animal Parade by Clare Youngs
What Do You Do with an Idea? by Kobi Yamada
Mings Adventure with the Terracotta Army by Li Jian
A Life Made by Hand: The Story of Ruth Asawa by Andrea D'Aquino

To access a list of the books above, download the free Teaching with Pencils above above.
This post contains affiliate links.
I would love to hear what projects or activities you used with your students during this period of remote learning or in the art room. Leave a comment below and let's share our ideas!
Are you a Sparkler?
This Video training plus a gorgeous 10-page Activity Guide you can give to your students is available inside The Sparklers' Club website.
Not a Sparkler? Enrollment is happening in January and August. Get on the notification list HERE.