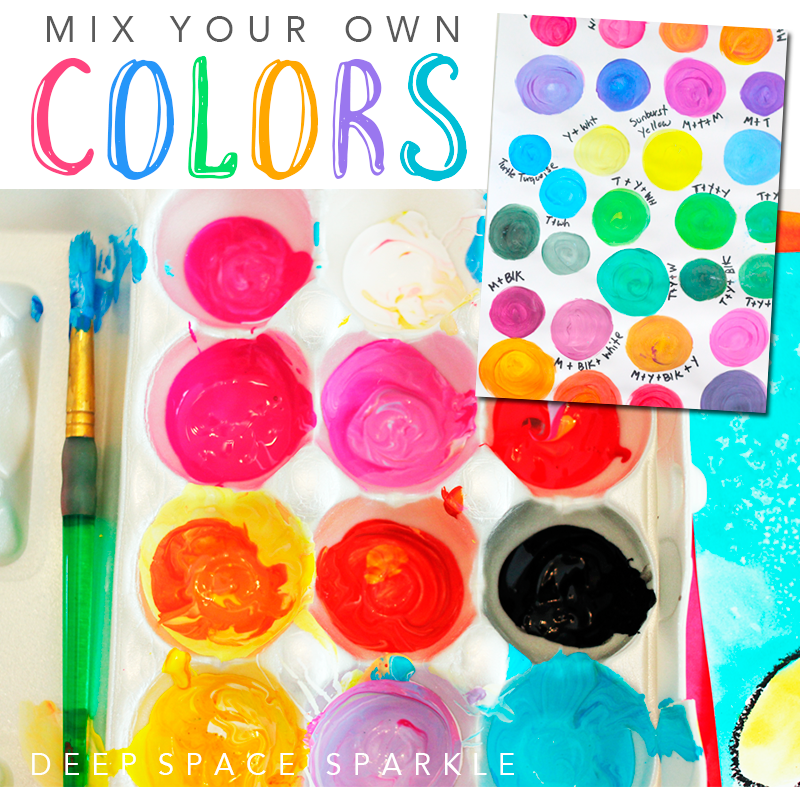 Do you ever wonder why some art projects look so vibrant? Perhaps you wondered what brand of paint results in such rich colors?
What if I told you it's not what, but how…
I used to think that there was a special type of paint that I could order and squeeze into a palette until I discovered the secret of creating colorful paint hues.
No matter what brand of paint you buy, don't feel limited to paint with colors directly from the bottle. A world of color and creativity awaits. Try the next 5 tips for creating your own vibrant colors.
---
FUN COLOR TIP #1
– Squeeze a quarter-size amount of blue, red, yellow and white liquid tempera paint onto a styrofoam plate or egg carton.
– With a brush, scoop up a little bit of yellow paint then scoop up some white. Mix the two paint colors onto a piece of art paper. What happens? Keep adding white paint to the brush and paint a new dot onto your paper. See how the color gets lighter and lighter?
– This is called creating a tint.
Tints works especially well on dark colored paper like black or navy blue.
FUN COLOR TIP #2
– Without rinsing your brush clean, scoop up a bit of red paint. Paint a dot on your paper. What happens? What color did you create? Because there is still white and yellow on the brush, the resulting red won't be as pure. This is one of the tricks to creating vibrant colors…don't clean the colors away with water.
FUN COLOR TIP #3
– Clean your brush and try mixing the red with the blue paint. What color did you get?
– As you keep adding more colors, the lighter colors fade away. You can keep adding dark colors or you can dip paint brush back into the white paint to create a new tint.
It helps to mix from light to dark. Light colors are easily blended with the dark so less muddy colors result in the efforts.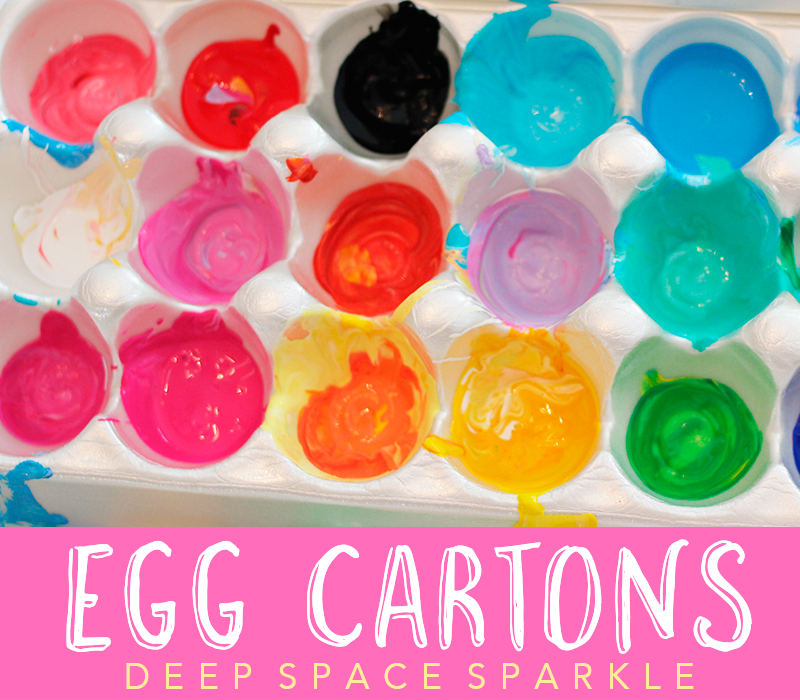 FUN COLOR TIP #4
– Use a styrofoam egg carton to create a colorful palette.
– Squeeze a dime size amount of as many colors as you want into each section. For example: pour some red paint into a few egg sections, pour some blue paint into a few egg sections, etc. Then pour a small amount of white into one of the red sections and one of the blue sections. Stir the white with the colors to create a beautiful tint. Stir the white and blue. No try adding another color to one of the red cups. For example, add a squeeze of yellow and mix with the red to create an orange. Then squeeze in some white. The possibilities are endless!
– Children can do this with very little paint and their own styrofoam egg carton. I ask all my colleagues to save their egg cartons for art class so we always have enough to go around.
The best part? You can close the cover and save the paint until the next class. Some of the paint will dry, but if you spritz with some water, the colors will come alive again.
Tip: If you don't have egg cartons, you can try this color-mixing technique instead.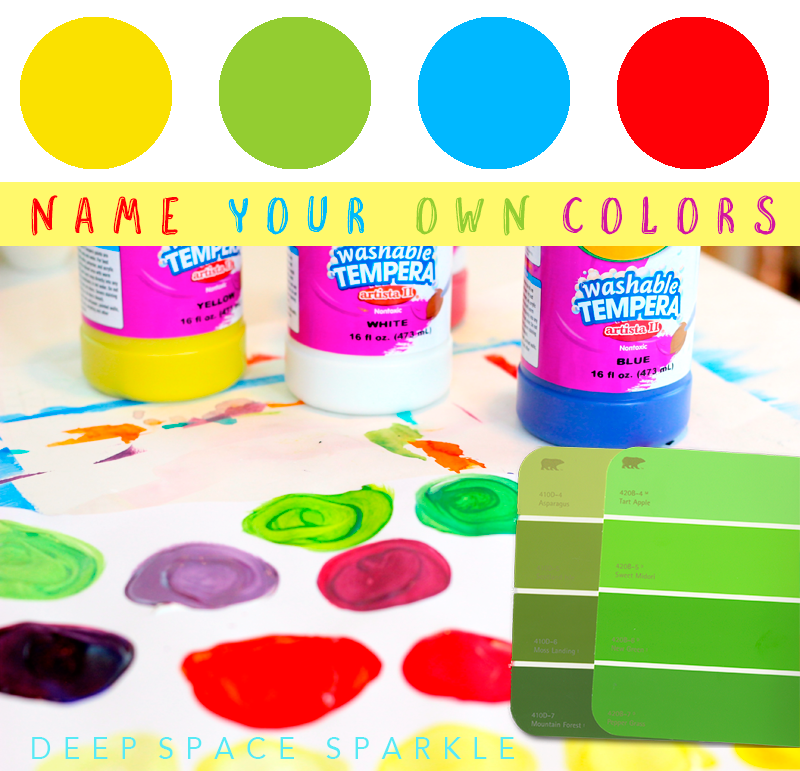 FUN COLOR TIP #5
Companies that create paint colors for home interiors spend a lot of time coming up with special names for their paint chips. To brainstorm a list of names for your color, grab a sheet of paper and think about one color at a time.
– How many objects can you think of that feature your chosen color?
– Look around your home, classroom or backyard. Do you see anything that looks like your color? Write each one down.
– Think about adding one more word to your color name. Try using the same letter as the color to find just the right adjective.
Take the color activity further. DOWNLOAD 2 FREE WORKSHEETS…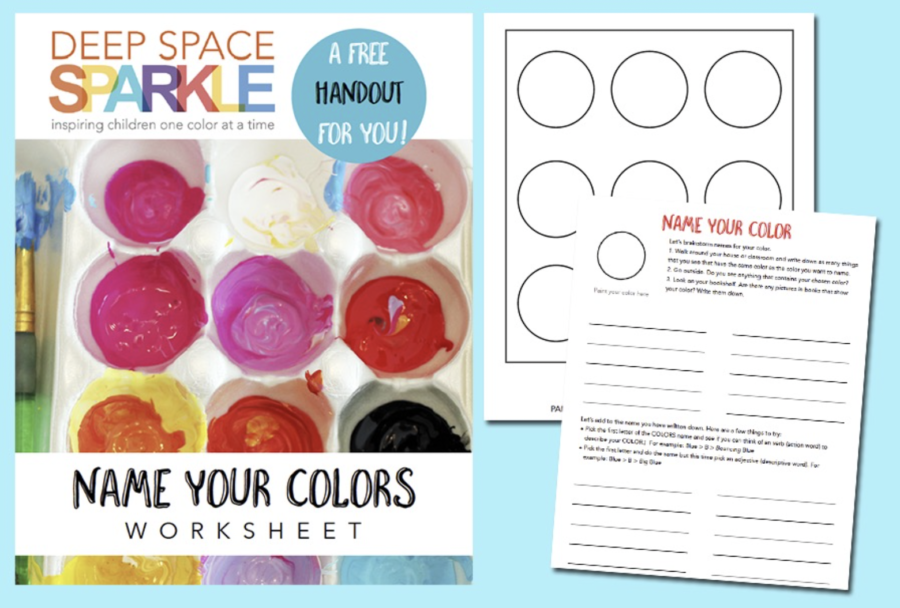 Extend this art activity into a cross-over activity with language arts. Children use the first worksheet to record their favorite paint colors then create a list of verbs and adjectives to come up with the perfect color make…just like a box of crayons!
Click the image below, add your name and email to receive the PDF in your inbox.