7 WINTER ART LESSONS TO TRY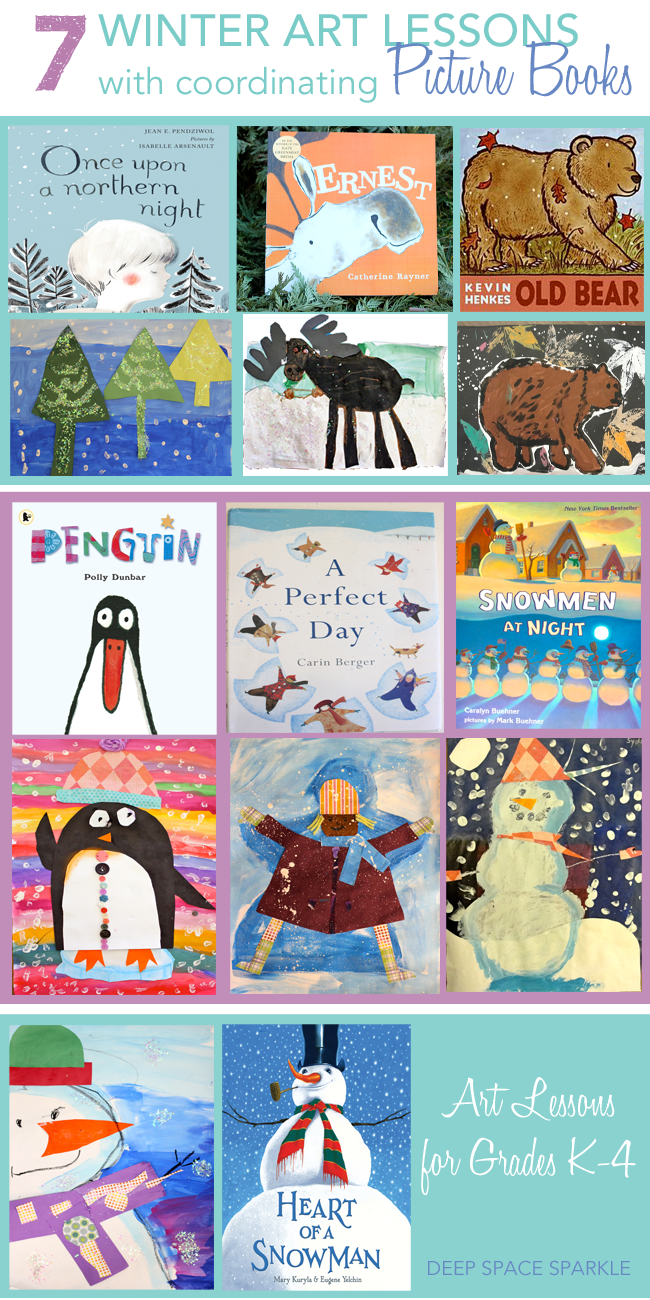 Winter is coming and that means I get to pull out my favorite winter art lessons and projects for my students. There is something about blue and white paint that always inspires a few snowmen or snow angels. And yes, I will admit that my glitter supply is well stocked!
Here are some of my favorite art lessons and coordinating picture books that I have done throughout the years that always bring a smile to my students faces.
Once Upon a Northern Night by Jean Pendziwol is a lovely book that I reviewed last year after my first graders enjoyed the book as a prelude to the Wintery Trees Lesson. The lesson is one of my favorites. It's easy for young hands to master and teaches many art concepts: atmospheric perspective and here, near and far.
If you haven't read Ernest, the Moose Who Doesn't Fit by Catherine Rayner, make sure you pick up a copy. Ernest is large, knocked knee'd and very big. My first graders LOVED this book. After we read the book, we made the most adorable moose project ever.
I bought Old Bear by Kevin Henkes just for the illustrations. I couldn't pass up the pictures of Old Bear and after reading the book to my third graders, I feel in love with the story. The old bear art lesson combines one of my favorite leaf printing techniques with a bear painting. They come together to form a lovely winter activity.
Penguin by Polly Dunbar is simply the most adorable book ever and that's good because these winter penguins are the most adorable penguins ever. It's a perfect match.
A Perfect Day by Carin Berger arrived in my mailbox one day. After flipping through the pages, I became giddy with the prospect of re-creating the snow angel kids from the book. The Snow Angel Art lesson became one of my most successful projects that year. There is just something about mixing paint and paper together that children love.
Snowmen at Night is an old favorite that never stops delighting children. Pick any snowman lesson to accompany the book and you're fine, but this Snowman Lesson was developed especially for the book. I love the combination of dark paper and white paint. Such a lovely contrast.
And to add to all of the great snowman projects out there, one of my absolute favorites is Snowman Collage with a ¾ view. Heart of a Snowman is another snowman book that is especially great for art teachers as it shows the snowman from a unique perspective.
Below is my lesson based on Ted Harrison's paintings of the Yukon. His book, The Cremation of Sam McGee is a Canadian Classic. Aren't the colors amazing?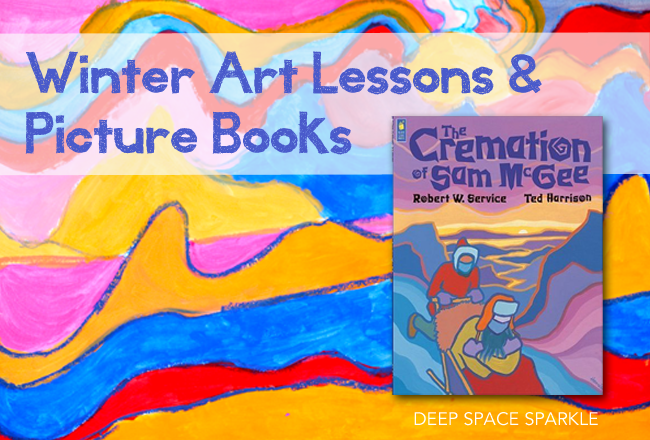 *This post contains affiliate links
---
Want more winter art lessons for the holidays? Download this free lesson guide by clicking the yellow button below and I'll send you my 5 Non-Religious Projects for the Holidays!