When you think of turkey art projects, your mind probably goes straight to sweet, plump turkeys with a brightly colored swath of feathers surrounding their bodies. Those lessons are great for younger students, but what do you do with older students in those days leading up to Thanksgiving break?
The truth is, older children love to create smaller, more detailed and realistic drawings. And believe it or not, turkeys, with their variety of feathers and bumpy skin, make a great subject matter for exploring texture.
This lesson only requires one class period, and best of all, requires very few supplies.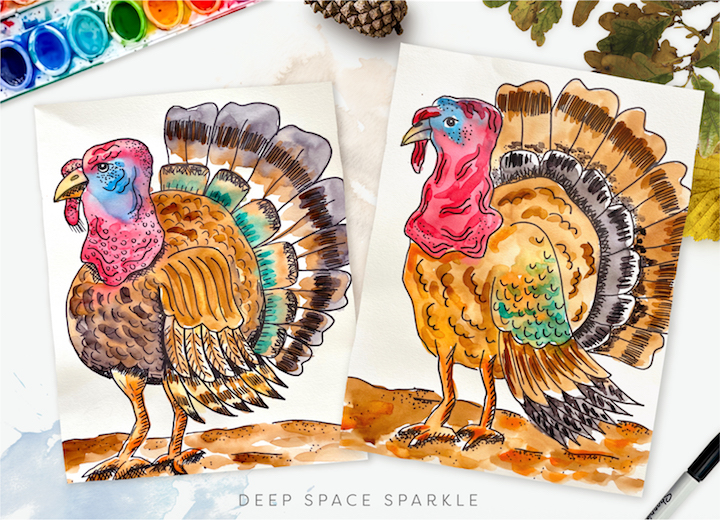 WHAT YOU'LL NEED:
– 9″ x 12″ 90 lb. watercolor paper
– Pencil
– Waterproof black marker, fine point
– Watercolor paints (tray sets are great)
– Medium and small round brushes
HOW TO DRAW A TURKEY
Older students love to draw from observation, so we've included a turkey handout that they can use to get started with several ways to create texture using simple lines. Download it here:
Use a pencil for the initial drawing so students can erase if needed.
Begin with the eye near the top left area of the paper. Leave room for the body and legs.
Next, add the head, beak and neck. The neck should only extend halfway down the paper.
Draw the large body. It may take students several attempts to get the right size.
Add the wing next.
For each layer of tail feathers, draw a light line where the top of the feathers will touch, then add in each individual feather.
The layer of feathers closest to the body will be short and squared off, the second layer of feathers are longer and more broad. It's okay if the other layer of feathers extends off the edge of the page.
Trace your lines with a fine tip waterproof black marker, like a Sharpie. Erase any extra pencil lines.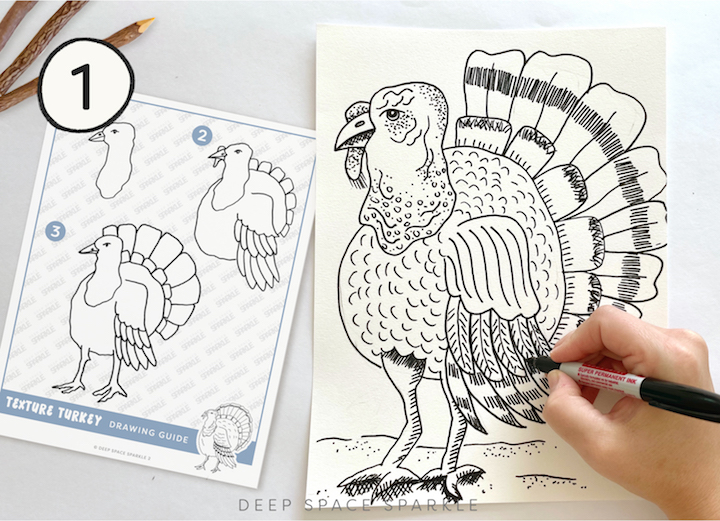 ADDING TEXTURE
Use the Sharpie to begin adding texture.
Line is a great way to add texture because it is so versatile and requires very little in the way of supplies. For example, parallel lines create an entirely different texture than cross-hatched lines.
In darker or more shadowed areas, group the lines more closely together. This will add contrast to your drawing.
It can help to have photographs of real turkeys on student tables or projected onto the board so they can see the variety of textures themselves. It's also helpful to note the direction of the feathers, which will also determine the direction of the lines.
Don't forget to add some texture to the ground as well. A shadow below the feet can help ground the turkey so it doesn't look like it's floating.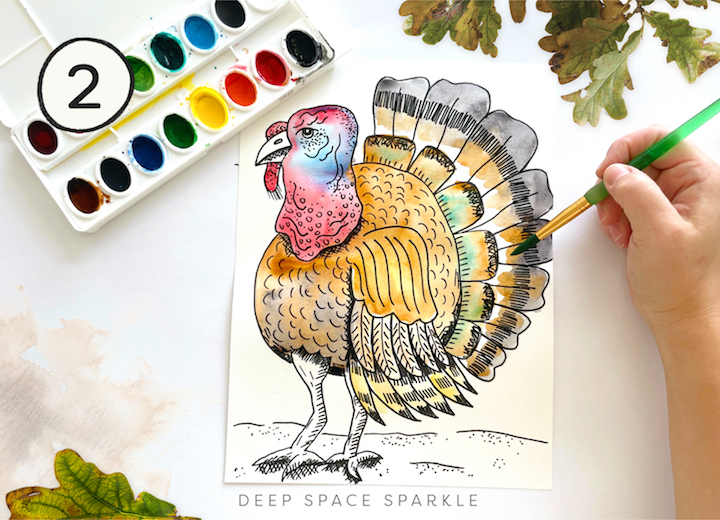 PAINTING THE TURKEY
The texture on the turkey is really the star of the show, so only a light layer of watercolor paint, or a wash is needed.
Start with a very wet paintbrush. No need to wipe it off after dipping it in water. Pick up just a bit of paint by swirling it around gently in the watercolor pan.
When you paint, you should have a very translucent layer of paint. If you paint is very think or opaque, simply add more water to the paper to spread it out.
To add extra dimension to the turkey, you can add some paint lines on dry areas that echo the texture lines.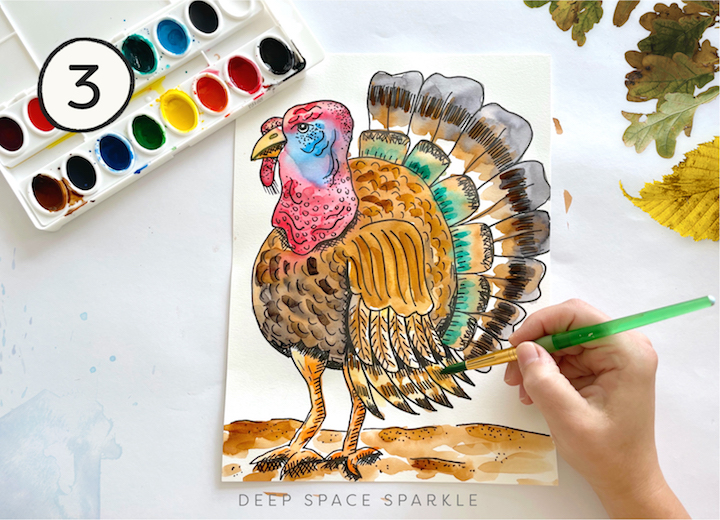 Want more in-depth lessons with accompanying standards and assessments for similar projects? The Sparklers' Club has thousands of fully standardized lesson plans to make curriculum planning effortless. Join the waitlist for the Sparklers Club!
Pin Me!