Children's picture books make the best art projects. Sometimes I use the illustrations for inspiration, other times, I read the book to the class and create an art lesson around it. If I read a book, it's mostly fiction, but every now and again, a non-fiction book makes a perfect read-aloud.
Here are my favorites with their accompanying art lessons: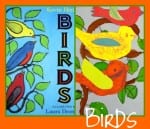 Kevin Henkes is my literary hero. I could create an art lesson out of any one of his books…he creates the most perfect read-aloud stories; simple, brief, great page-turns and wonderful illustrations. I adore Birds
. The illustrations by Laura Dronzek inspired the Collage Bird Art project above.
Non-Fiction
Sometimes it's hard to find a non-fiction book to read in an art class. I pick up the book for the inspiring illustrations, but I also look for great text. If the text is too long then it just doesn't warrant a read-aloud session.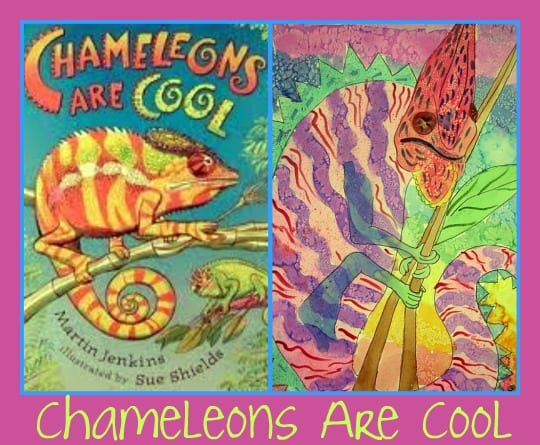 Chameleons Are Cool: Read and Wonder
 has the best illustration to demonstrate watercolor techniques: splatter painting, salting technique, wet-on-dry, wet-on-wet, etc. It's a buffet of watercolor! For my older students, I used waterproof markers, liquid watercolor paints and watercolor paper but to simplify it for younger children, you may want to opt for crayons or oil pastel and regular paper with watercolors. Here is my Watercolor Chameleon inspired by the book.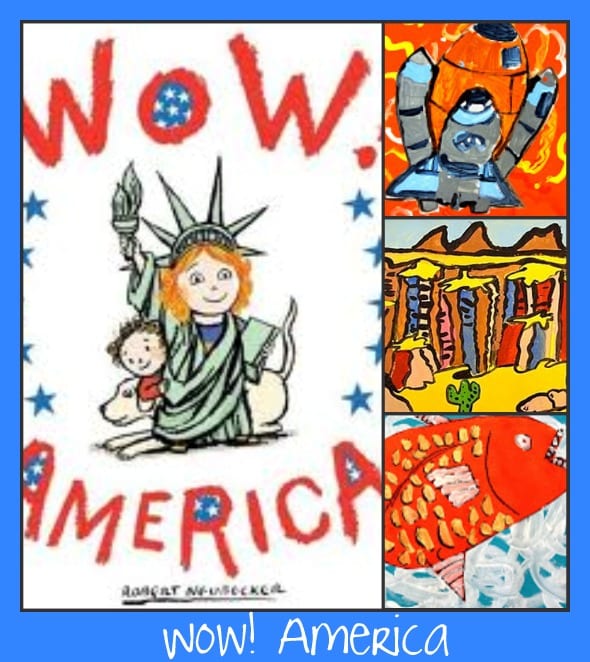 Wow! America just might be my favorite book for art inspiration. Unfortunately, it is out of print but you might be able to snag a copy through a second hand dealer or through your local library.  Neubecker's illustrations are a perfect base for an art lesson! I did The Grand Canyon, Upstream Salmon, Space Shuttle and Lady Liberty.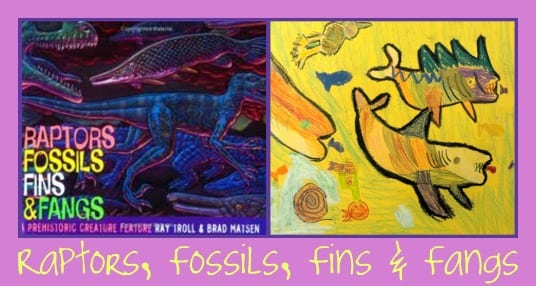 I picked up Raptors, Fossils, Fins and Fangs: A Prehistoric Creature Feature
 from The Los Angeles Museum of Natural History. As soon as I saw the cover, I knew I had found a lesson for my 4th grade class. The drawings in this book are detailed, fantastical and colorful. A few boys in 4th grade loved the Pre-historic Art project so much, they stayed in during recess and lunch to finish it. And that's never happened before!
I hope you are inspired by some of these picture books. Do you have a favorite book that you use again and again in the art room? If so, please share it with us in the comments.
This post contains affiliate links.