Designing an art curriculum is the ultimate goal of an art educator. By selecting or creating lesson plans that fit your students needs, you are creating not just a schematic system to teach art, but creating a strong connection with your students.
In this article, I'm sharing bits of Deep Space Sparkle's brand new curriculum, Global Art Passport, as well as instructions on how to make a very cool passport or travel journal for your students to create.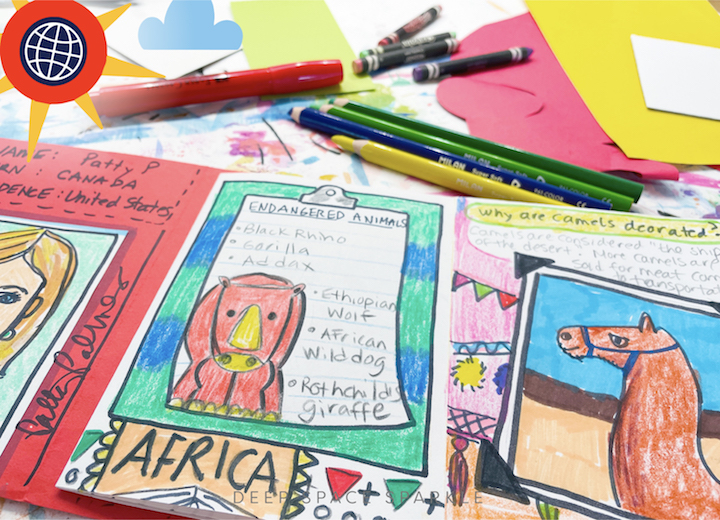 About our World Art Curriculum
Here at Deep Space Sparkle, we've been hard at work creating another curriculum that art teachers can use in their art programs. This year we want to offer our members a chance to take their students on a journey around the world.
No doubt you have already explored art lessons that focus on geography or cultures. And for good reason: when children learn about cultures, they begin to understand their own significance in this big home we call Earth.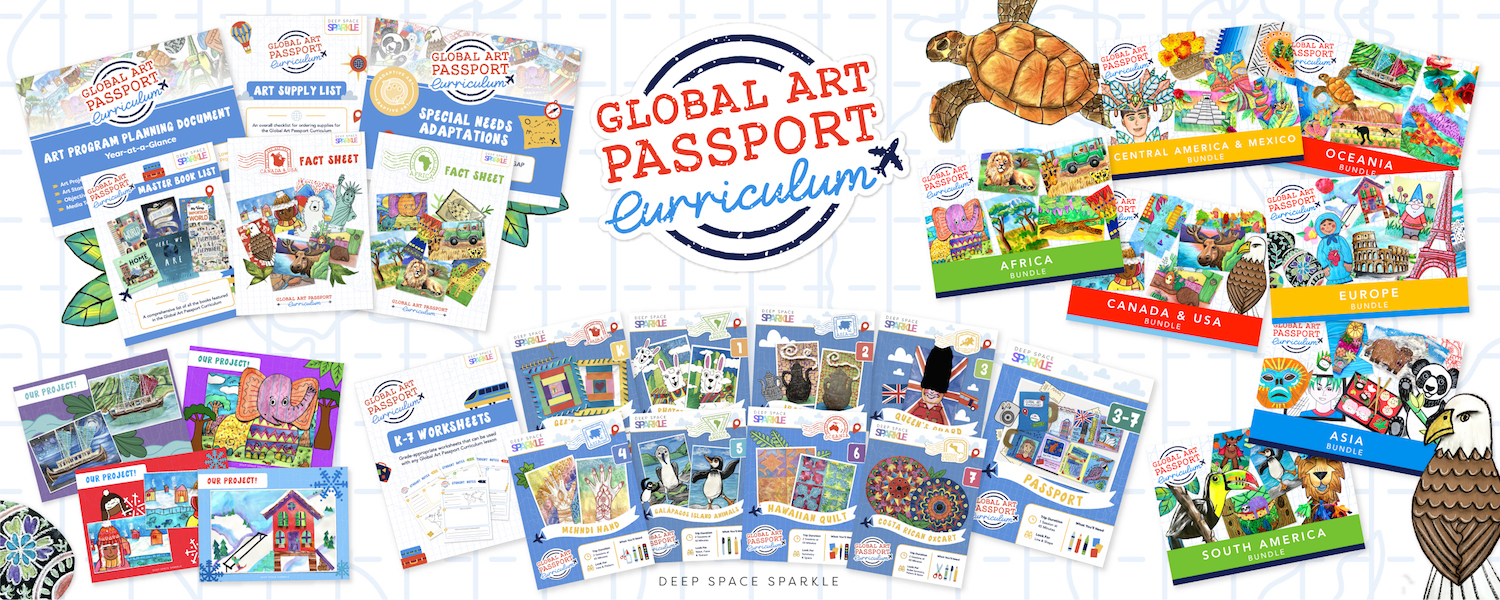 We designed our Global Passport Curriculum (GAP) to focus on a collection of geographical areas and cultures, not individual countries or continents. But when designing your curriculum, you can choose to focus on individual countries, continents or regions. The choice is yours.
Part of the experience you are creating with your curriculum is inviting children on a journey. And with any journey, passports are required!
How to Make a Student Travel Journal or Passport
As students travel the globe, a passport or travel journal can serve as a place to record their adventures in art. Start off the year with this passport as the first project in art class. As you walk through your own countries or geographical areas, students can use the passport/journal to record information all year long.
Tip! Scroll down to download a freebie pack of global art stickers and layout templates…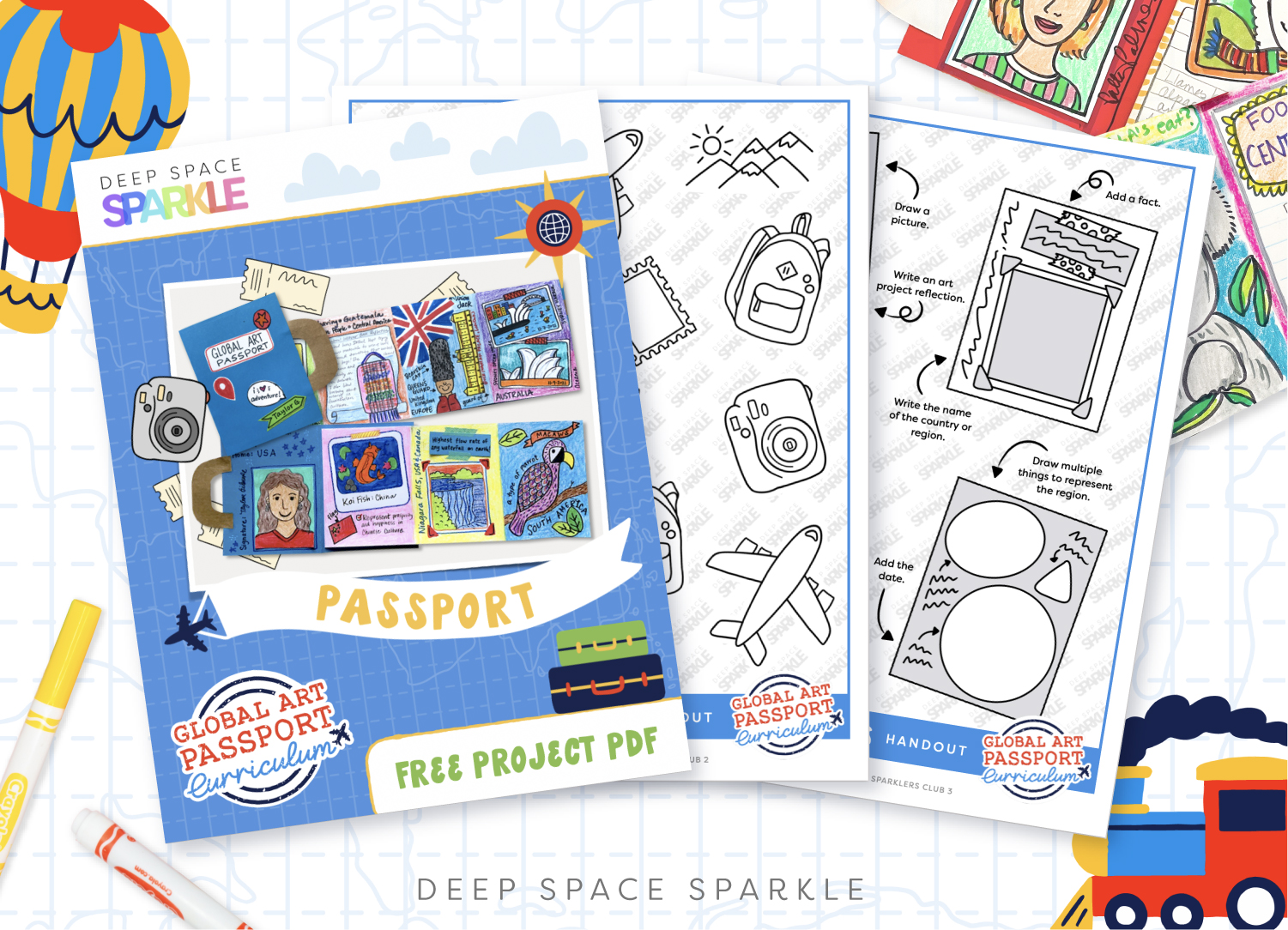 Here's what you'll need:
– 6.5″ x 10″ colored cardstock or 80 lb sulphite paper
– 12″ x 18″ white sulphite paper
– 3″ x 4″ white sulphite paper
– Brown paper bag or kraft paper
– Scrap white and colored paper
– Scissors & glue
– Coloring tools | markers, crayons or colored pencils
Step 1: Making the Cover
Precut a variety of card stock colors to 6.5″ x 10″ (one per student). Select a passport cover color of your choice and FOLD it in half.
Add a fun detail to your passport by giving it handles so that it looks like both a passport and a travel suitcase. I couldn't resist using glitter paper to make my handles. And why not? Encourage your students to design their dream journal!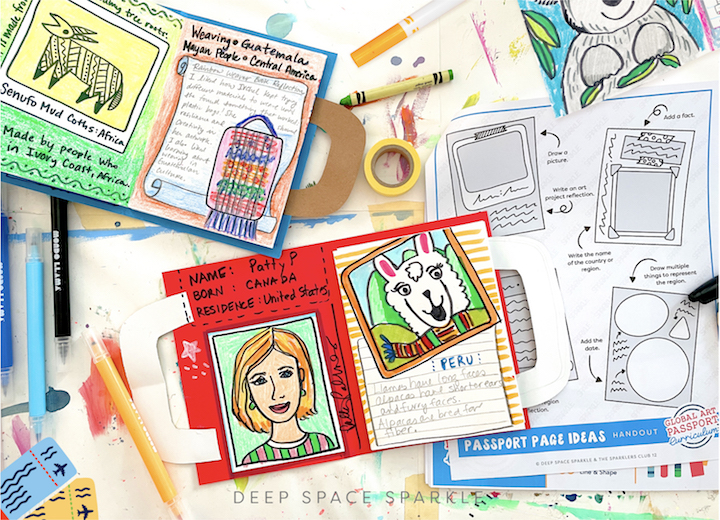 For the handles, draw a large "U" SHAPE with a small "U" shape inside. Cut out the handles and glue an handle to each side of the passport cover.
Step 2: Creating the Folded Paper
Fold one piece of 12″ x 18″ white paper in half the long way. Leave the paper folded and fold it again from the side. Open just the previous fold and fold each side in so that the sides meet the centerfold.
Set the folded paper on your table so that it creates a "W" shape with the open edge towards you and the folded edge away from you.
TIP: If your paper does not make a "W" shape, simply bend the folds the right direction so that it does.
Apply glue to the back of the furthest right panel. Stick the glued panel to the inside back cover of the passport. The pages should be able to fold back up and also open all the way to reveal a full page.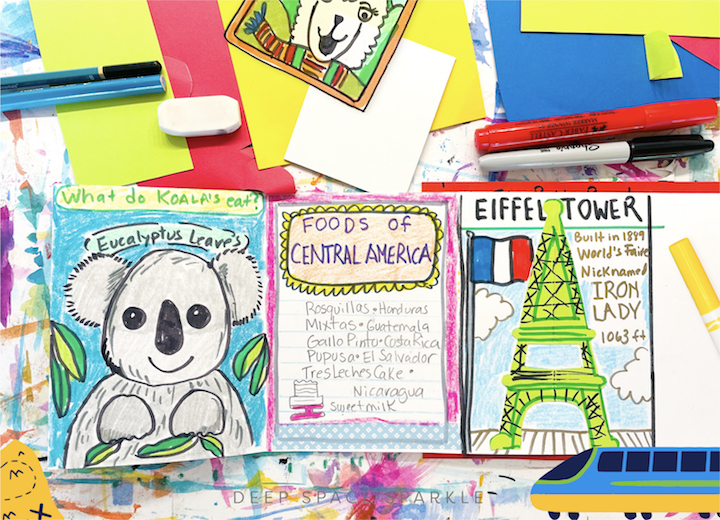 Now that you have the bones of you travel journal, let the fun begin!
Download this packet, print out the idea sheets and use sample page layouts and "stickers" to decorate your passport.
Step 3: How to Use the Passport
Whenever you can create multiple learning opportunities for your students, the chance for them to retain the information grows. In our GAP Curriculum, we suggest using the passport as a way for students to reflect on the art projects within the different regions.
We suggest that the inside cover be used to record personal data: students portrait, name and country of residence, signature, etc.
They can choose from a variety of journal layout options, sticker drawing prompts, and fact sheets to create a unique journal.
On the reverse side of the pages, we created an opportunity for children to learn how to draw a world map. This adds in the additional component of geographical awareness.
Note: Members have access to the FULL Passport Instructional Packet that includes printable stickers, drawing prompts, journal ideas, world map drawing instructions, stickers to color, full set of art standards, vocabulary words, and students assessment rubrics.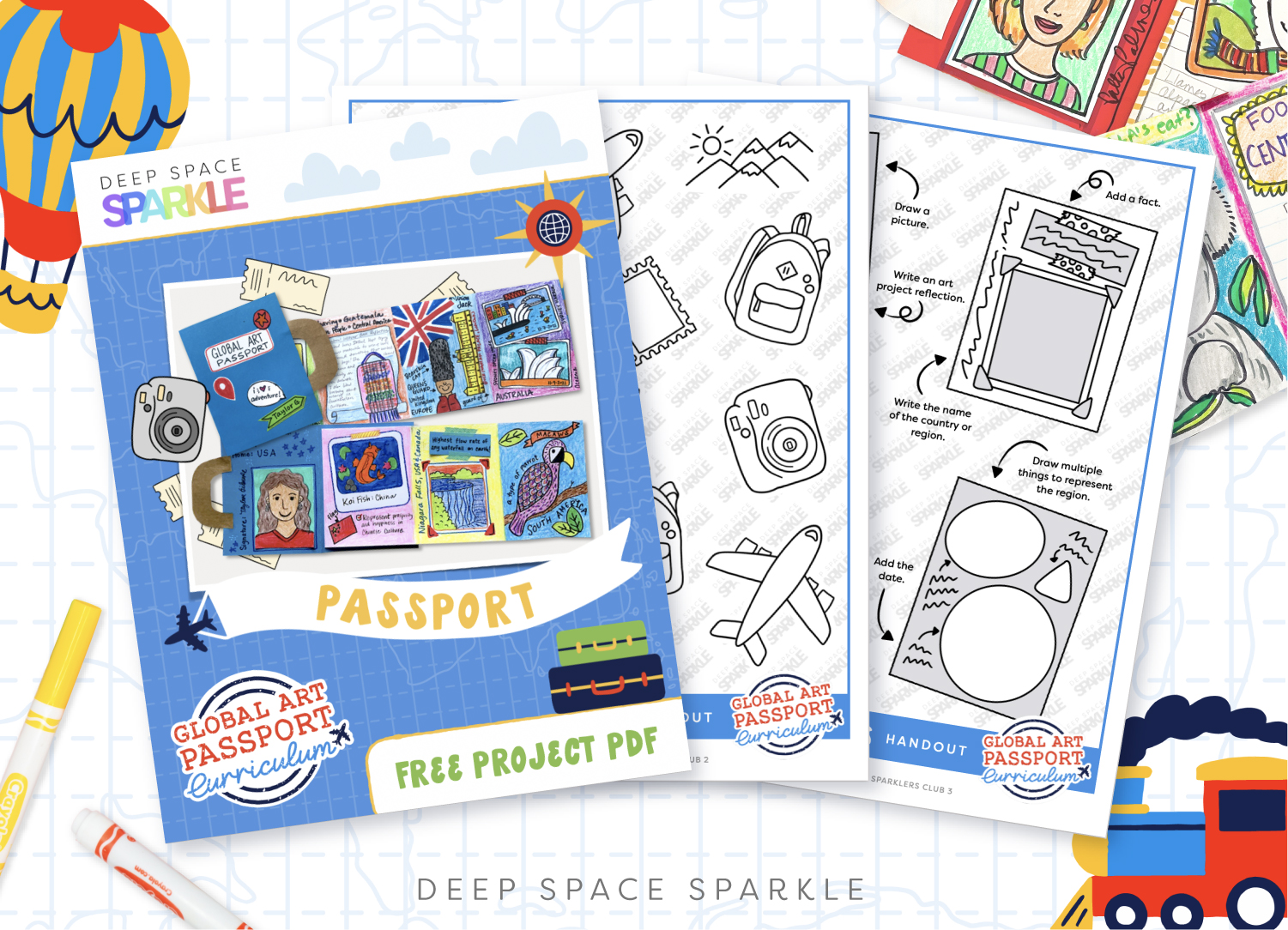 Watch this video to see how Patty makes the travel journal and how to use the inside pages…
I literally can't wait to share out Global Art Passport Curriculum with members of The Sparklers Club. If you're a member, you'll have access on Thursday, July 15th.
Not a member? You can join the Sparklers Club and get full access to this curriculum on August 8th!
If you're not a member, no worries. Follow me on the Deep Space Sparkle Facebook Page and on Instagram to see how you can gain access to not only the GAP Curriculum but our Art History Curriculum as well as our EPIC Curriculum (Elements, Principles, Integration, Curriculum)
Or jump right on our notification list for enrollment to The Sparklers Club in August HERE.
Helpful Note about Avoiding Cultural Appropriation…
I posted about the importance of focusing on Cultural Appreciation and not falling into Cultural Appropriation here. It's worth a read to ensure you are designing the best experience for your students.
I'd love to hear your ideas on how you created a world art curriculum. Or if you have any questions, I'm happy to help!