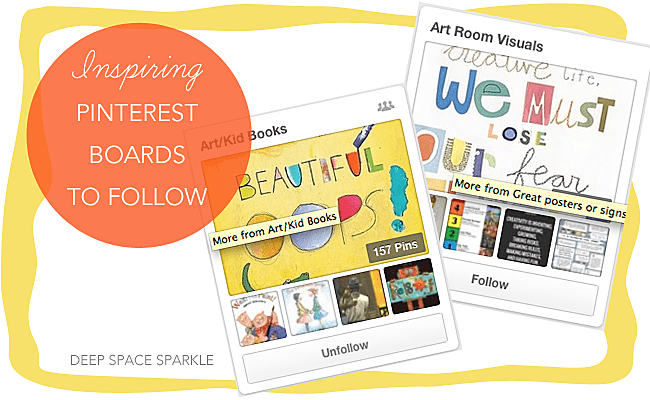 I love taking a few moments here and there to dip into the deep pool of creativity that is available to us on Pinterest. Occasionally, I'll devote some time to discovering new pinners instead of staying within my feed. It's so worth the effort!
Here are a few pinners and boards that I love to follow:
ARTFUL KIDS is an online store in the UK that features artsy-inspired toys and art for kids.This gal has great style and I love her boards that feature what to do with kid's art like Displaying Children's Artwork and Using Children's Artwork.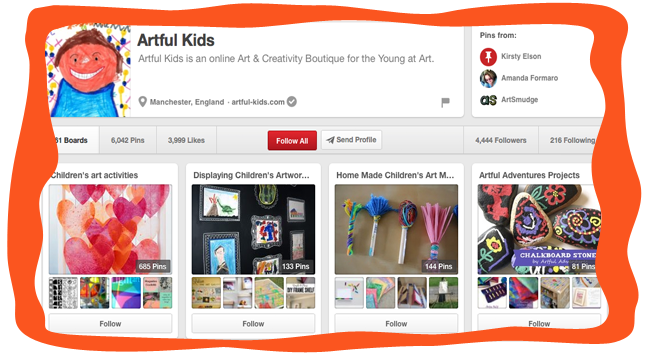 SCARTTEACHER is probably the pinner with whom I pin from the most. I love her boards and spend a great deal of time looking through them. What I appreciate with her pins is that most are linked or have an original source. It takes extra effort on behalf of a pinner not to pin dead links or not to pin entirely from Artsonia (not sure if you feel the same way as I do, but Artsonia pins are generally instruction-less).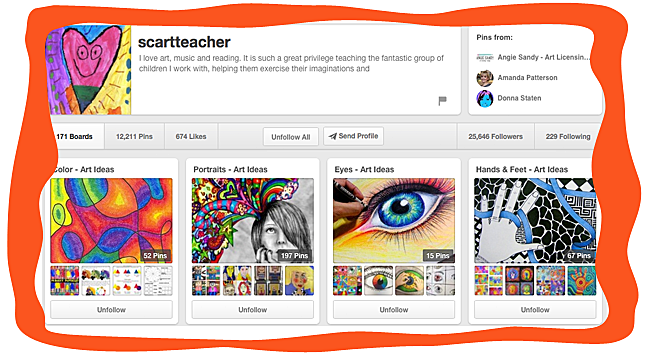 HAND MADE KIDS ART is a fresh perspective on kid's art that doesn't focus on art in the classroom. This gal has a great website too which I love. She has some great boards on Science and Art and Math and Art that offer great ideas for the younger set.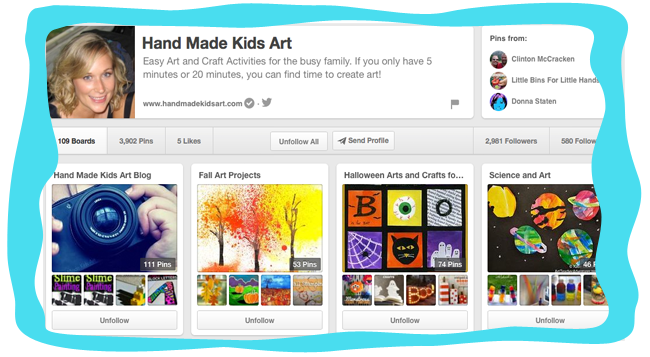 BOARD SPECIFICS
Sometimes scrolling through a pinners collection of boards can be overwhelming. I'll often just follow certain boards so I don't build up a massive feed. Here are a few boards that I love…

I like boards that are well curated and focused. The ones that don't have too many dead links and repetition. I also love it when a pinner finds some cool stuff.
Laine Van is a K-5 art teacher from Michigan. Her Art Room Organization board features lots of images for a well organized classroom. She tends to pick some of the top tips out there and keeps the board pretty organized too.
Theresea Gillespie's Art Room Visuals is awesome. If you want a cool poster idea or station chart, Theresea has all the good ones in one place. I've gotten a lot of ideas from this one board.
Rainbow Skies & Dragonflies blog author, Mrs. C's art room organization board has all the good stuff. It's also well edited meaning (most) everything on this board is specifically for organization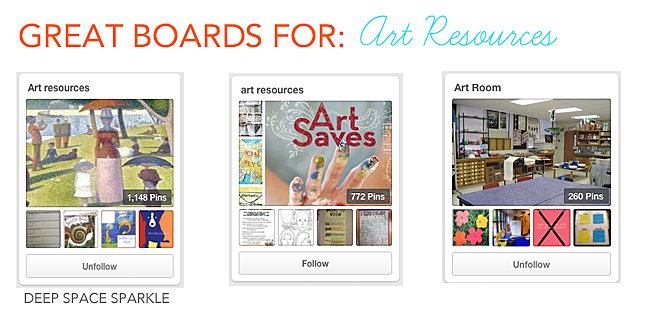 Jill McIntyre Lots of great poster art here and handout resources towards the bottom of the scroll.
Jennifer Moore A random collection of drawing tips, handouts, organization tips and art inspiration in one board. Jennifer always finds the good stuff!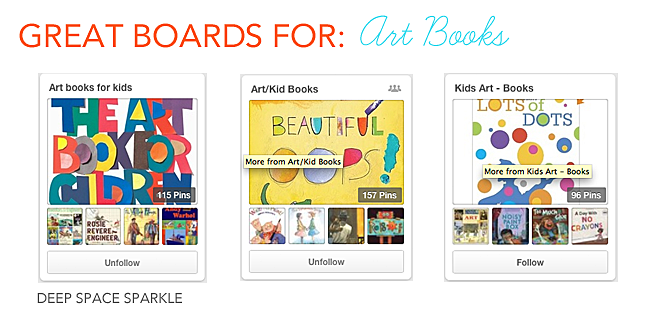 All three of these boards have a unique perspective on inspiring art books for kids. I have gotten so many great book finds by checking out these boards. Seriously, with the decline of neighborhood bookstores, these boards are my go-to spot for finding new stuff.
---
Want to save time and effort in your curriculum planning? Check out The Members' Club….Enrollment happens twice a year…don't miss out!