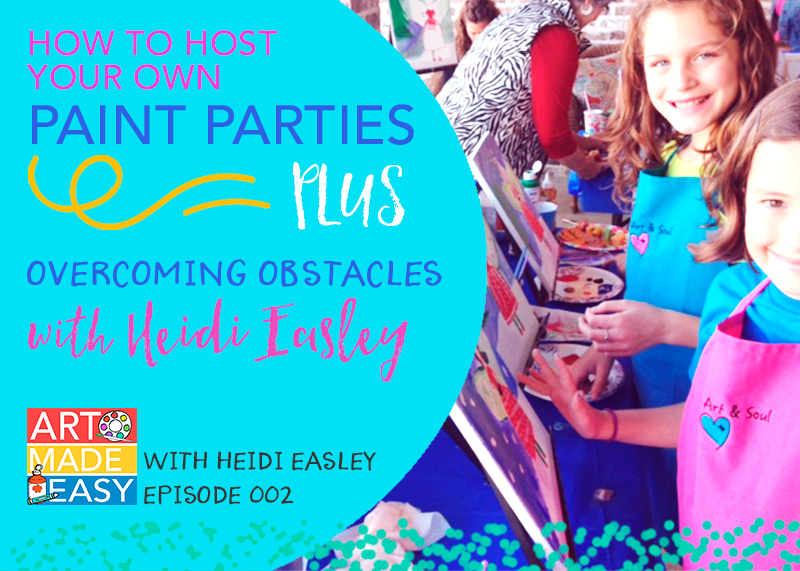 Today on the podcast, I interview Heidi Easley, owner of Texas Art & Soul. Not only is Heidi a part-time K-5 art teacher but she runs a thriving paint party business in Dallas, Texas. Heidi is going to walk you through the process of hosting your own painting party, whether you host a small event with family and friends or for a large group.
I'm so inspired by Heidi's entrepreneurial spirit and her ability to make it work no matter what the obstacle. And this is the part of her story that is really impactful; how she went from losing everything to creating and living the life she has always dreamed about.
Her story is so inspiring.
This episode is for anyone who would like to learn more about hosting painting parties, how to start a business with zero budget and for anyone feeling like they are at a dead end. Let Heidi inspire you!


IN THIS EPISODE YOU'LL LEARN:
– How to bounce back from bankruptcy
– The value of family support to foster new business ideas
– The importance of patience and never giving up
– Being open about considering new opportunities
– The healing power of art and the real value of painting parties
– How Heidi provides art assessment for her students
– Heidi's advice on how to start your own Paint Party Business
– The best place to buy easels, acrylics and brushes
– How Heidi handles the variety of painting personalities she encounters
– How Heidi stays positive and maintains a fresh mindset
LISTEN TO THE SHOW
SHOW NOTES
Texas Art & Soul
Heidi's Artist Series The Accidental Artist
Big Magic: Creative Living Beyond Fear
 by Elizabeth Gilbert
Cassie Stephens (Art Teacher from Tennessee)
Sign up for Heidi's newsletter and download the free How to Paint Your Pet Project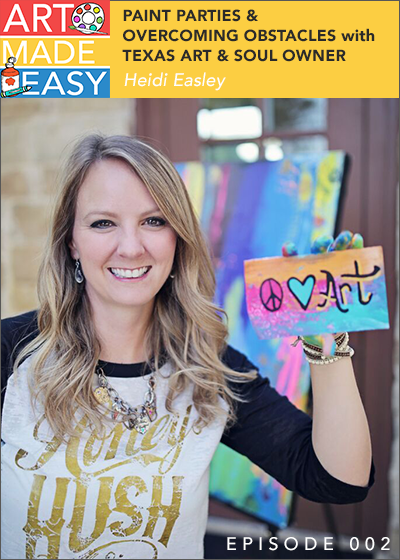 PS – Please leave a review on iTunes!
Art Made Easy is now live on iTunes! Subscribing to the show and leaving an honest review really helps the show gain visibility and allows me to tailor the show to your needs.
THANK YOU FOR LISTENING!
You can connect with Heidi on Instagram and through Facebook