I've received a few letters asking me about projects best suited for inclusion kids. While I'm not anywhere near qualified to answer this question on a professional level, either as an art educator or inclusion specialist, I will take a stab at trying to address what I find is helpful in my art room.
First of all, I've taught many ability ranges in my classrooms. The school where I currently teach, has an inclusion program for K and 1st grade, but the school where I used to teach, offered the other grade levels 2-6th. So I have experience with all grade levels in elementary.
It's probably best to describe what I identify as inclusion children. These children have a learning or physical challenge such as Cerebral Palsy, Down Syndrome or other such conditions. The degrees of abilities varies so only the children who can adapt into a mainstream classroom join the homeroom classes for art. Some classes may have 2-4 inclusion children join the art class and they always have aids. They either sit at their own table, or amongst the other children. Wherever they chose.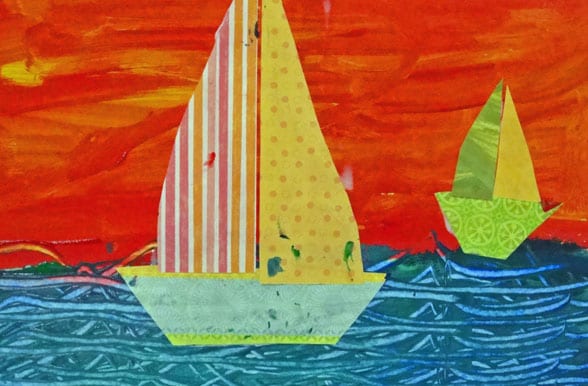 So how do you teach an art lesson to a 6th grade class with 2-3 inclusion children with varying abilities?
For me, I teach the exact same lesson to everybody, but the expectations are different. My art lessons progress in difficulty so by the time a child reaches 5th or 6th grade, I expect them to know basic art techniques. After all, I've helped them develop these skills over the years. But when a child is nowhere near the level of being able to even hold a pencil, this expectation is unreasonable. For these kids, just being in the artroom with their peers is enough.
I remember one boy with down syndrome who listened intently to my instructions and then when the class embarked on the project, this little boy picked up a pair of scissors and cut, cut, cut. He loved cutting. I suggested that he apply some glue to a piece of paper and let the pieces fall randomly. This was his art. His work. Didn't matter if it wasn't the "paper-cut flowers in a symmetrical vase" that everyone else was doing.
But art teachers know this so this isn't exactly helpful.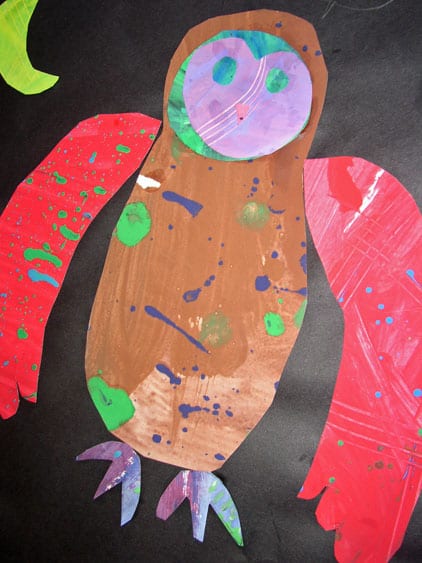 So what projects work?
I find that any project that includes a template really helps get the project started. Often times, a child can trace around an object/shape and then color or finish the project as required.
Anyone of my Eric Carle Inspired Projects are a huge success. Children can splatter paint either with their hands or a brush. It gets messy, but that's why art teachers are hired in the first place. We are expected to get messy with our students. If you deny your students this opportunity, then you might not being doing all you can to promote art in the classroom. (I'm saying this with a smile and a wink!)
One of my most successful lessons for younger grade inclusion students is the Lois Ehlert Birds in a Cherry Tree Project. The painted paper is so fun to make and the templates make it relatively easy to create a picture of a bird. I had many compliments from inclusion teachers who claimed that this type of project works best for their kids.
Watercolor projects are hard to do unless you use liquid watercolor. A good oil pastel resist is always a sure fire success. The child, depending on his ability can make a drawing or chose something abstract. It's the process.
For children with little fine motor skills, the aid can help guide or you can use large brushes or even sponges. Speaking of sponges, projects that include stamping can be fun and expressive. My Stamped Flowers lesson is perfect.
The least effective projects are the ones that use pencils, colored pencils or markers. The results are never great. Tempera paint or cut-paper projects are usually the best as they are the most forgiving.
I'm anxious to hear how other art teachers handle inclusion kids. I feel as though I left out a great deal to this post, including how much help an aid should provide and behavior management. Perhaps I'll save these topics for another post.
Meanwhile, if you teach inclusion kids, please weigh in and share your tips or suggest art projects for us to try.