ART TEACHER HACKS
I'm a big fan of routine and structure.  I know I need it in my daily life, and I believe it's the key to a successful art room.  Creating routines for your art room will naturally cause your students to feel safe and give them a sense of ownership and responsibility for their art classroom.
Here is my list of Top Ten Positive Art Classroom Routines that I used in my elementary classroom art teacher hacks…

1.  Start with a Positive Greeting
As soon as students get settled into their seats, give them a big smile and say, Good morning (or afternoon) boys and girls! They respond with, Good morning (or afternoon) Mrs. Clay! After this greeting, you have their attention and they are silent and ready for art to start.
2. Give Yourself a 5 minute Breather
If you have back-to-back art classes, wouldn't you love to have an extra five minutes between classes?  It may not be possible to create the perfect schedule, but you can build yourself a five-minute breather in the beginning of each art class.
Here's what worked for me:
After greeting the students, start the class with a discussion on a piece of famous art.  I used the Visual Thinking Strategies technique for the discussion.  I had to give up the first five minutes of art, but it was so worth it.  Try it and see what you think…
1.  Pick out a famous work of art to to use for the week. Children look at the art for 1 minute without talking (a breather for me and the students).
2.  Open up the discussion with a simple question, What's going on in this picture?
3.  Use a seating chart to call on the students by name.  This helps to learn names quickly.
4. The students can say whatever they want about the art, so it is a great way for them to learn that looking at and talking about art is not a scary thing.  By the end of the school year, everyone felt comfortable talking about art.  Amazing!
5.  After 5 minutes, call on one last student to share and then that is it.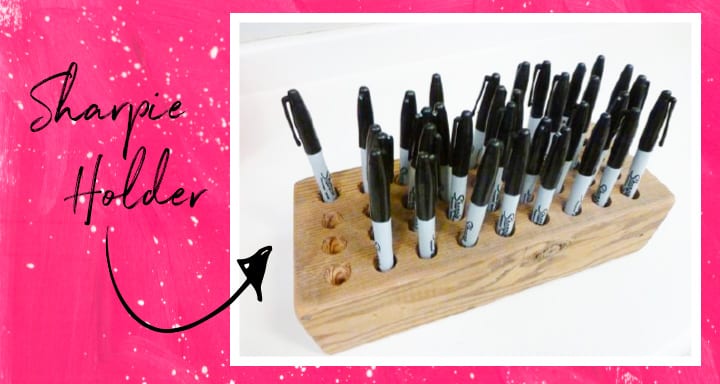 3.  Where Did All My Sharpies Go?
The last thing you want walking out of your classroom are permanent makers.  The next thing you will hear is the custodian talking about how some kid got ahold of a Sharpie and now he has to clean it off the bathroom wall.  Yikes.
Above is a picture is of the sharpie block my husband made for me.  It's simply a block of wood with holes drilled in it.  My students knew where to get Sharpies and where to put them back. I would always station a student by the Sharpie block during clean up to let me know when all the Sharpies were returned.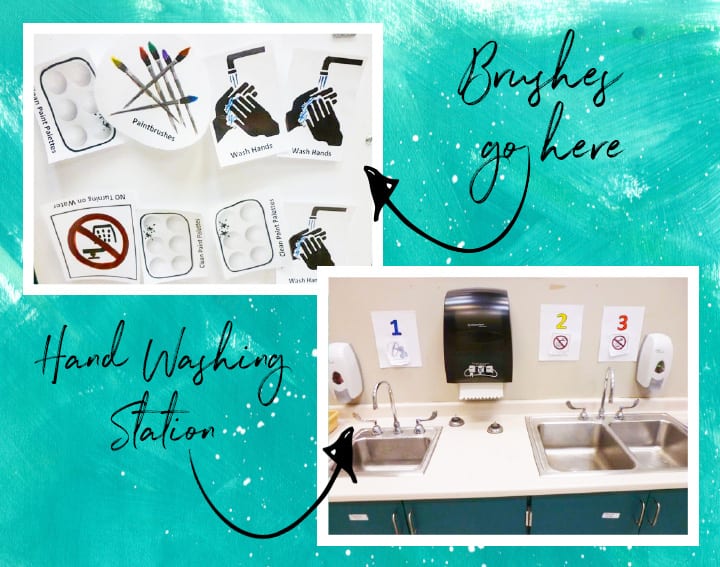 Art Teacher Hacks #4…
Where do I put my paintbrush? &  Can I wash my hands?
Another area to create great routines is the sink area.
Give your students the responsibility of  reading a sign to know how they can be successful during clean up.  These are pictures of my classroom sinks.  I decided after my first year teaching that I needed to label and number my sinks.
I used velcro and could easily change out what each sink was to be used for.  It made a world of difference.  A classroom is fun when the kids feel responsible for their part and know what to do!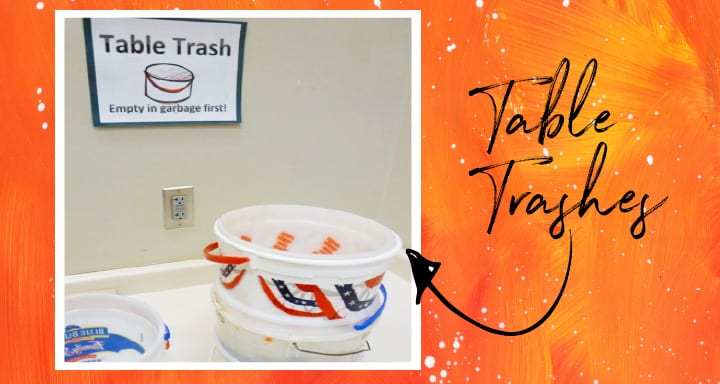 5. Table Trashes
My students were great about adding their table scraps to their table trash (plastic ice cream bucket) while they worked and it became routine to dump them out during clean-up time and put them under the sign.
Have I mentioned yet how much I love classroom signs?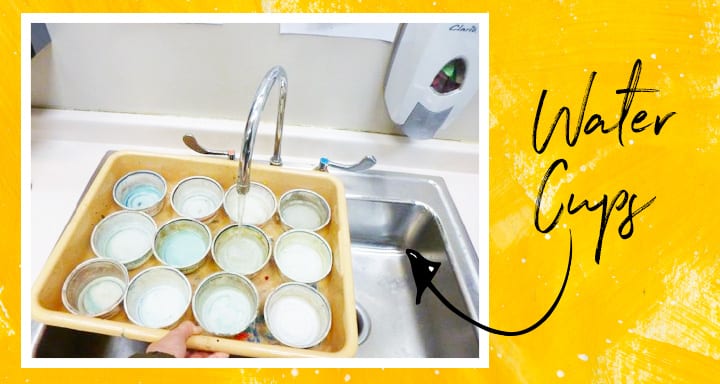 Art Teacher Hacks #6….
Fill Water Cups in a Tray
Are you individually filling and passing out water cups?
If you find it time-consuming, you will like this simple tip. Choose water cups that fit in a shallow, plastic bin or tray. The cups all stay in the bin during filling, they are easy to carry and pass out, and my students were trained to dump their water cup and put it back in the bin.
 8. Clean-up Freeze
I always said, Cleeeeaaaannn-uupppp, FREEZE! to kick off clean-up time.
Students freeze like statues in their spots in order to listen to the clean-up instructions.  They loved "freezing" and I loved that they were not doing other things when listening is required.
9. Line order, line leader, alphabetical…I can't keep it all straight! 
Keep a weekly schedule next to where kids line up.  Write down what each class does when lining up.
Is there a line leader?  Do they use line order or do they line up alphabetically?  Rely on what the teacher told you about how their class lines up rather than the students' vocal opinions.
And finally the last of my art teacher hacks…
10) End with a Positive Goodbye
Finish off your class with the routine of saying goodbye to your students. As soon as my students were in line waiting for their teacher to pick them up, I would give them a big smile and say, Goodbye boys and girls!
They knew the routine to respond with, Goodbye Mrs. Clay! After this greeting, they were silent and ready for their teacher. This eliminated all the individual goodbyes that can disrupt a quiet, ready-for-the-hallway line.
---
Check out my podcast Art Made Easy, to gain more inspiration and advice from like minded art teachers like yourself.
---