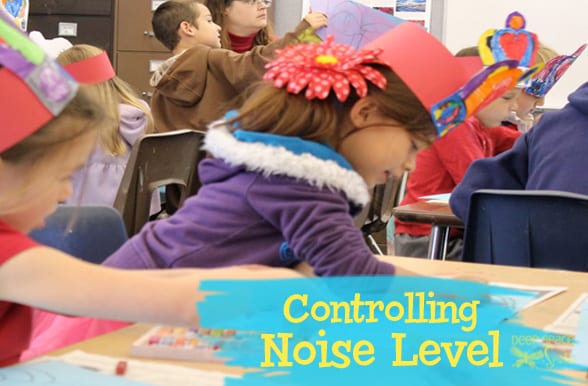 Many readers ask me how to control noise in the art room. I appreciate why this is one of my most asked questions; a rowdy classroom can drive you nuts. It's a hard question to answer as all teachers have different volume thresholds. You can probably sense from my blog posts that my threshold is somewhere in the middle.
My goal is to achieve a creative space where children are comfortable. I don't equate art class with noise and chaos but I also don't think the art room should be so quiet that children are afraid to speak. You can buy charts and bells and chimes and even iPhone apps to help induce quiet in your classroom, but to tell you the truth, noise level is entirely based on how you teach and conduct yourself.
HERE ARE A FEW THINGS I DO ON A REGULAR BASIS:
Entering the artroom
When children come into class, I expect them to walk in quietly and find their seats. I use a seating for each class and I find it extremely helpful in getting children into the classroom and ready to begin art. If children rush in, talk loudly and are generally rowdy, I stop them and make them line up outside again. This consequence humbles them pretty quickly. Don't make this a threat, just do it. It helps to enforce this with a pleasant demeanor and not with a wrinkled brow and a frown. You will just scare them and that's not what you want.
Setting the tone
For Kinder through to grade three, sitting the children on the carpet at the front of the class has proven effective in welcoming them to art and setting the tone for the class. I smile and thank them for walking in quietly and I'm honest about it. If they don't walk in and sit quietly, I do what I explained above. Once they are seated, try to be happy that they are there and talk as softly as it is natural for you to do. Children want to hear what you have to say and if you reduce the volume of your own voice, they will pattern after you. I don't have scientific proof to this theory but it works for my own kids as well as the classroom.
Using transition signals
I use a bell to signal transitions. It's a simple little bell and it works for me. You might have the children repeat a series of words, you might shout out a word signal or even try clapping a pattern. Whatever you do, be consistent and for heaven's sake, if the children fail to stop talking and do what you expect of them, stop the lesson. There has only been a few times in the nine years that I have been teaching that I have asked a class to pack up and leave because they failed to listen to directions. But I do it and you should know whether you can do it as well.
Use what works for your personal style
Everyone has a system that works for them and just because it works for them, doesn't mean it will work for you. A system is just that; a system. It will not make you better at controlling noise level, just like reading a book on organization will make you a better organizer. We all have very specific personality traits that will over-ride even the most "successful" systems.
Case in point: I read a post at the beginning of the school year about a small poster "Show Me the Mona Lisa". The blogger raved about it. The idea is to hold up a poster of the Mona Lisa whenever you want to get your class's attention. The idea is that the Mona Lisa's eyes are watching the teacher, mouth is smiling and hands are quiet. Sounds like a brilliant idea, right? Well, it is and many art teachers love this signal. It didn't quite work for me though. I found it incredibly awkward holding up this large poster to my Kinders and I couldn't quite remember why I was holding it nor could the kids. I just don't do props very well and sadly, the kids know it.
Be confident
The best system is to be confident with your personal teaching style. This is so important. It's your class and you are the teacher. You need to be in control no matter what your style is. You could be the wackiest, most unorganized teacher, but the kids love you because everything that comes out of your mouth is interesting and fun. So what if the volume level of your class is loud? If the children are engaged, great!  You might be soft spoken. If this is you, use this to your advantage. Your voice can be a powerful tool; you probably don't yell, but you can ask children to leave or pay attention only to the children who are raising their hands or behaving in an appropriate manner. Quiet teachers radiate control.
No shushing, please
Try not to shush students or beg them to lower their voice. Shushing more than once will fall on deaf ears. Telling them to be quiet isn't great either. There is something about the tone of a teacher that has reached her personal threshold that transfers power to the student. Believe me, I've been there and I've seen the look in my student's eyes when they know they've got me. Not pleasant.
VOICE VOLUME CHART
If all else fails or you want a little back-up, try a Noise Volume Chart. I found this poster on Teachers Pay Teachers and I happen to really like it. I enlarged it, laminated it and posted it on the edge of my white board. It's referred to often enough that the children know what it means.
What helps you? Do you feel you struggle with noise level? Please feel free to share what works and doesn't work for you…