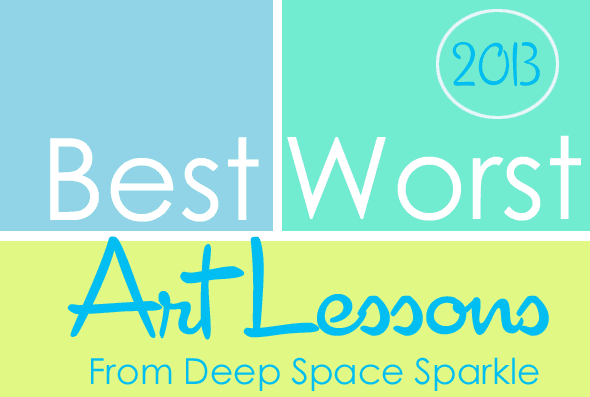 Creating new lessons every year is my biggest motivator. I love taking a proven technique and finding another subject to tie it with. This is one of my favorite challenges of teaching art. Some lessons are absolute stand-outs; the technique is kid-friendly, the subject interesting and the achievement level is high. When a lesson reaches this status, I share it, either for free or in my store.
On the other hand, I have some misses, too. You know the ones; the grand idea of how something will work and it ends up being a flop. I don't mind if the project doesn't look great, but I do care if the kids lose interest or if they were frustrated with the process.That's not successful to me.
My favorite art lessons of 2013
I'm going to be honest and tell you that most of my favorite lessons are either in my Beyond the Basics E-course (30 new lessons!) or I have them packaged as PDF art lessons which will be unveiled when my new store launches. Still, I can't resist sharing….
Paul Klee's Castles Art Lesson for 5th grade. This started out horribly. The kids drew geometric shapes with a thin waterproof marker and then painted with pan watercolors. Painting with watercolors is hard without a resist because the colors mingled so quickly on the small canvas. After the watercolors dried, I asked the children to outline their thin marker lines with a thick marker line. What a difference! Suddenly we were all doing happy dances!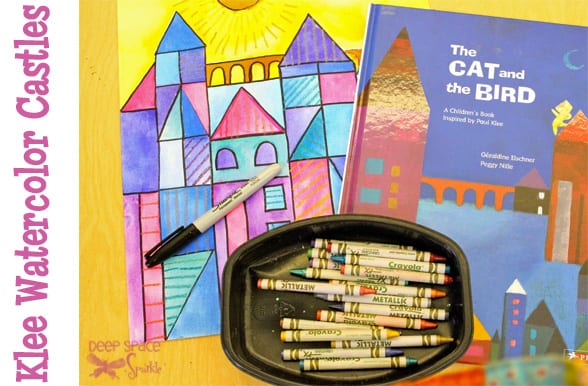 Color, Line and Pattern for Kinders. Every once in awhile a lesson takes on a life of it's own. The first day of classes for my wee kinders allowed them to express themselves through paint. No matter the skill level of the child, each one had a wonderful time mixing colors, drawing their lines and creating art. I love this lesson because of the energy it created in the art room. Happy, happy place.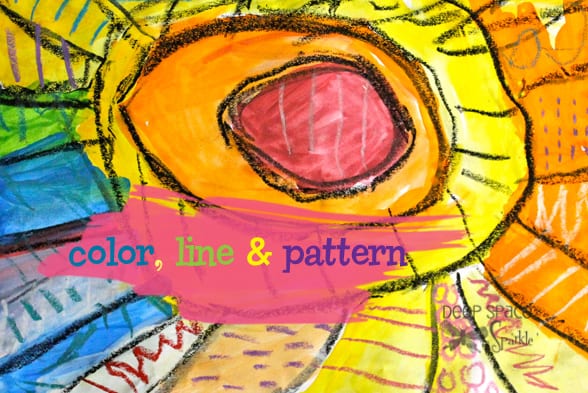 Penguin Art Project for second grade. Penguins are pretty cute little guys and based on how many times this project was pinned (over 12K!) it seems as though everyone else likes penguins too. What I loved most about this lesson is that we didn't use templates and instead created our own little bodies. I adapted this lesson from an art studio and the one element I loved was using the warm and cool painted backgrounds.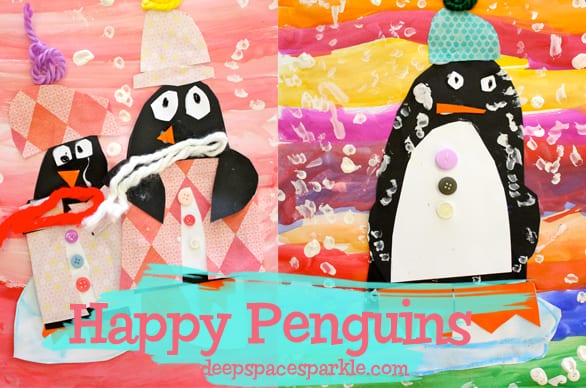 Chalk and Tempera Portraits for K-2nd. Hands down the BEST portrait art lesson I have done so far. I love the tempera and chalk combo. Honestly, my kinder group was extraordinary this year. They had the skills of many second grade students which maybe why this project felt so successful. I know the kids loved making their portraits but I know how many pleased parents there are as the result of having these sweet portraits of their children.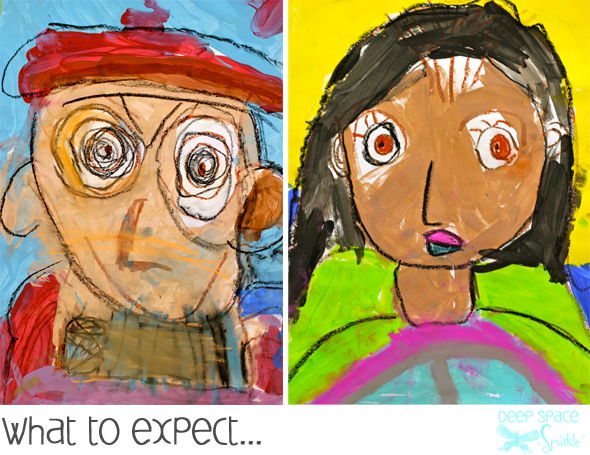 My least Favorite Art Lessons of 2013
Apple Art Project for Kinders. As much as I loved the concept of this lesson, I wasn't thrilled with the chosen technique. I had created apple templates for another project and decided to use them to trace  in this lesson. Often I will use a template to advance to the more critical technique in the lesson, which in this case was to make secondary colors. But I thought the project fell a little flat, especially compared to other kinder lessons I had done. This lesson felt a little too structured and a little too crafty for my art room.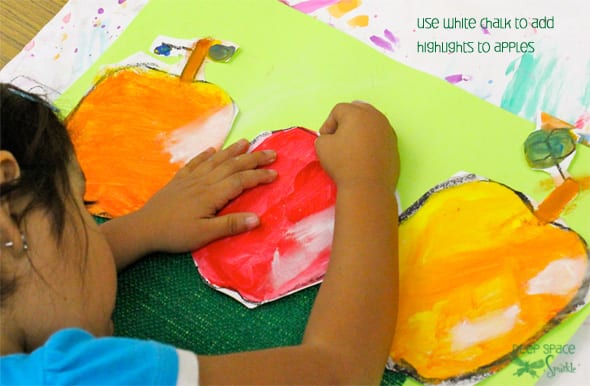 Valentine's Day Pointillism for 3rd grade. I have never had much success with pointillism. Maybe it's the length of time it requires to do a good job. I wasn't too fond of the end-result of this project mostly because I failed to design the right technique. I needed more time to consider the success factor of the paint colors on white paper. The kids did have fun working with the Q-tips but they were bored with it after a while. And so was I. We switched to making a cool gold frame to go around the painting, which was really fun and provided a great learning opportunity for spatial awareness (we didn't measure!).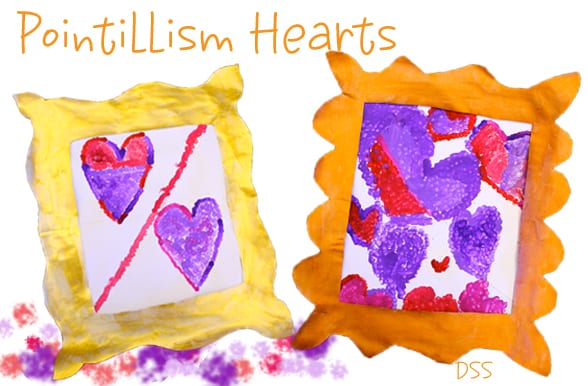 Chalk Penguin for 5th grade. I did this lesson with my second graders a few years back so when I needed a quick lesson to fill in the last day of class for my first rotation, I thought that introducing this lesson to my fifth graders would be a breeze. I didn't provide the same directed instruction for drawing the penguin as I did for my 2nd graders and instead placed pictures of penguins on the white board. Drawing penguins from pictures didn't seem overly hard but what I did find, was that most kids goofed off with the lack of direction. I was a bit shocked as this particular group of 5th graders had always been very creative. Many times, I geared art lessons to include more free-expression for this group of kids because they seemed to need it. I was a bit disappointed with their efforts and can claim that my second graders did a far better job!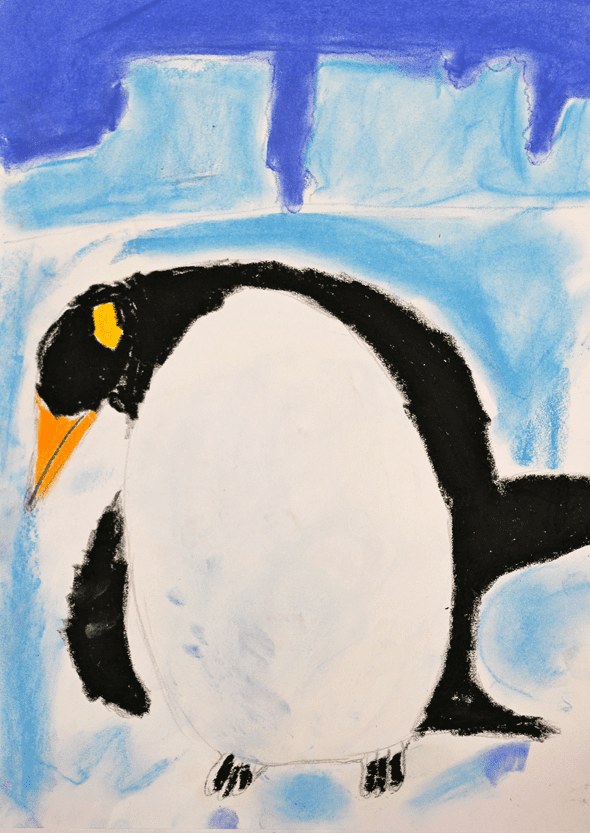 Do you have a favorite lesson this year? What about the bombs???? I'd love to hear what worked and what didn't, so please share away!
---
ARE YOU A SPARKLER? Over 300 art lessons are available inside the Members Club. Access to videos, resources & trainings for one low monthly fee.
CLICK THE IMAGE TO SIGN UP FOR NOTIFICATION OF OUR NEXT ENROLLMENT