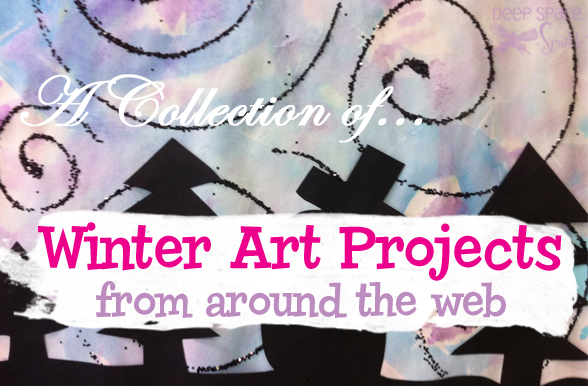 I so enjoy the mornings when I get to peruse my favorite art ed blogs and search for lesson inspiration. I found a bunch of fantastic winter-themed art lessons that I have saved via my Pinterest boards or on Evernote. Here is a collection of winter art lessons from some wonderful art ed bloggers.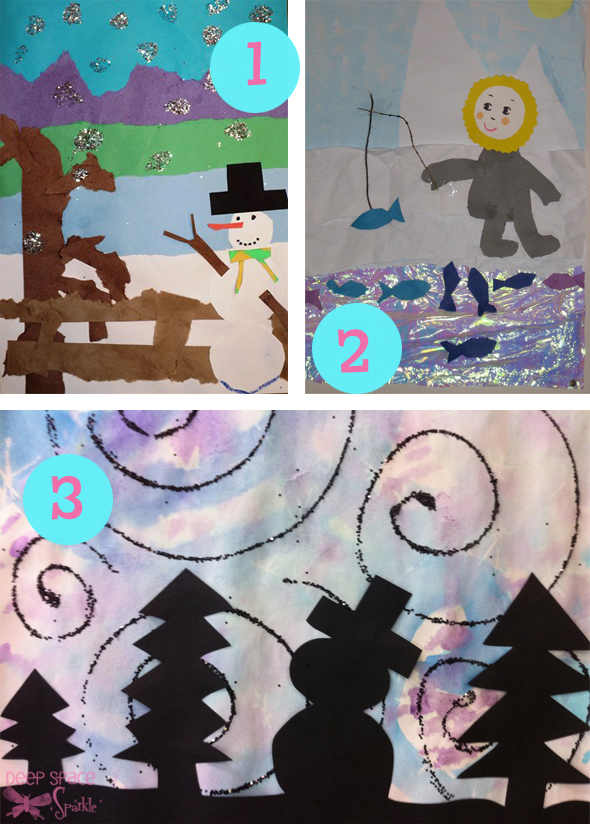 1. Collage Snowmen from Point Pleasant Elementary
If you are looking for a multi-step lesson that involves all matters of wintery goodness, this adorable Winter Paper collage is perfect. This lesson is from an Artsonia school member but no lesson plan was included. Still, I can see the steps in all the layers.
2. Les Inuits et le Grand Nord from Pinceau Mousse
This detailed Inuit Art project features paper collage and cultural relevance. The tutorial is in french, but you can probably translate it.
3. Winter Silhouette from Apex Art
I've tried silhouettes on painted paper before and never had much success. This Winter Silhouette lesson seems to have the wrinkles ironed out.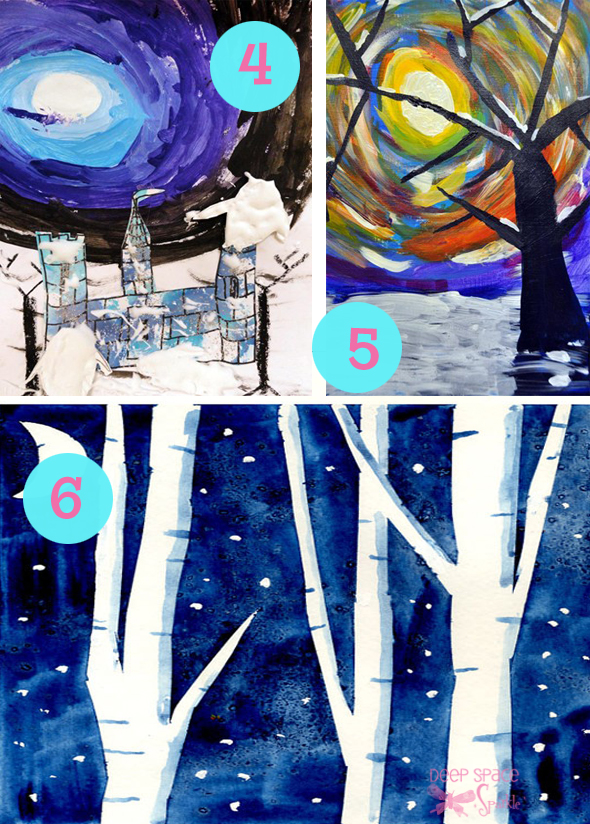 4. Winter Castles from Belvedere Elementary (Artsonia)
I've done so many castles over the years and it has never once occurred to me to switch landscapes from summer to winter. I absolutely love these Winter Castles. I'm not sure exactly how the art was done. It looks like the background was painted first using tints and shades, then a castle drawing cut out and pasted onto the background and finally some trees. I love the results and all of the techniques involved.
5. Multi-color Winter Sky from Kids Love Art (Artsonia)
Equally as stunning in my opinion are these lovely Multi-Color Winter Sky paintings. Aren't they beautiful? Again, I'm not exactly sure of the steps but I love all the details.
6. Winter Birch Trees from Art Projects for Kids
Kathy at Art project for Kids always has a lesson for every season and every need. These Winter Birch Trees are simple, yet beautiful. And the best part? Kathy gives great instructions!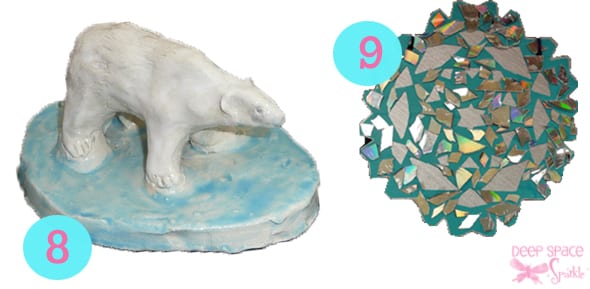 8. Clay Polar Bears from That Artist Woman
My all-time favorite winter lesson is this Clay Polar Bear from That Artist Woman. Gail gives great directions and the results from her third grade students give confidence that the instructions are very good.
9. Recycled Snowflake from Thomas Elementary Art
Looking for a recycled winter art project? This art lesson uses CD's to create pretty, sparkly Recycled Snowflakes!
10. Watercolor Elf from Artsonia
I saw this adorable watercolor elf (1) on Pinterest and it was originally sourced through Artsonia. Again, no tutorial but I have to say that this might be the cutest elf ever!
I hope you enjoy these lessons from our blogger friends…if anyone can elaborate on some of the steps or directions, feel free to add these steps in the comment section.
---
Want more lesson ideas for the holidays? Download this free lesson guide by clicking the yellow button below and I'll send you my 5 Non-Religious Projects for the Holidays!