This is an easy art project that you can do with any aged child. Birch trees offer a dynamic contrast to many backgrounds. The opportunities are endless. I did a tissue paper background with my sixth graders in this "Multi-Media Birch Tree Collage" and used watercolors for this "Monet Inspired Birch Tree Art Lesson".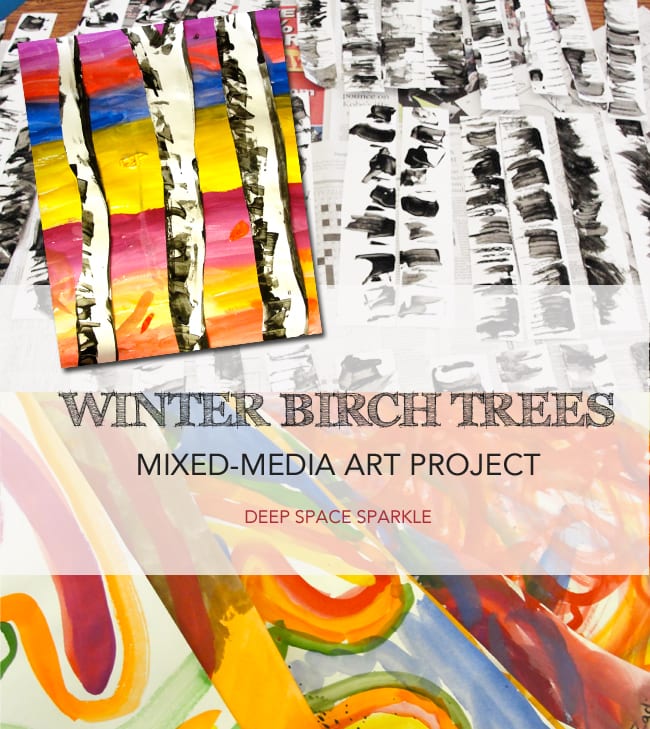 Art Supplies
– Two 12″ x 15″ white paper
– Tempera paint (cakes or liquid)
– Black tempera paint in small trays
– Small and medium brush
– White glue
– Scissors
– Small pieces of cardboard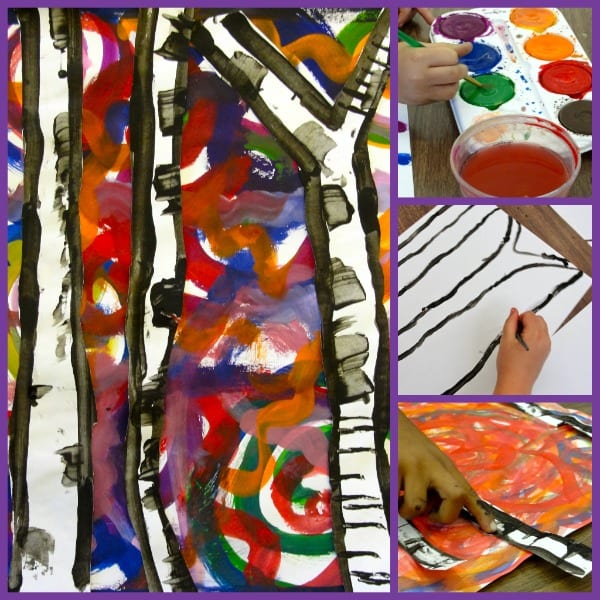 The Background
I started this lesson with the intent of teaching my second and third grade students the differences between warm and cool colors, but I made a fatal error. I introduced a new art supply. I know. Bad me. I have never used tempera cakes before but since purchasing them for my Kinders, I have not stopped using them. I love 'em!!! And apparently so does my second and third grade students because they surely recognized the novelty product. Within minutes of my warm/cool color instruction, the children dove into all the colors and painted away adding swirls, lines, rainbows…whatever inspired them.
Sometimes you just have to roll with the waves of creativity!
The Birch Trees
Put the background paper aside and give each student a new piece of white paper (same size as background). Set a tray of black paint, some itty-bitty cardboard pieces (about 3/4″ long) and some small brushes.
Starting at the bottom of one side of the paper, paint a long line up towards the top. I demonstrate how often you need to dip the paintbrush into the paint. I also stress that there are no straight lines in nature, so embrace the curves! (This is what I say to myself every morning after all.) Paint another line to form the tree. Big tip: Before painting another tree, add bark. Read on…
Adding Bark
Dip one side of the small cardboard bit into the black paint, rest it against the edge of the tree and swipe across the tree. I found that with younger children, it's best to add the bark to the first tree right away. You want to avoid a white piece of paper with lots of black lines. It becomes really hard for little ones to distinguish the trees and they end up adding bark between the trees. Trust me on this.
Extra flourishes
For early finishers, offer scraps of colored paper to cut into leaves. Have the children scatter the leaves over the trees, just like falling leaves in Autumn. Glue where they fall. Aren't they beautiful?
Second and Third Grade Birch Trees…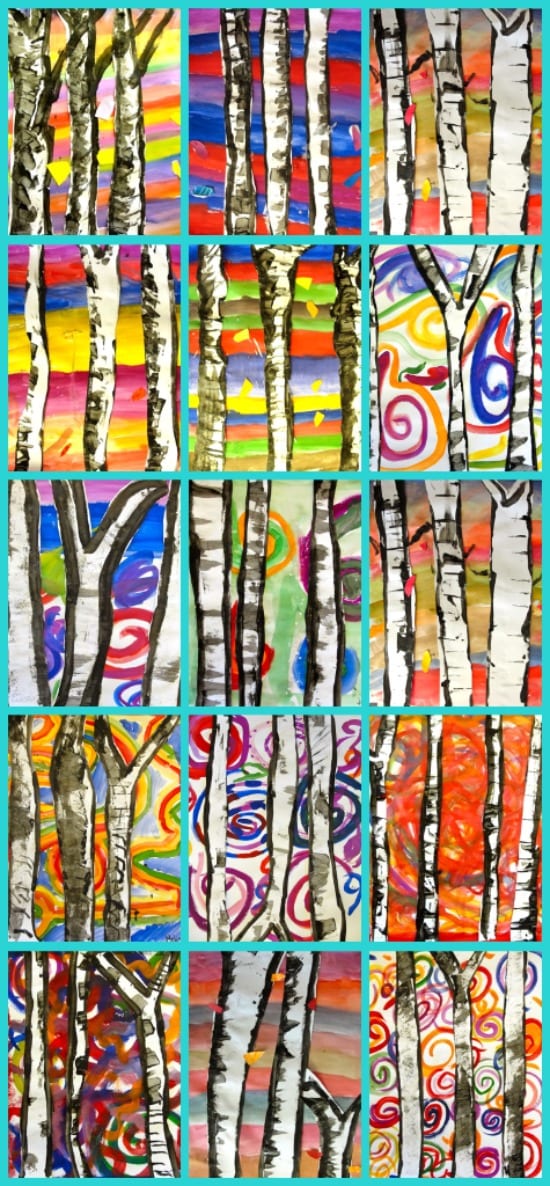 ---
LEARN ABOUT THE MEMBERS CLUB AND FIND MORE ART PROJECTS SIMILAR TO THIS.