Drawing a birdhouse is easy and satisfying for second graders. By combining some basic shapes, kids create a bird sanctuary complete with their very own feathered friend.
This lesson is fairly easy. It only requires two 40-minute sessions, but you could extend it to three classes by adding a more detailed background and more decorations to the bird.
Drawing and painting the birdhouse
Using an oil pastel, make a dot at the center of the paper near the top. From the dot, draw two lines on an angle. This becomes the roof line. Make an "echo" line around the roof line so that the roof isn't just one line, but a shape. Draw a line from the roof down both sides. This becomes the side of the house. Next, draw the stand. It is shaped like a letter "T" but you can fancy it up by adding decorative brackets. Add a small circle shape for the opening.
Set out a pre-mixed palette of tempera paints. Have fun with your paint bottles. Add a few squirts of white to the yellow, orange to the red, yellow to the green…be inventive! The art will thank you for it. Give the bottles a good shake and pour into muffin-style palettes.
Paint the roof, birdhouse and stand. Encourage the kids to add a sun, grass or flowers…whatever they wish. I asked the kids to keep the background white (for the sake of time) but the piece would look lovely with a few clouds and a blue sky.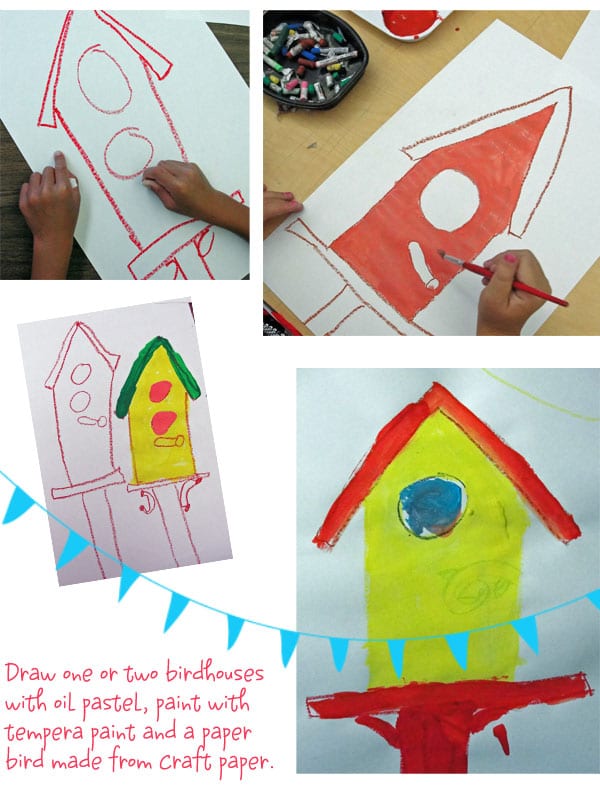 Outlining the painting
Some days, I just forget my camera. This day was one of them. So for this step you will have to depend entirely on my written instruction! Set out small containers of watered down black tempera paint and small brushes. Show the kids how to trace over all of their oil pastel lines. Most kids this age do not have the finesse to create perfect black lines, and nor should they! But they will learn that pressing too hard on the brush yields a fat line and holding the paintbrush lightly yields a thin line. If this step doesn't appeal to you, try outlining the birdhouse with a black oil pastel. Less messy with great impact.
Creating the paper bird
Now that the background is done, bring out a tray of colored and printed papers. You will also need pencils, glue and scissors.
Do a direct line drawing of a bird…the simpler the better. Have the kids draw a bird on the back of the paper. Large or small…doesn't matter. Then, cut out the bird and glue it onto the background. Some children chose to cut out two birds and some made one large bird. Encourage it all!
Second graders make the loveliest birdhouses, don't you think?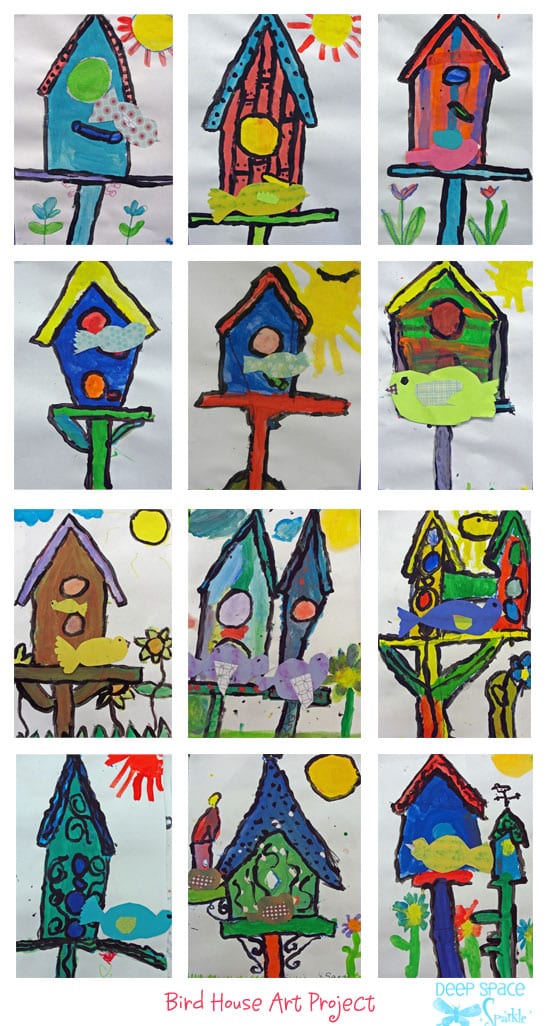 ---
Want a free drawing handout? Download by clicking the yellow button below and we'll send you this lesson PDF on how to draw a bird! (We recommend using Chrome or Safari!)