This is an adorable, skill-loaded art project that you can do with your little ones. The book inspiration for this lesson, Brown Bear, Brown Bear What Do You See? is a perennial favorite in kinder classrooms.
The book is about as perfect as you can get but strangely enough, really hard to incorporate into an art lesson. I racked my brain coming up with the best way to teach art skills without the project becoming too difficult for little hands.
I think I did it.
Warning: Before I proceed, I must tell you that templates are involved! If you do not approve of the time-saving, skill-enhancing benefits of templates (aka tracers & patterns), please read no further. Okay, I'm teasing here but I do get a lot of flack as far as certain methods go!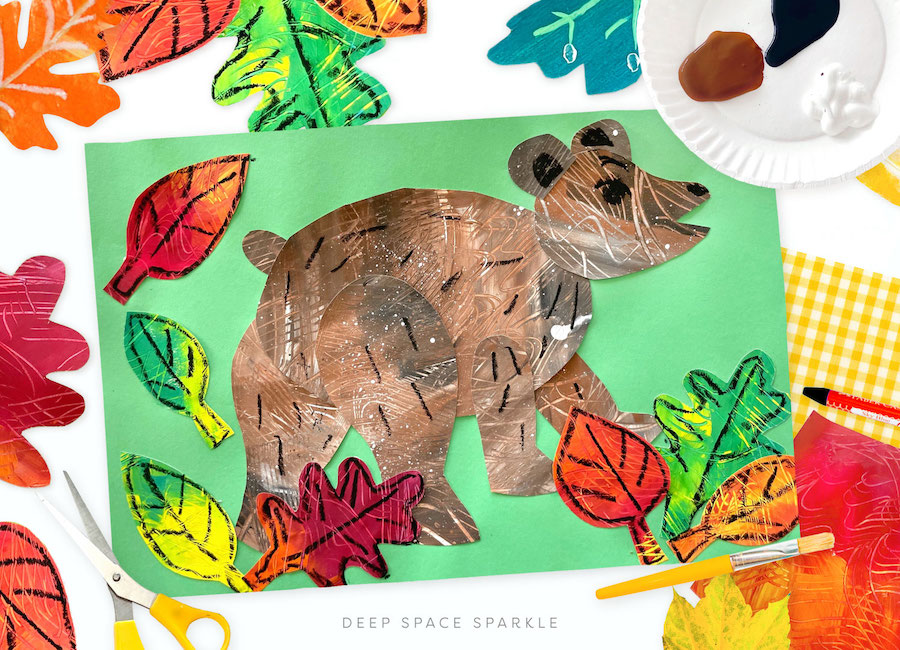 PAINTED PAPER
On the very first day of art, my Kindergarten students were knee-deep in brown, black and white paint. Making painted paper is fun. And messy. But don't let the mess stop you.
I rely on the generous nature of Kinders to share their work, so it's not necessary to put names on each piece. Have a variety of brown paints (dark, light, black, white) so that the end result will be varied and interesting.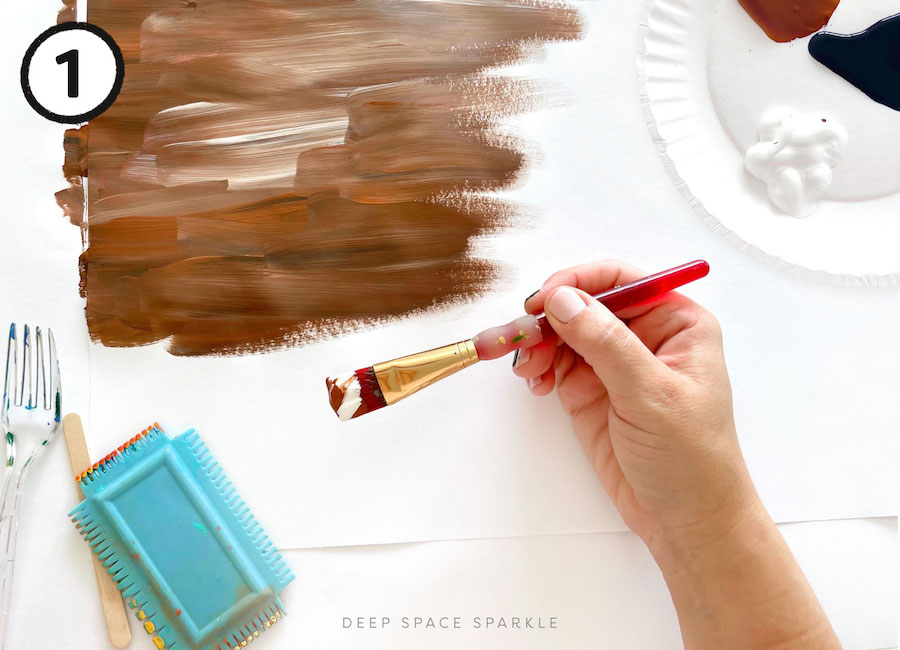 While you're at it, switch out the brown paint and paintbrushes to make some multicolored painted paper for beautiful fall leaves. Red, orange, yellow and green are all great colors to use, but mixing a little purple into the red, and blue into the green, will yield some nice jewel tones to add some depth.
USING TEMPLATES TO MAKE THE BEAR
Tracing templates is hard. For my kinders, this was the first time they used a template, so tracing was really a challenge.
Each child used pencils to trace a head, body, and two front legs and two back legs.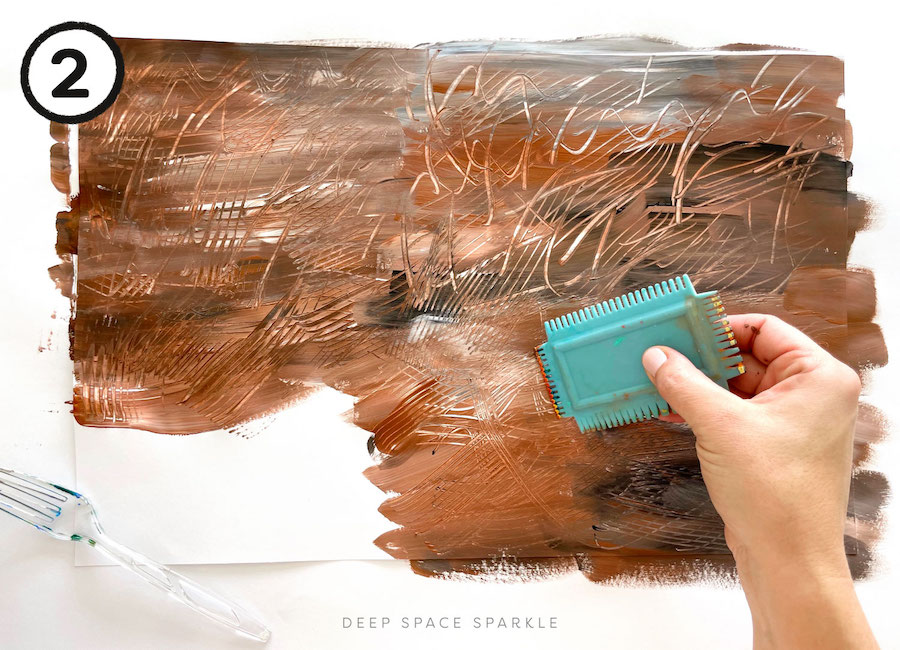 I was teasing before when I spoke about templates. It's true that many art teachers disapprove of them, but I found that they can be a fantastic tool in identifying shape differences, developing cutting, tracing and gluing skills and also for composition. Children compose their bear after all the shapes are cut out.
The only time the templates are a disadvantage, is when parents or teachers step in and try to help too much. I'm guilty of this when a child gets very far behind or becomes too frustrated.
For these kids, I need to help. Some have never held scissors in their hands before. So I step in.
My best advice in using templates is to remember what the process is about. It's not about how the bear looks, or about developing a visual eye, it's all about the basic Kinder skills of developing fine motor control.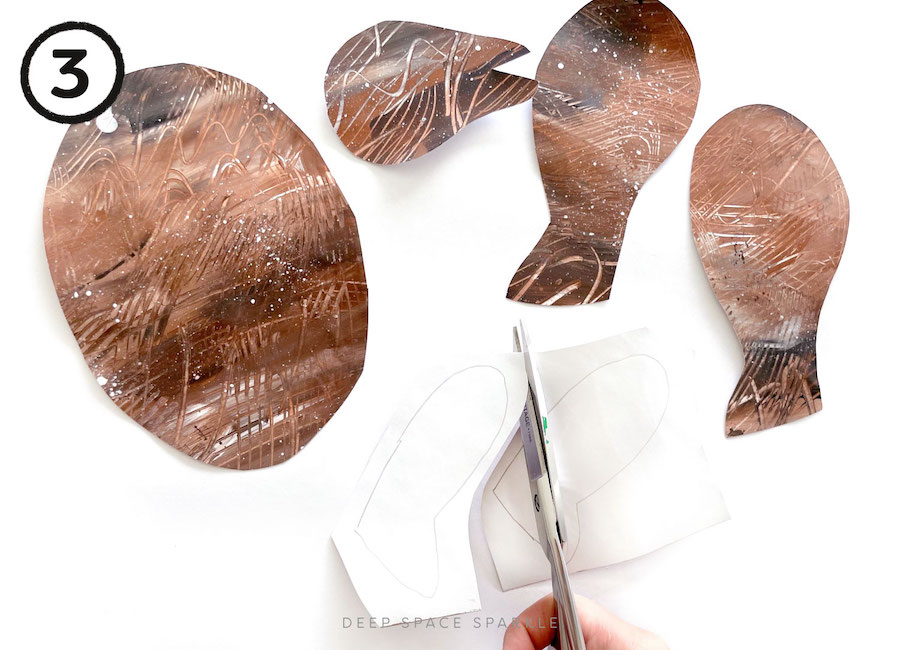 DOWNLOAD my project template PDF by entering your name and email below!

PUTTING IT ALL TOGETHER
After all the bear's parts are cut out…each child should have one head, one body, two front legs and two back legs.
Glue these pieces down with white school glue. The next session, kids will add ears, oil pastel details, two more legs and fall leaves.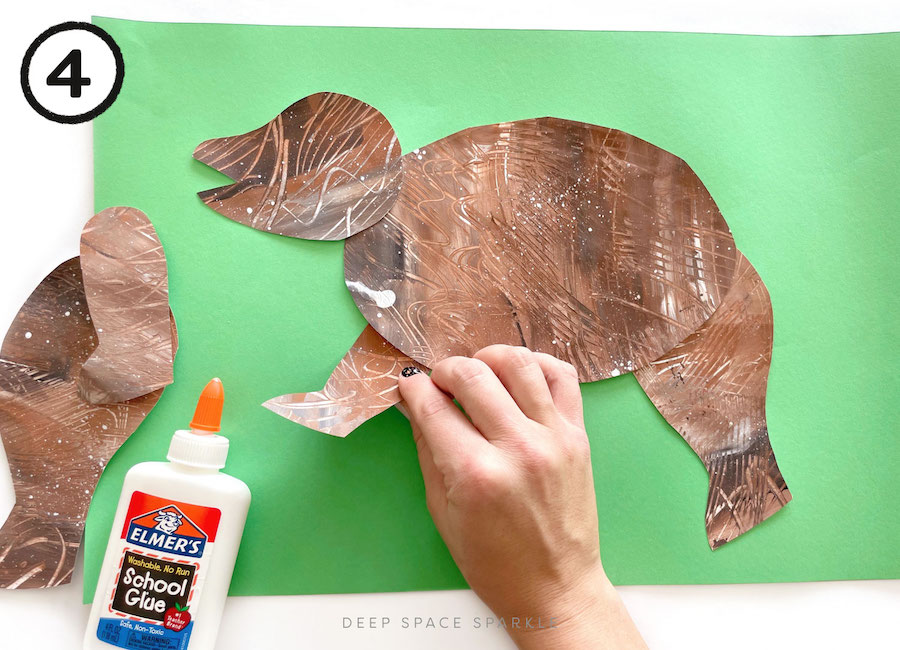 FINAL TOUCHES
Using black oil pastels, color in a dot for the nose, add claws and create some rough lines to mimic fur.
Eyes can be a black dot or a googly eye or a white piece of paper cut in the shape of an eye with a black dot.
To make ears, cut out a small circle and cut in half. Glue the two semi-circles onto the head. Add a small semicircle for the tail.
In a class of twenty children, about seven will zoom through the lesson and won't need a lick of help. The other thirteen will need varying levels of help. So while you're busy helping the thirteen children, organize the instruction so that the kids know what to do next and on their own.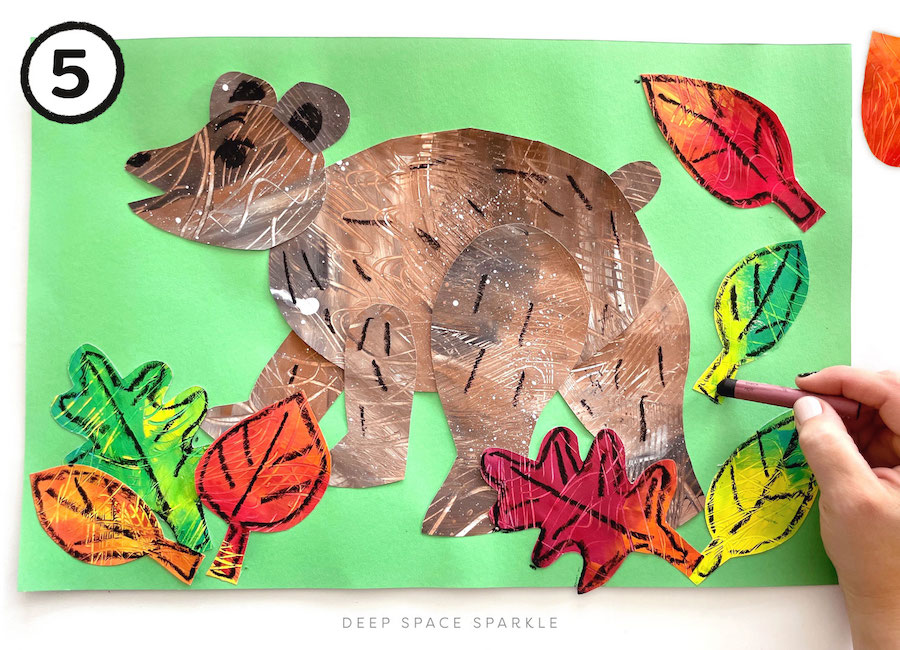 Place a collection of paper scraps on a table along with a tray of leaf templates and allow the kids to add as many leaves as they would like. But be quick. If you don't show the kids what the leaf templates are for, then this might happen: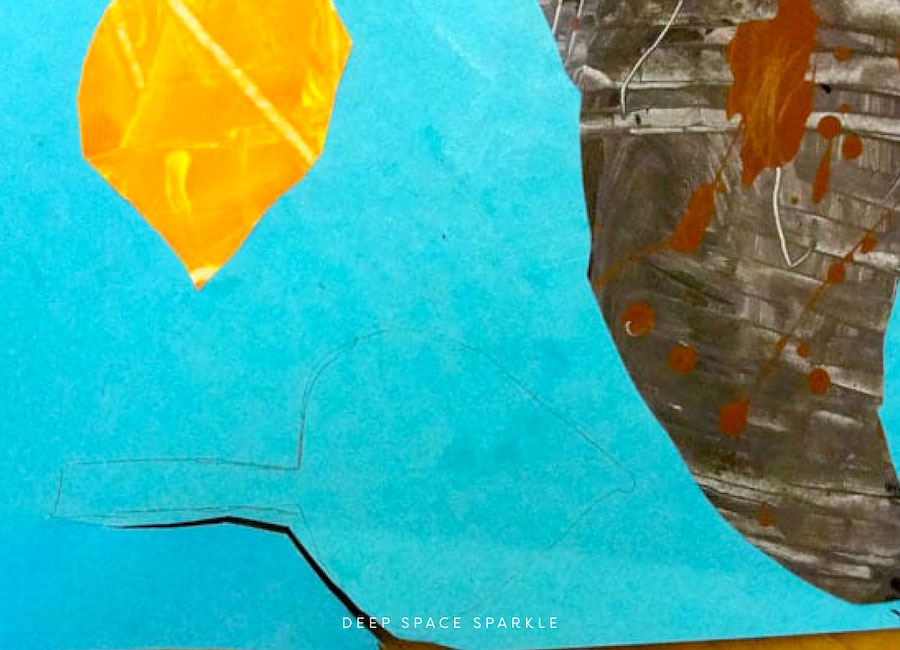 For some reason, quite a few little kinders traced the template directly onto the background paper. A personal visual demonstration helped them see what the templates were for.
The only problem with this strategy is that when most kids see the flashes of colored paper, they will want to add this color before finishing their bear, resulting in bears that are well, see for yourself…
A wonderful tow-legged bear!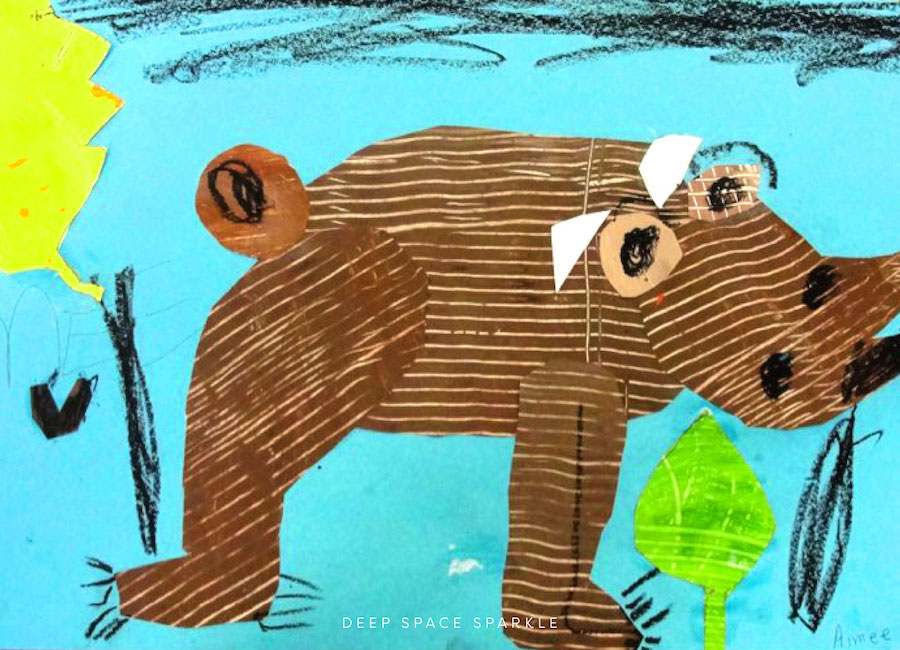 Sometimes this can happen. To prevent this, it would be helpful to label the templates so that the kids trace the template the right-side-up. I didn't do that.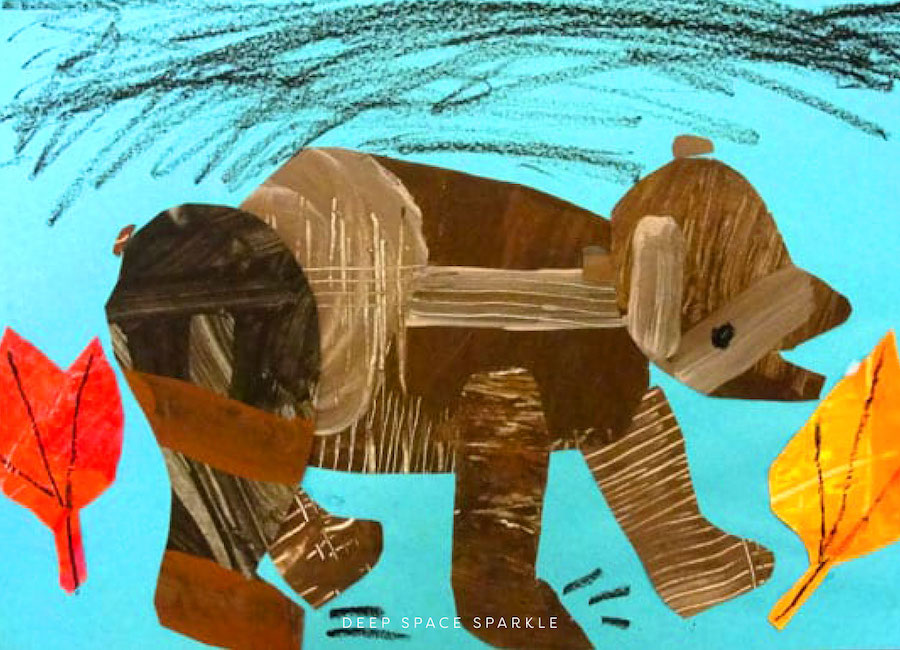 Isn't this little guy great?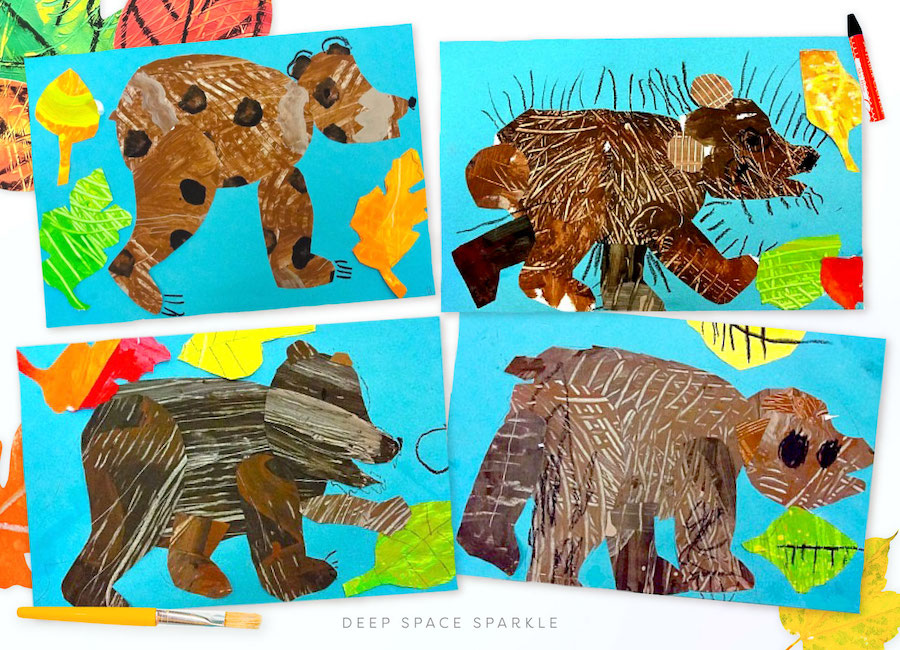 For more lessons designed specifically for your youngest students, join us in the Sparklers Club. Click HERE to join the waitlist for the Sparklers' Club.