Giving children the chance to see different career opportunities in art is probably the most exciting thing an aspiring young artist can learn about. It gives creative children hope that their dreams are achievable and that their talents can grow into something that's worth working towards.
It's important to cover great artists like Frida, Picasso and Van Gogh – but times have changed in the art scene. So, it helps to shine a light on real life working artists, in order to steer children in the right direction and give them modern examples of what successful artists are doing today.
After the tech industry exploded, graphic design quickly became the most popular career choice for art students.
WHAT IS GRAPHIC DESIGN?
Graphic design is a way for companies to share their values and vision through typography, photography and illustration. Companies hire graphic designers to visually communicate their brand's personality by building unique color stories and styling.
This art form mostly exists in the digital realm, but still uses core design elements like symmetry, balance, flow, repetition, pattern, color theory, typography and additionally, the emotional intelligence to craft something that will connect with people.

We have our own resident graphic design genius right here in the office.
Alexis provides Deep Space Sparkle with its own unique styling, graphics, drawing guide handouts, website designs (and hand drawn patterns!), digital marketing visuals and more…
She has been a powerhouse of creativity and we're grateful to share her knowledge with you and your students!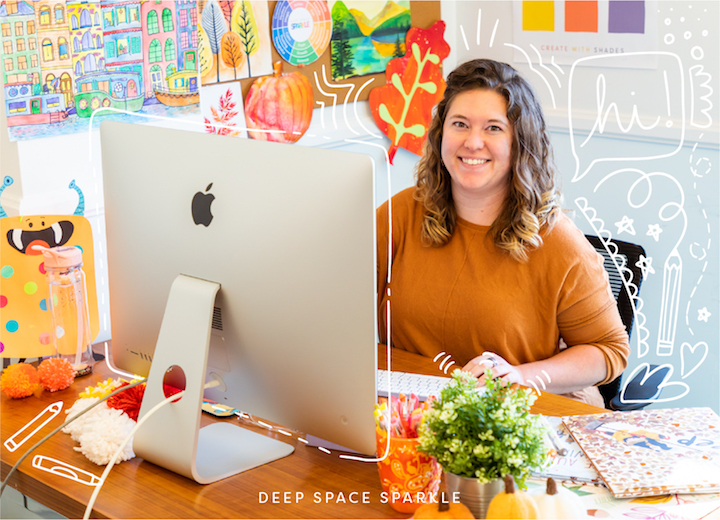 Alexis hails from a small village in Ohio, but she moved to Columbus, Ohio to study art formally. She obtained her BFA in Illustration from the Columbus College of Art and Design, and she has over a decade of experience designing digitally. She leapt at an opportunity to move to California, and is now happy to find herself in the sparkly world of art education.
From designing lesson plan PDFs to curating the new branding for The Sparklers' Club launch, if it reaches our readers, it probably crosses her desk at some point.
Q & A WITH ALEXIS
Q: How do you pick a career in art?
A: Picking an art career is combining art with your other interests.
For instance, when you mix art with computers, you can get graphic design! Art and sewing = fashion design, art and medicine = medical illustrator, art and psychology = art therapy, art and experimentation = fine arts, art and people = photography, art and environments = architecture.
So, being good at art alone isn't enough, it's when you make it personal to yourself that you really find success and something you love.
Q: How can kids start exploring graphic design at a young age?
A: I think now more than ever, kids have a huge opportunity to explore careers in graphic design, and an abundant amount of tools and resources to do so. They might be doing graphic design already and not even know it! Something as simple as putting stickers on their pictures in social media, or making all of their icons match a theme on your phone, can be a creative exploration into graphic design.
So, pointing out to kids everyday things like signs, posters, symbols and even worksheets at school, and then asking how it could be different, is a great exercise.
For example: If it's confusing, how can it be clearer? If it's boring, how can it be more fun? Let them come up with solutions that make their environment more exciting!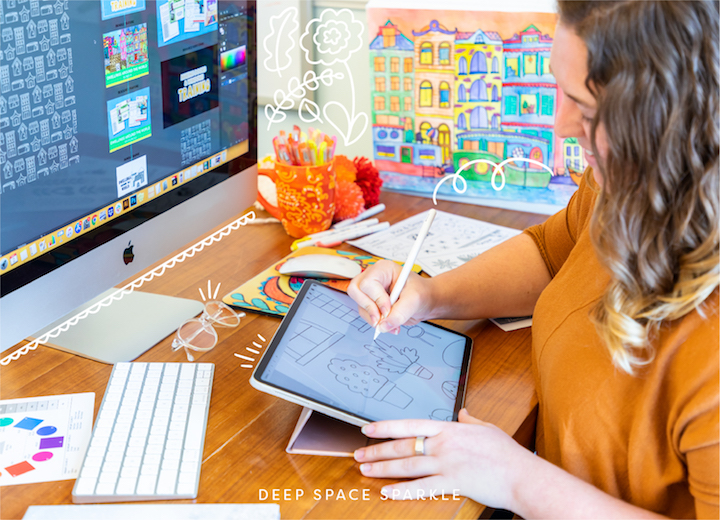 Q: What challenges have you faced as a graphic designer?
A: The thing that makes graphic design different from other art forms is that it's all about finding creative ways to solve problems.
The problem I consistently run into as an artist now (and even as a kid growing up) is that I want to see certain images or have things done in new ways, but they don't exist yet. And what continually motivates me as an artist is that if you want to see something in the world, sometimes you have to be the one to put it there.
The added challenge of graphic design is that it mainly focuses on other people's problems, not just your own. It's hard enough to get what is inside your head out onto the screen, but it's extra hard to get what is inside other people's head onto the screen as well. So it's a lot of feelings, collaboration and reiteration that results in a great final product.
Q: What is your favorite thing about working in graphic design?
A: Having the ability to dream up anything I want, and then being able to bring it into the physical world! I'm always making my own phone wallpapers, shirts, patterns for fabrics, posters, birthday cards – you name it!
My family and friends definitely benefit from having an on-call artist to make them stuff too. And also seeing my work out in the wild! Whether it's on the Deep Space Sparkle website, on a handout in the classroom or coming across your screen as you scroll through social media.
I love knowing that a part of my work is out there making someone's life better, even in a small way.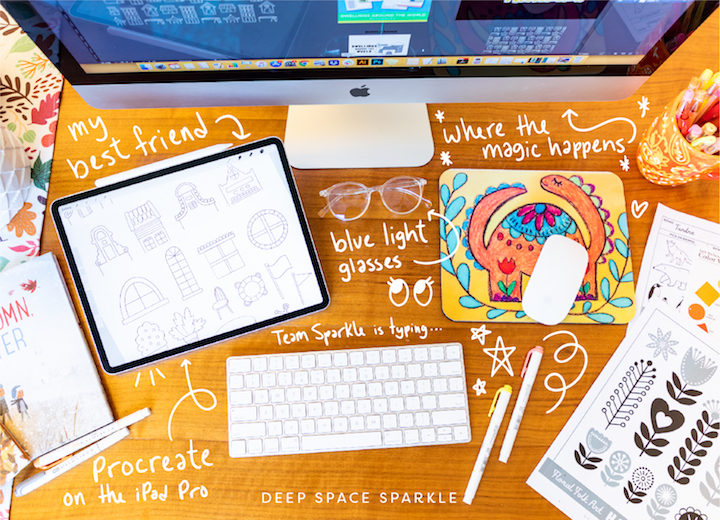 Q: Can you tell us about your own elementary art teacher, Mrs. Farr?
A: Yes! I found out not too long ago that my elementary school art teacher is a Sparkler! (Hi Mrs. Farr!)
She saw me in a picture that we put up for Valentine's Day and I was amazed that she recognized me! Being from a small rural community, her art class was the first place that I was introduced to classic artists and any kind of art elements.
It was also the place where I had access to paints and markers which always seemed very special in our small school. One of my favorite memories was the first time we made our very own "art portfolio" to keep all of our work that we had done throughout the year.
I was so proud to have all of my work in one spot with my name drawn in great big letters on the front. So, thank you to Mrs. Farr for being an early influence on my art journey!
HOW TO PURSUE A CAREER IN GRAPHIC DESIGN
While everyone's artistic path is different, learning basic design principles is a must. Some designers are self taught, but most pursue an education that not only covers design, but also marketing and business aspects of the field.
Most employers look for a degree like a BFA (Bachelor of Fine Arts), but what is most important is a strong portfolio. If they're not going to a traditional 9-5, a lot of designers will find work as freelance contractors.
CLASSROOM RESOURCES
Comment below and share what kind of careers in art you'd like to know more about!
Our goal is to make this into a mini-series that you (or, even your class) can vote in on. We want to celebrate living artists and all the incredible niche careers available to your young creators.
It's important to remember the impact you'll have on your students for years to come – the conversations you have with them will really help shape what kind of path they take in life.
Written by Hannah Barbaria – Community Manager & Creative Connector