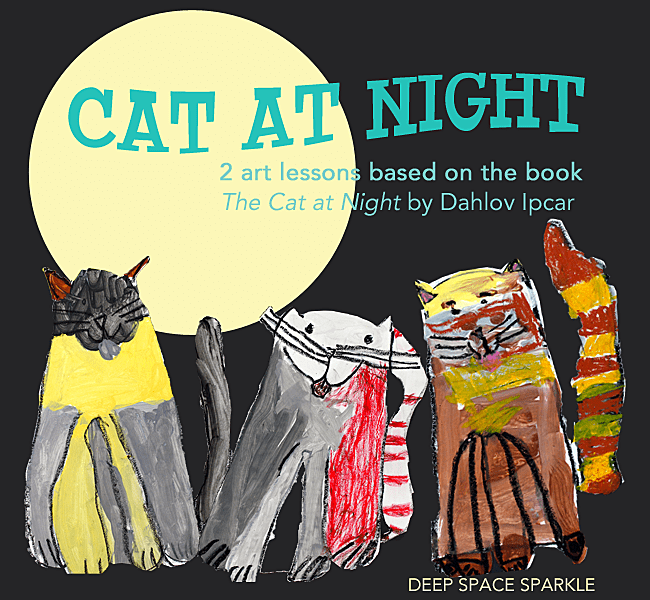 The Cat at Night by Dahlov Ipcar is a perfect read for the art room; beautiful illustrations, easy text and a great example of silhouettes. I spent an afternoon coming up with a few lessons and some were quite interesting (painted houses and silhouette backgrounds) but because I wanted to use the art lessons for my first graders, the lessons needed to be simple. And I knew most first graders loved cats!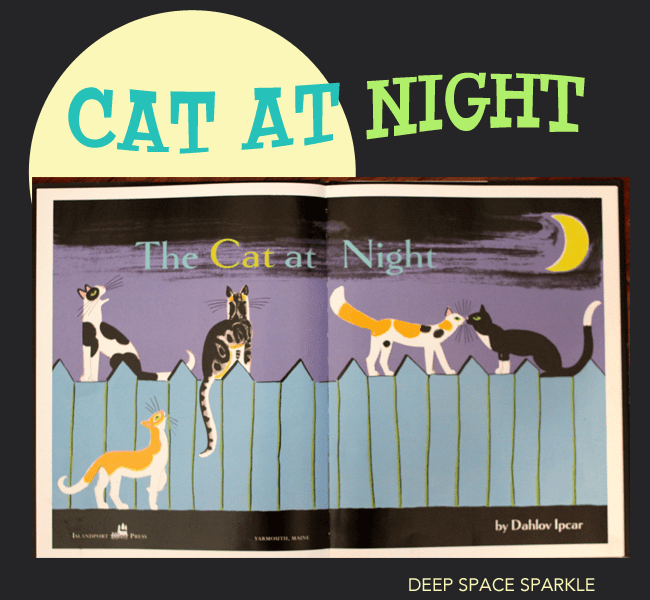 Using the opening flap illustration for my main inspiration, I came up with two ideas: a simple painted cat with a moon and a cat sitting on a fence. Both lessons would teach drawing skills, paint application and much needed practice with cutting and pasting.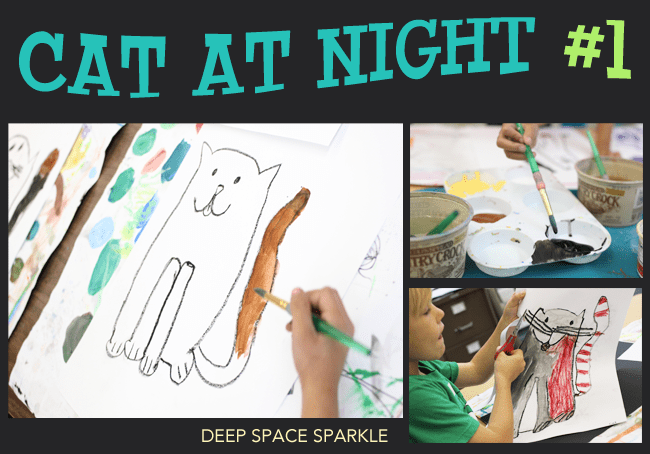 The first idea was to draw a simple cat. Even though I tried to make the drawing simple, sometimes a kitty cat has so many legs it can get confusing for the under-7 set. There were a few cats with an additional leg but in the end, it all worked out and were terribly cute.  After a basic outline of a cat was achieved with an oil pastel on white paper, it was time to paint.
I set out some liquid tempera paint in cat colors like white, black, orange, yellow and brown in palettes and set them on the table. The kids thought about their own pets or a friend's cat and painted stripes, spots and solid colors. Once dry, the kids cut out their cats an glued them to black paper.
To add a moon, the kids traced a round container top with an oil pastel on yellow paper, but it out and glued behind cat.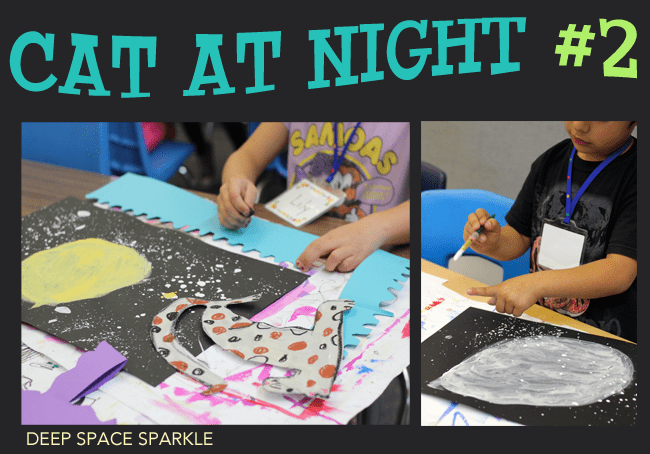 The second lesson involved a cat sitting on a fence. In order to do this, a sequence had to be followed: background, fence then cat.
On a sheet of black sulphite paper, kids painted a very large moon with a combination of yellow and white paint. The white paint goes on first as to provide a base for the yellow. If you apply yellow directly to the black paper, it will have a green tinge. Even though my yellow paint was mixed with white, I found the white base to be helpful. Then using a brush, they splattered white stars across the paper focusing on the top half.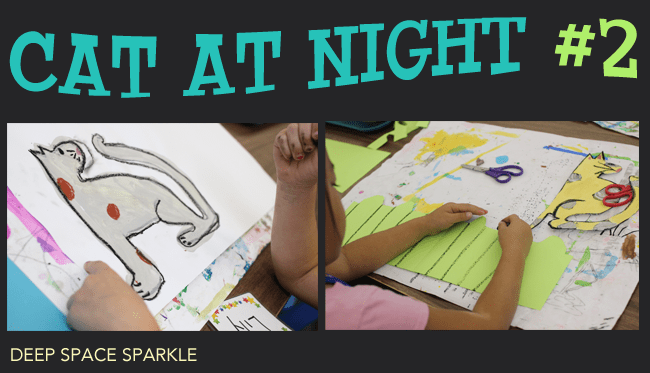 The side view cat was a bit harder to draw so we spent some time practicing first on a scrap piece of paper. I gave the kids a 12″ x 9″ paper (½ the size of the background) and they drew a cat via a guide-drawing. I'm not going to bother giving you my drawing steps as I really don't think they were overly successful. Most of my first graders found my drawing instructions challenging. Still, all drew some form of cat and everyone was really pleased.
On a separate piece of paper (6″ x 18″) the kids drew vertical lines to mimic a fence. Some kids added pickets (pointed tops) while others kept their fence clean and simple. They glued the fence to the moonlit background first and then place the cat on top of the fence.
Your turn: Have you come across a great lesson for this book? It's such a great book I'd love to see what others have done!
---
ARE YOU A SPARKLER? Over 300 art lessons are available inside the Members Club. Access to videos, resources & trainings for one low monthly fee.
CLICK THE IMAGE TO SIGN UP FOR NOTIFICATION OF OUR NEXT ENROLLMENT