Grab your markers and scissors and customize these printable crowns to celebrate mom with an easy Mother's Day craft. Not only for moms, create for any celebration: birthdays, graduations and even Father's Day. Hey, what Dad wouldn't want to wear a handsome crown?
WHAT YOU'LL NEED:
– Cardstock to print crowns + a printer
– Colored markers
– Scissors
– Glue sticks
– Scotch tape
– Small scraps of corrugated cardboard
– *craft store rhinestones or other sparkly things
Download a our Celebration Crown project PDF by entering your name and emails, and we'll send it straight to you!
The Celebration Crown is highly customizable. All you really need to do it to print the crowns, jewels and the bands onto cardstock and let your artists take over.
The crowns are big enough to fit an adult head and can be adjusted for whomever you are celebrating. Even 4-legged furry friends.
There is a printable page of jewels than can be colored as jewels, but also cut out and colored to make a nice frame for a block letters. Watch this video to learn how to make block letters.
I think that's my favorite part…personalizing the crown with the name of the guest of honor.
How to make a Celebration Crown
Photocopy pages 2-4 of the PDF onto white cardstock. You may want to print page 4 (the bands and jewel page) more than once depending on how many artists you have.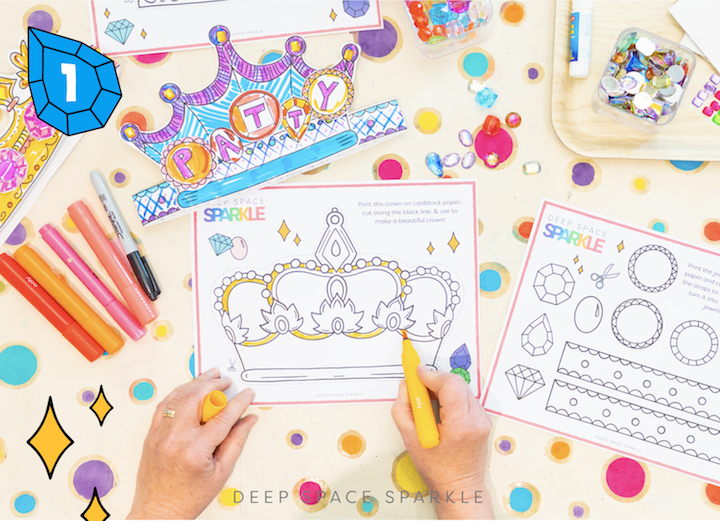 Select a crown and start coloring! I used colored markers and found that the more loosely you color, the more sparkly the crown looks.
Your child can select whatever art materials they feel most comfortable with. If you are a teacher creating crows in the classroom, I would recommend using Crayola broad tip markers.
Suggest that the artist use no more than 3-4 colors of the crown. The art teacher in me recommends sticking to a warm or cool color palette for the crown and then switching it up for the jewels.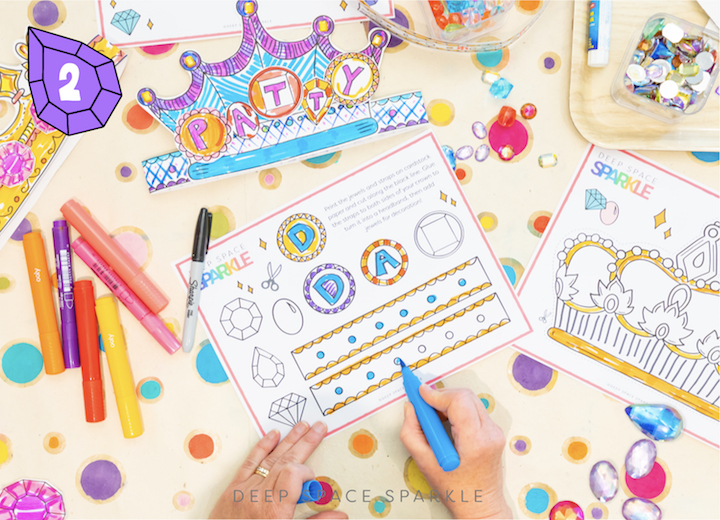 Give each child a page with the two bands as well as the assortment of jewels. Use a color palette that differs from the crown. This allows the jewels to really stand out. I have a physical solution to that, too. But first, finish coloring the band.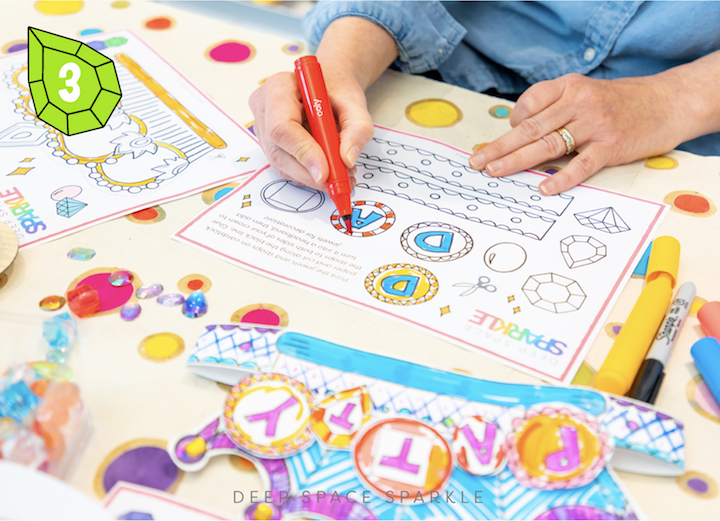 This is the step in which personalization is required. Who are you making the crown for? Will it be a crown for mom? If so, use the insides of the jewels to write each letter of M-O-M or D-A-D of even the name of the birthday girl or boy.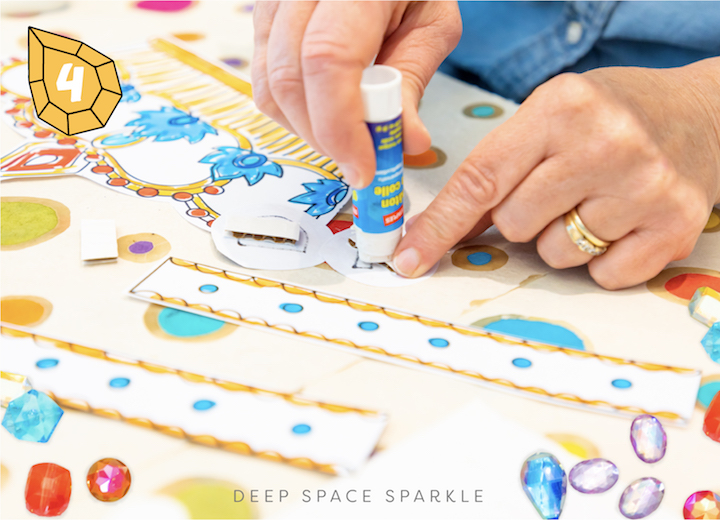 Glue a small snippet of cardboard to the back of each cut out gem. I like a glue stick for this job otherwise this can turn into a big slippery mess. So, glue the cardboard to the gem and then to the crown.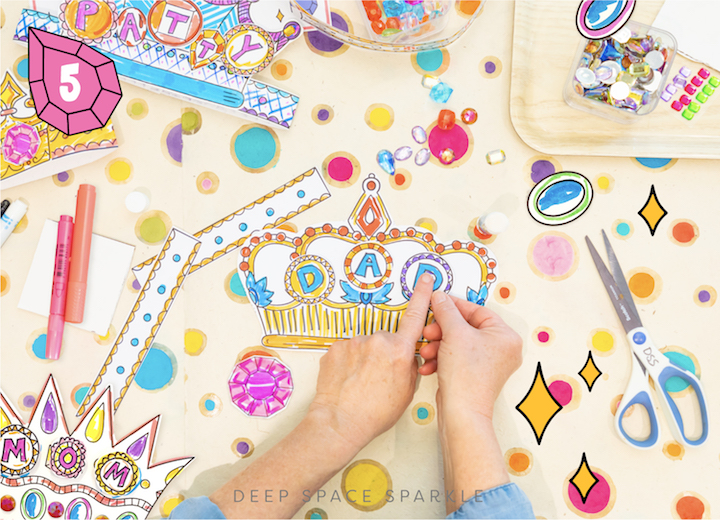 Now it's time to merge our sparkly pieces into one glorious crown. And for that, you'll need tape.
Position the band under the crown…but not too much in case Mom's head is a bit larger than expected. It's better to err on the larger size, not smaller.
And you're done!
You started the first step in treating your loved one as the royal divine human that they are. It shouldn't stop here…cookies are also a lovely way to start a special day, don't you agree?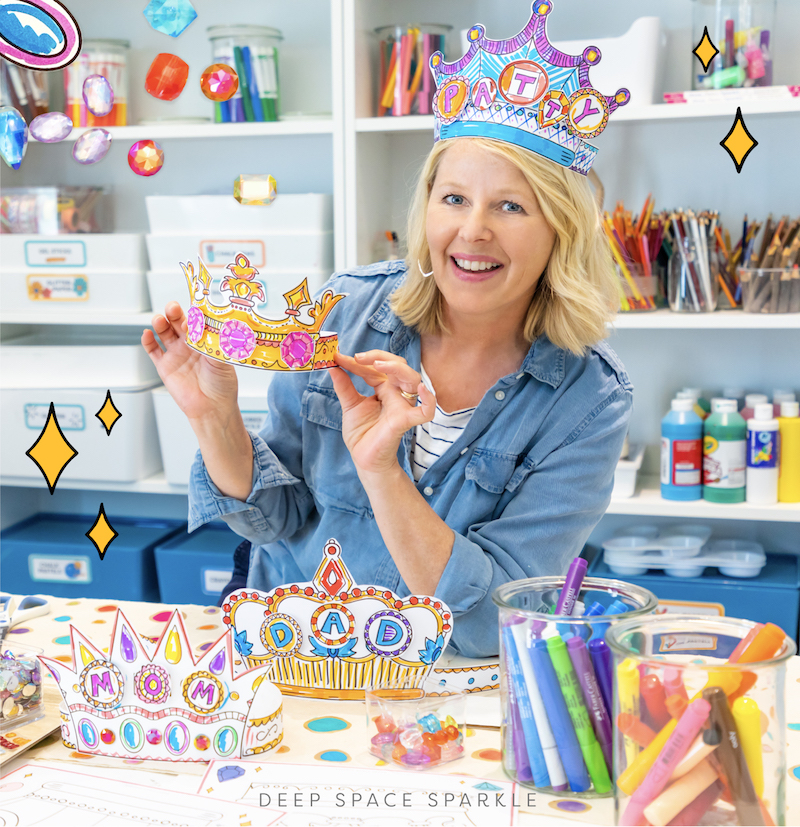 If you love this project and want to encourage your child to create more art at home, I invite you to join my membership just for little artists. I'll take good care of your children as we explore how to draw, paint, color and make fun art.
You can try out a free art episode right here.
PIN ME!