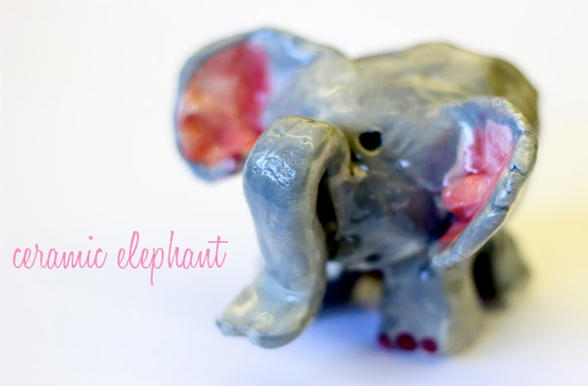 These baby elephants are adorable. My third grade kids created them in the very same manner as the ceramic pigs, but instead of little ears and a snout, the children created big flapping ears and a trunk.
In order to be successful with the hollow form method of making an animal, the children must have some knowledge of working with clay and be able to create two pinch pots without too much trouble. I think younger kids who have had little experience with pinch pots would do fine as long as they had lots of help.
We used Laguna underglaze and Duncan Dipping Glaze and fired to around cone 06. I say around as I have a finicky kiln and I seriously have no idea how hot it actually gets in there.
I didn't enforce any particular color and set out 8 colors for the kids to choose from. I love the various colors, especially this wonderful blue and green guy!
One caveat…make sure the kids scratch-attach the trunks and tusks really, really well. These appendages are so easily broken and trust me when I say, it is laborious trying to piece these things together again. Oh, and vinegar doesn't really help with magic mending. I tried.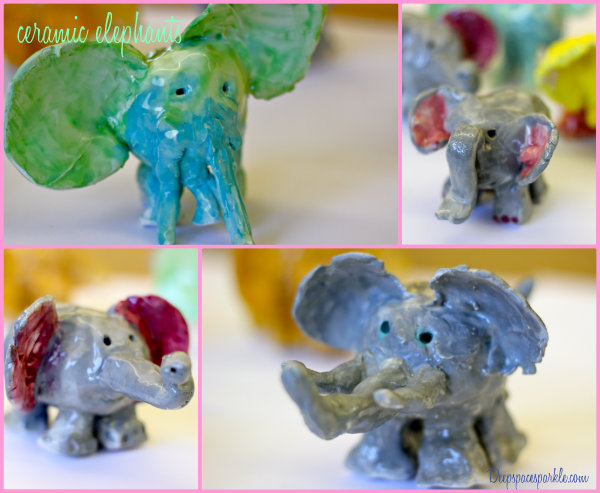 ---
Want a free download to another Deep Space Sparkle ceramic lesson? Click the yellow download button below and we'll send you a PDF lesson plan on how to make a ceramic snowman!