There is nothing more rewarding than manipulating a big slab of clay into a shiny piece of art. Despite ceramics requiring a great deal of prep, it's really the most wonderful of all the tactile art lessons. My Kinders were thrilled to see that they would be creating a ceramic fish bowl. Attention was sharp as I demonstrated how to make a ceramic fish.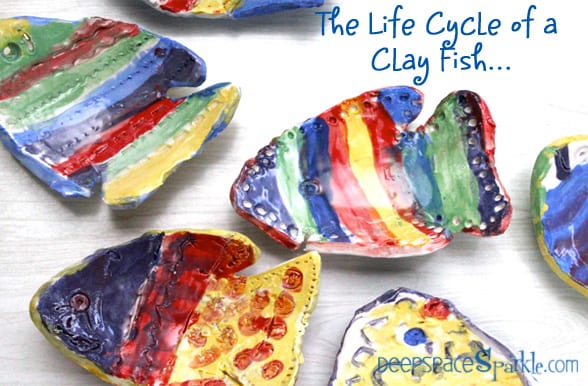 Here's what you'll need:
About 25 lbs of clay (25 kids). I buy Laguna Clay in 50 lb boxes. I used a multi-slab cutter to divide the 25 lb slab of clay into 25 tiles. Tools can be anything you have on hand. I use small wooden dowels, but you could use an extended paper clip taped to a popsicle stick. Or the handle of a skinny paint brush. For texturing, I use my texture tools that I have used with my painted paper projects. But anything in your recyled tool box would be great ( plastic berry cartons for a grid texture, straws for holes, buttons for circle impressions, popsicle sticks for scales, etc.)
For the underglaze, I mostly use Laguna Glazes but I have used Amaco glazes as well. For glaze, I use Duncan Dipping Glaze. I love it and it's super easy. And it's purple so it's a fun color for the kids.
How to make a clay fish bowl
To start, place a clay tile on a piece of fabric (even construction paper will do). Set out some slip (some dried clay moistened with a bit of white vinegar and lots of water and stirred well), texturing and tracing tools.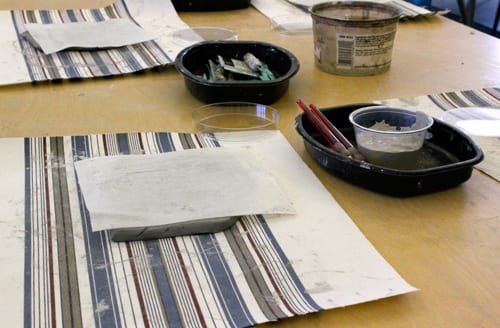 I used some fish templates that I had left over from an old project and asked the children to place the template on the clay tile. If it didn't fit, I went around with a rolling pin and rolled the clay out a bit to flatten it. Children traced their fish, pressing hard with their wooden dowel so they cut through the clay. Then they smoothed the edges with their fingers dipped in water.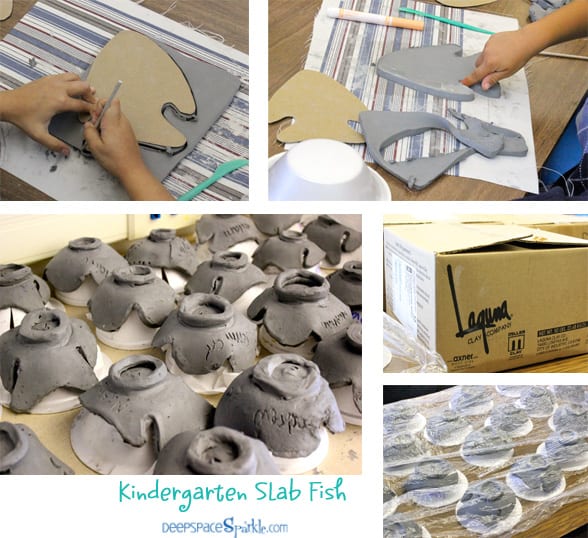 The fun part was certainly decorating the fish. Some children used extra clay to add eyeballs or fins, but mostly for this age group, the children simply added texture. We put the fish 'down for a nap' by placing it over a small styrofoam bowl. We placed some balled up tissue on top of the bowl so the bowl's ridge wouldn't press into the fish body. We gently hugged the fish into the bowl. This creates round bowl shape.
The stand
We used the left-over clay to cut a long strip of clay. We joined the edges to form a circle then scratch-attached the circle to the bottom of the fish. The children worked hard attaching and smoothing the "stand" to their fish, but of course, you will have to make sure the stand is securely attached. We wrote names on the back, placed the sleeping fish on a table and covered loosely with plastic wrap so the fish wouldn't dry too quickly.
Once dried, I fired to a Cone 05.
Painting the clay fish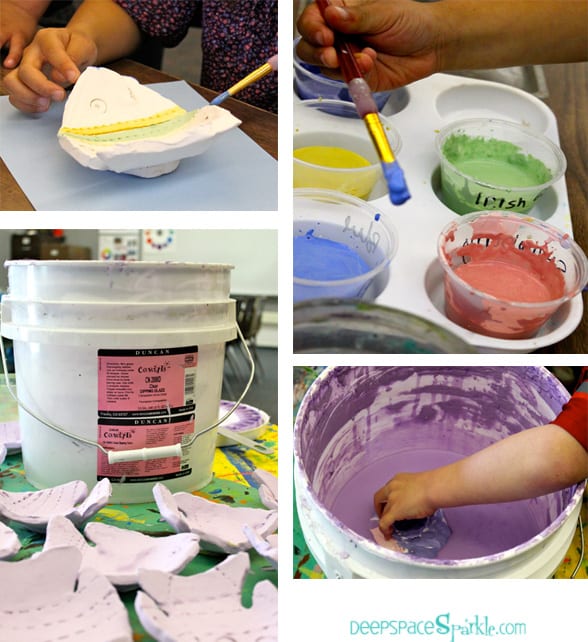 How the children love seeing the fish once they come out of the kiln. The kiln must be some magical, mysterious place for the kids as the fish arrive back onto their tables hard and white. Not at all how they left their soft, sleeping fish!
Painting with the underglaze is quite an experience. Children notice straight away how fast the paint dries. I explain how the underglaze is made up of clay, just like their fish, and they seem to understand. After painting, the fish get dipped into the purple dipping glaze and then they are off to the kiln one more time. My kiln is old and funky but it usually gets the job done. This time however, I set the timer for too short of time and it turned off before the kiln setter dropped. This resulted in the glaze not turning as shiny as I would have liked. A bit of "cloud" formed, but since it is a Kindergarten project, there really wasn't a huge need to re-fire to get the glaze set properly.
I know there are some glazes on the market that combines the color and glaze together. I have never used this type of glaze but when my current glaze runs out, I intend too. Does anyone know of a good one to try?
Have fun with this project!
---
Want a free download to another Deep Space Sparkle ceramic lesson? Click the yellow download button below and we'll send you a PDF lesson plan on how to make a ceramic snowman!